After her comments about pay gap, A'ja Wilson's supporters say she could change the WNBA
Published: Jul. 9, 2018 at 10:52 PM EDT
|
Updated: Jul. 10, 2018 at 9:11 AM EDT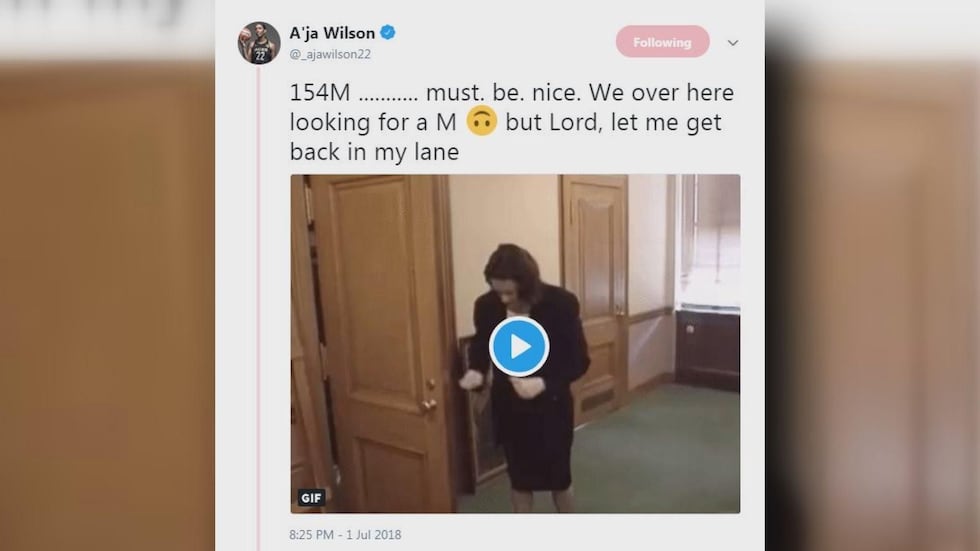 COLUMBIA, SC (WIS) - Heather Jones is such a diehard Gamecock women's basketball fan, she already has a room booked for next spring in Tampa:  that's where the Women's Final Four tournament will be held next year. 

If the Gamecocks make it that far, they'll have to do so without a familiar face, A'ja Wilson, who was drafted number one by the WNBA's Las Vegas Aces months ago.

"Amazing. Proud. She's iconic," Jones said. "There's just not many people like A'ja Wilson."

In Las Vegas, Wilson's already posting Rookie of the Year-type numbers, but it's something that she did off the court last week that has people like Jones talking.

After NBA all-star LeBron James signed a $154-million four-year contract with the Lakers, Wilson took to Twitter to question why the average WNBA player makes only a fraction of that.
According to Forbes, most start, like Wilson, close to $50,000 and creep up to a median salary of about $76,000. According to CNBC, WNBA players earn 20 percent of an NBA player's minimum salary.

"She's being the voice that needs to be heard," Jones said of Wilson.

Khadijah Sessions, who played beside Wilson at the University of South Carolina, agrees that Wilson's voice is a powerful one at shrinking the pay gap.

"Seeing A'ja be a vocal leader about something like that, and being a rookie, was pretty big for everyone to see. I hope people understand where she's coming from and not take her the wrong way," said Sessions.

But not everyone agrees.

"Your sport doesn't generate revenue," one Twitter user wrote her.

"Very little fan base," another pointed out.

Wilson has cordially responded to some of the dissenters.

"I know there's a lot of commentary on the game of women's basketball being so much different from men's, but I think it's more than just that," said Alex English, a retired NBA player.

English said the WNBA should be marketed better and made "mainstream," or in other words, a league with a season other than summer months. Wilson's voice could make a difference, English said.

"She's one of those game changers for the WNBA, I feel," he said.
Copyright 2018 WIS. All rights reserved.