Public safety forum highlights importance of recently announced task force
Updated: Apr. 30, 2018 at 10:47 PM EDT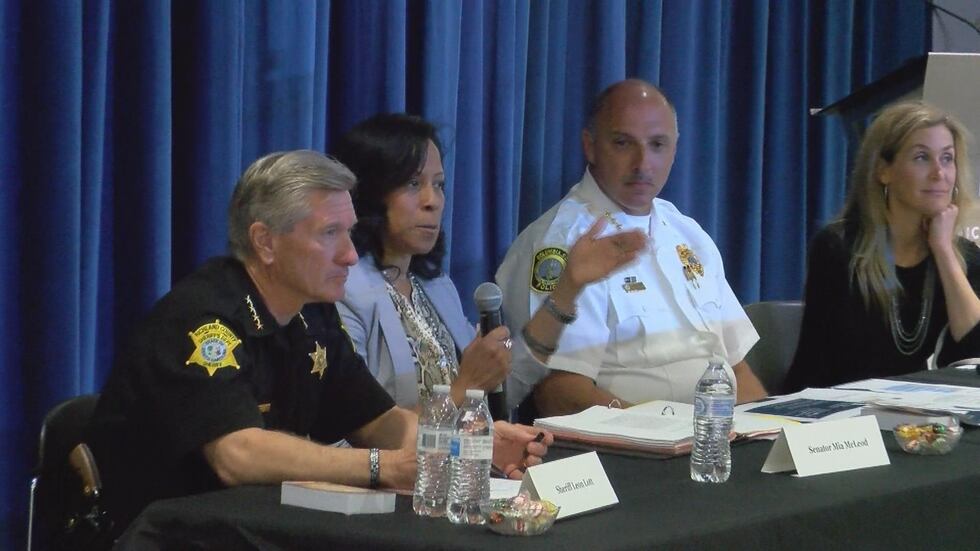 COLUMBIA, SC (WIS) - A public safety forum held Monday night in Columbia highlighted the importance of a recently announced initiative between the Richland County Sheriff's Department and the Columbia Police Department.

It also brought to light a litany of other issues, including community policing, race relations and violent crime prevention.

The forum, hosted by Democratic Senator Mia McLeod, offered community members the opportunity to converse with Richland County Sheriff Leon Lott, Columbia Police Chief Skip Holbrook and members of the Richland County legislative delegation.

"These kinds of discussions are imperative to helping keep our communities safe," Senator McLeod, said. "In addition to legislative efforts and law enforcement, we want to hear what people think is at the heart of these issues."

Columbia Police Chief Skip Holbrook said his department has received 484 shots fired calls so far in 2018. However, he said 75 percent of incidents where shots are fired go unreported.

"It's critical that if you hear shots fired in your neighborhood that you call us," he said. "It's important because we're utilizing new technology that allows us to analyze the shell casings and track where that specific gun may have been used in other crimes around the area."

Sheriff Leon Lott said while other crime rates remain relatively normal, the number of shootings that have occurred so far this year is skyrocketing.

"There is pretty much a shooting every day," he said. "That doesn't necessarily mean someone is getting injured, but it's happening."

Lott attributed the rise in gun violence to a generation that solves problems using guns. Chief Holbrook agrees.

"What you used to settle with a fist fight or pushing and shoving, now kids are pulling out guns," he said. "As we've seen, it can have tragic consequences."

Both Lott and Holbrook said the60-day task force announced by their departments aims at getting repeat offenders off of the streets. As a result, they hope the guns they're using will follow.

"We can't lock everybody away, but we need to get some of these repeat criminals who are continuously out in our communities breaking the law locked up," Lott said.

The panel also fielded questions about race relations and the how being inactive and idle can contribute to some of the violence. Some activists in attendance offered information on summer job programs and other organizations offering employment to teens and young adults.
Copyright 2018 WIS. All rights reserved.