'Territory, contraband, cell phones' behind SC prison 'mass casualty incident' that left 7 dead
Published: Apr. 16, 2018 at 4:04 PM EDT
|
Updated: Apr. 17, 2018 at 8:30 AM EDT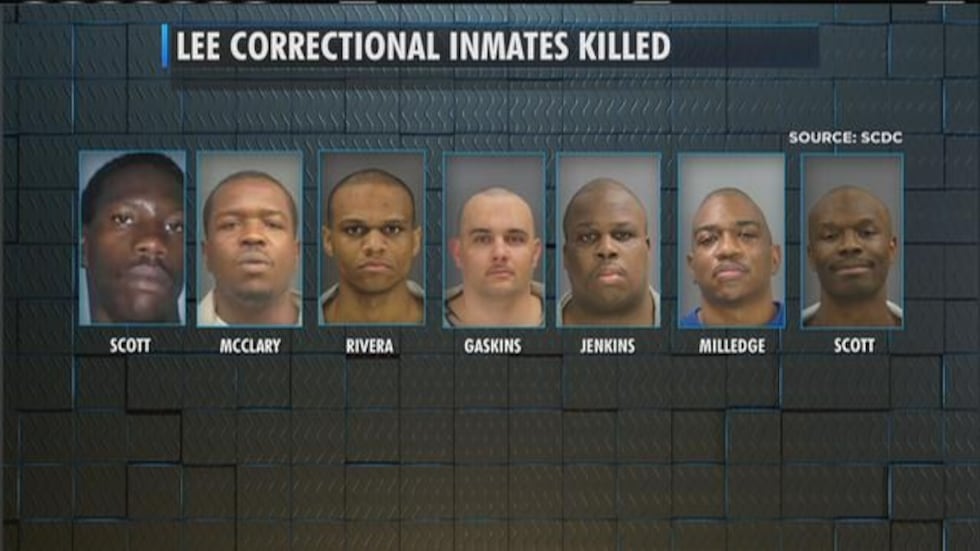 (WIS) - The director of the South Carolina Department of Corrections said Sunday's prison riot at Lee Correctional Institution that killed seven inmates and left 17 others injured was about territory, contraband, and cell phones within the facility.
SC DOC Director Bryan Stirling said these incidents happened in three different dorms Sunday evening and centered around contraband.
"These folks are fighting over real money and real territory while they are incarcerated," Stirling said."And you've heard us talking about it over and over again. These folks are fighting over real money and real territory while they are incarcerated."
With Gov. Henry McMaster and the State Law Enforcement Division Director Mark Keel, Stirling said the main reason incidents like this happen is because the cell signals surrounding the prisons are not jammed by the FCC.
Stirling described the events at the prison on Sunday: three different incidents happened in three different dorms, where it started in one dorm and snowballed.
He said the first incident happened at 7:15 p.m. on Sunday, with the second incident happening around 8:30 p.m. and the third happened later in the evening. There were between 250 and 260 inmates in each dorm with 44 officers working in the entire prison.
Stirling says officers, who waited for additional support from surrounding emergency responders to help before taking control of the first dorm at 11:30 p.m., the second dorm at 12:30 a.m. Monday and the roll call was taken in the third dorm at 2 a.m. Monday.
MORE ON THE DEADLY SC PRISON RIOT: 
"It happened in one dorm and soon, the other dorms found out about it," Stirling said.
Stirling says that there about 250 to 260 inmates in each dorm at Lee Correctional Institution. He also said that a lot of preparation goes into the prison's response to these events, saying it's also about officer safety.
The state Department of Corrections also identified the inmates as Raymond Angelo Scott, Michael Milledge, Damonte Marquez Rivera, Eddie Casey Jay Gaskins, Joshua Svwin Jenkins, Corey Scott, and Cornelius Quantral McClary.
"There's an enormous effort to make sure things like this don't happen," McMaster said.
Stirling did not release the type of weapon used in these incidents and said that information is a part of their investigation.
He also spoke about the photos and videos circulating on social media that claim to document the incident inside the dorms where bodies were shown. Stirling said he could not verify the authenticity of the videos.
Copyright 2018 WIS. All rights reserved.