WELCOME BACK: Marcus Lattimore joins USC football staff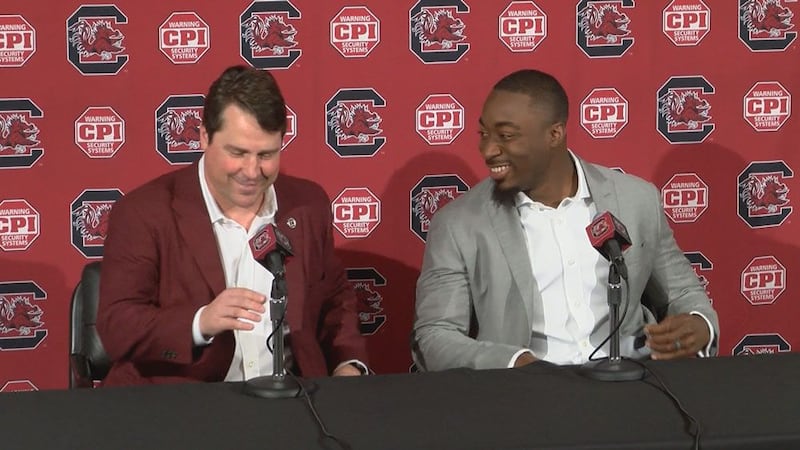 Published: Jan. 11, 2018 at 4:33 PM EST
|
Updated: Jan. 12, 2018 at 3:56 PM EST
COLUMBIA, SC (WIS & THE BIG SPUR) - South Carolina legend Marcus Lattimore has returned to his alma mater's football program in an off-the-field role.
The former Gamecocks running back will work as the football program's Director of Player Development. He spent this past season as the head football coach at Heathwood Hall in Columbia.
"This is a home run for us," said Gamecocks head coach Will Muschamp. "As far as mentoring players and dealing with tremendous success and triumph but also dealing with some tremendous tragedy and adversity, he has done both of those here at the University of South Carolina. This is a win for our athletic department. This is a win for our university. It's a win for Columbia. It's a win for the state of South Carolina. Being around him, he's got an infectious personality. He positive affects everyone around him."
"I'm really looking forward to this position," Lattimore added. "I really am because I empathize with every single player in that locker room. I know what they go through. I know what it's like to go through a 6 a.m. workout and be able to go to class, then go to practice, and then go to the training table. It's a tough grind that these guys go through. To be able to be (the Director of) Player Development and director of 'Beyond Football,' it's going to be amazing because I'm looking to set these guys up for life after football and I'll be assisting in that aspect of their life."
Lattimore will also be allowed to speak to recruits about having a plan once their playing days at Carolina are finished. His role with the Gamecocks' program will be primarily an off-field role.
"I'm not looking at what they're doing on the field," Lattimore said. "We take care of that because we have amazing coaches. I'm looking at the next 40 years of their life and what I can do to help them and prepare them for that."
Heathwood Hall sent a staff e-mail out today announcing the move. Lattimore, who was named the Highlanders head coach in 2016, met with his players on Thursday to inform them of the decision.
"It was a tough day because I connected with the fifth grade all the way up to my seniors," Lattimore said when asked about meeting with his former player at Heathwood Hall on Thursday to inform him of the decision to return to USC. "I think we all had a connection. They all made an impact on my life and I told them that. They really changed me and I grew. I grew as a human being and I think I became a better person being there. We had a lot of adversity, we had some success, and I shared with those guys to keep this thing going. Keep it rolling and don't look at this as a setback. Look at this as an opportunity."
Lattimore played for the Gamecocks from 2010-12 and was drafted by the San Francisco 49ers in the fourth round of the 2013 NFL Draft. The Byrnes High product never played in the NFL as a result of lingering knee injuries and subsequently retired from playing football.
Since that point, he has worked coaching football at the high school level, established the Marcus Lattimore Foundation and run multiple football camps and seminars designed for making a difference in the lives of young athletes.
Previously, the NCAA did not allow Lattimore to work for USC while continuing to work with his foundation. However, Lattimore has now received clearance to have ties to both.
"I believe in timing and God has put me in a perfect position," Lattimore said. "I'm just so blessed to be here now. There's so many things that had to happen, but we've been able to work it out and everything. I'll be able to keep my foundation, which I'm excited about [keeping] that running. That's something I want to do for generations to come. It's something that I hopefully can pass down to my future son or future daughter whenever that happens. But whatever we do with the foundation, it'll be fully compliant with the NCAA."
The Gamecocks also announced the promotion of Kyle Krantz as the program's 10th on-field assistant. Krantz will serve and a special teams assistant for Carolina. He will also coach "nickel" defensive backs and "Sam" linebackers.
Copyright 2018 TheBigSpur.com and WIS. All rights reserved.