Dorm secure, all inmates contained after incident inside SC prison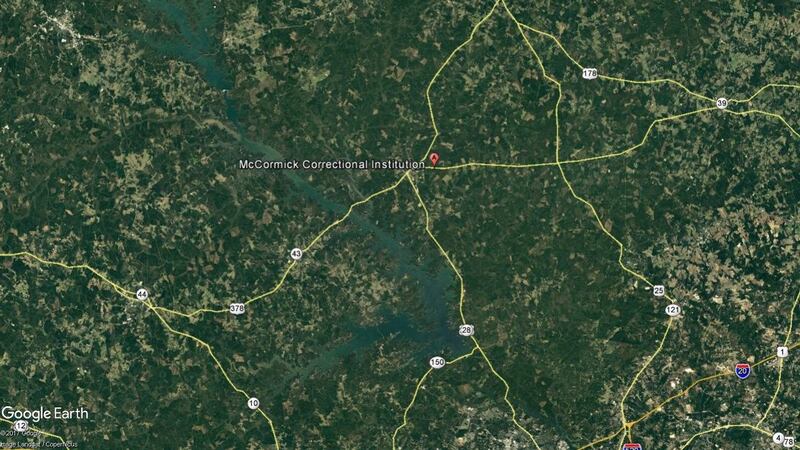 Published: Oct. 4, 2017 at 9:13 PM EDT
|
Updated: Oct. 5, 2017 at 2:13 PM EDT
MCCORMICK COUNTY, SC (WIS) - The South Carolina Department of Corrections (SCDC) says that reports of prisoner takeover at one of the state's prisons is just an isolated incident inside one unit and has since been contained.
In a statement posted to social media Tuesday evening, SCDC says there are responding to an "isolated incident" that only occurred in one unit at McCormick Correctional Institution.
"All staff are safe and accounted for," the tweet says.
"SCDOC confirms that there were several inmates who were in fact on the roof of the prison, but this was not an escape route," an SCDC spokesperson said. "[We're] Still working to figure out what started the incident which is still active at this time."
Since then, SCDC officials say the dorm has been secured.
Officials also confirmed that there was never a fire involved in this incident, despite previous information given by dispatchers. The McCormick County Sheriff's Office confirmed with WIS that no inmates escaped during the incident.
Previous reports indicated that inmates had overpowered guards and were on the roof of the correctional institution attempting to escape, which SCDC officials said did not happen.
McCormick Correctional Institution, located in McCormick, SC and is more than 78 miles west of Columbia, SC and 40 miles northwest of Augusta, GA.
Copyright 2017 WIS. All rights reserved.