'We need help': SC parents worry over 'low' Medicaid reimbursement rate for autism treatment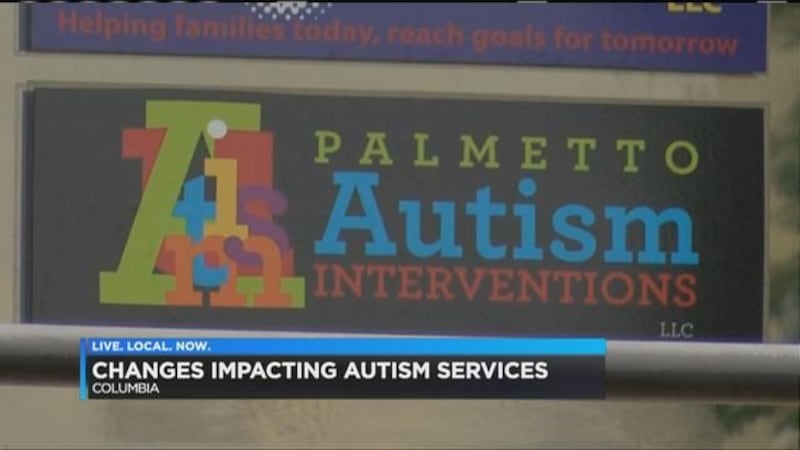 Updated: Jun. 27, 2017 at 9:36 PM EDT
COLUMBIA, SC (WIS) - There are changes coming to autism therapy services in South Carolina, starting on July 1, and the changes come with some criticism from the parents of autism patients.
The South Carolina Department of Health and Human Services (DHHS) is expanding coverage, and providing a slightly higher Medicaid reimbursement payment to the centers that provide autism treatment; parents and autism advocates say it's not enough to keep some centers in business.
Palmetto Autism Intervention (PAI) in Columbia is closing on June 30. The center provides therapy like Applied Behavior Analysis (ABA), a treatment many consider critical for those with autism.
The center is one of few that takes Medicaid patients. But they blame the slightly higher reimbursement plan for putting them out of business, saying a rise from $13.58 per hour to $17.28 per hour just isn't enough.
Autism Speaks advocate and parent Lorri Unumb takes up for the treatment center.
"They are people who spend their days sometimes being spit upon and sometimes scratched, and it's a very, can be a very demanding job. These providers are being reimbursed at such a low rate that they literally cannot afford to serve Medicaid children," Unumb says.
Director Teri Todd blames the closure on the state's Medicaid reimbursement plan.
"It is unfortunate, but the children who have private insurance that pays for ABA stand a better chance of the continuation of services than the children with Medicaid," Todd writes to WIS. "This is one of the hardest decisions Beth and I have ever had to make. There is such a high demand for quality trained staff that our employees should be able to find jobs with other ABA agencies. However, the children we currently serve will not be able to continue to receive ABA services because those agencies have their own children they are trying to provide services."
Todd says there are 74 patients at PAI that will lose their service there.
State Representative James Smith (D- Richland) sponsored a bill last session, to raise the Medicaid reimbursement payments to $40 per hour; however, the bill failed by one vote.
Rep. Smith says there are currently nearly 2,000 people in South Carolina on waiting lists for ABA therapy on Medicaid. That's why he supported a repayment rate increase.
"Without it, one, it will cost our state more because if you find yourself in a situation where a child with autism grows to an adult and has to be institutionalized, it's going to cost us far more. But even more important than that, is a loss of a life, a productive life," Smith says.
He believes there are laws that can act to protect children and patients from the consequences of these "low" rates, "which fundamentally denies access to this critical service."
A spokesperson for SCDHHS told WIS that Director Deirdra Singleton was not immediately available for an interview on Tuesday. The spokesperson did say that autism coverage is expanding in South Carolina starting on July 1, that the department will expand services to Medicaid beneficiaries ages 0 to 21, and limits for the duration of treatment will be removed.
The SCDHHS says the increase to $17.28 per hour in Medicaid reimbursements is a 27.25 percent increase. Parents like Alberta Stewart, volunteering at Camp T.A.L.K. in Lexington this summer, are concerned.
"We need help. We don't know what the future holds for our children, and without some assistance, the future is uncertain," Stewart said.
Smith will try for his legislation again, and more.
"There may be an opportunity to hold this agency and those within it accountable," Smith said.
Copyright 2017 WIS. All rights reserved.