Gas station manager: Customer in discrimination lawsuit 'should have come to us'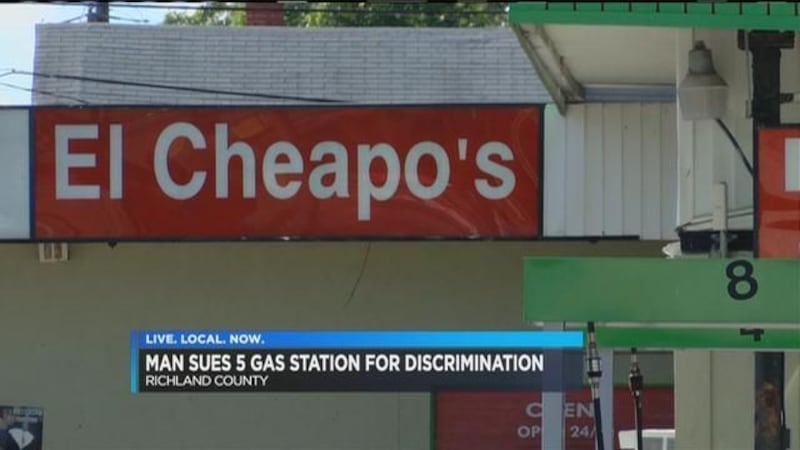 Published: Jun. 9, 2017 at 7:45 PM EDT
|
Updated: Jun. 9, 2017 at 10:07 PM EDT
COLUMBIA, SC (WIS) - An African-American man has filed a lawsuit against five Columbia gas stations who he says denied him access to their restrooms because of his race.
The plaintiff, Daniel Woodard, is now asking for $5 million in damages.
Hector Tapia, a manager at El Cheapo on the 4700 block of North Main Street, says no customers are discriminated against in their stores. He has worked at the convenience store for 10 years.
"We treat our customers the same no matter what color they are, no matter what race they are," Tapia said.
But the lawsuit filed by Woodard goes against Tapia's words. Woodard claims he was discriminated against at five different gas stations when he was denied access to their public bathrooms, despite being a paying customer.
"I know it's false for our side. I don't know where this is coming from. I really don't know who is this customer, where is this coming from," Tapia said.
The lawsuit claims that a private investigation proves that the same gas stations only permitted white customers to use the bathrooms, but Tapia says they accept all customers.
MORE: Midlands man sues for $5M, says he was denied use of gas station restrooms because of his race
"We got all different kind, but we got more [of the] black community here," Tapia said. "We treat our black community, white people, any customer, we take care of them. It's the same, you know?"
In fact, Tapia says he does not tolerate his customers being mistreated.
"He should have come to us, that's why I'm here. I'm the manager of the store. If it's any problem, we can take care of it. This is a neighborhood store and we always take care of everybody," Tapia said.
The lawsuit makes the argument that all the convenience store owners, who are listed as the defendants, are required by health regulations to maintain functioning restrooms for use by their customers.
We reached out to Woodard's lawyers, but they declined our request to be interviewed.
Copyright 2017 WIS. All rights reserved.