Gamecocks roll past Baylor to secure first-ever Elite Eight appearance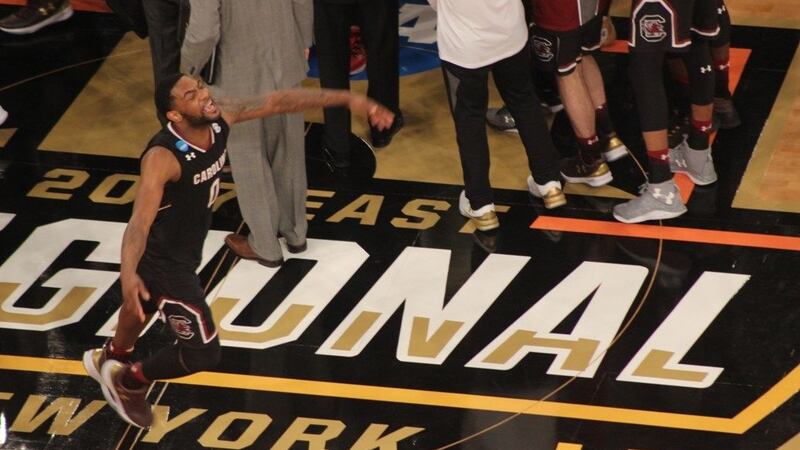 Published: Mar. 25, 2017 at 1:48 AM EDT
|
Updated: Mar. 25, 2017 at 8:30 AM EDT
NEW YORK (WIS) - The Gamecocks take one step closer to locking up a trip to Phoenix for the Final Four.
With four Gamecocks in double figures and Baylor unable to find answers for the USC defense, South Carolina routed the Bears 70-50 to reach the Elite Eight for the first time in school history.
"It just means a lot," said Gamecocks senior guard Sindarius Thornwell. "Just means a lot for the fans that we always keep saying, for everybody that's been supporting us for so long, for supporting the program so long, that follow the program that hasn't seen as much success, it just means a lot for them and for us and the feeling is great."
The Gamecocks opened the contest on an 11-6 run led by Chris Silva, but Baylor responded with a run of their own to tie it at 15-15.
Carolina tightened the defensive screws a little more and kept Baylor off the board for more than five minutes. As the Bears struggled to put points on the board, the Gamecocks would take control. Frank Martin's squad went on a 16-0 run with Thornwell spearheading the charge to put them ahead 31-15 with two minutes left in the half.
"Man, it was extremely tough," said Baylor forward Johnathan Motley when asked about going against the USC defense, "but that's what they game planned for. And they did a great job of executing their gameplan. We really couldn't buy a basket and, like Coach said, they did a great job."
RELATED: Historic win for Gamecocks keyed by defense
South Carolina ended the half on a 22-7 run to take a 37-22 advantage into the locker room.
Baylor's offensive woes continued early in the second half. Despite closing the deficit to 11, the Bears went 9-of-24 in the second half. With a lid seemingly secure over the Baylor basket, Thornwell took over. The SEC Player of the Year scored 11 of his game-high 24 points to help secure the victory as several Carolina fans voiced their love and support for the Gamecocks throughout the night.
"Our fans are taking this ride with us and, eventually, we're either going to party together or cry together," said Gamecocks head coach Frank Martin. It's one or the other. There's not another alternative here. But that's the way it needs to be. In fact, I want fans to cry when I cry. I want them to be mad when I go home mad. That's the only way you know that you got something going on."
South Carolina will play Florida on Sunday at 2:20 p.m. at Madison Square Garden.
Copyright 2017 WIS. All rights reserved.