Lott, Flowers spar in debate as voters determine who to support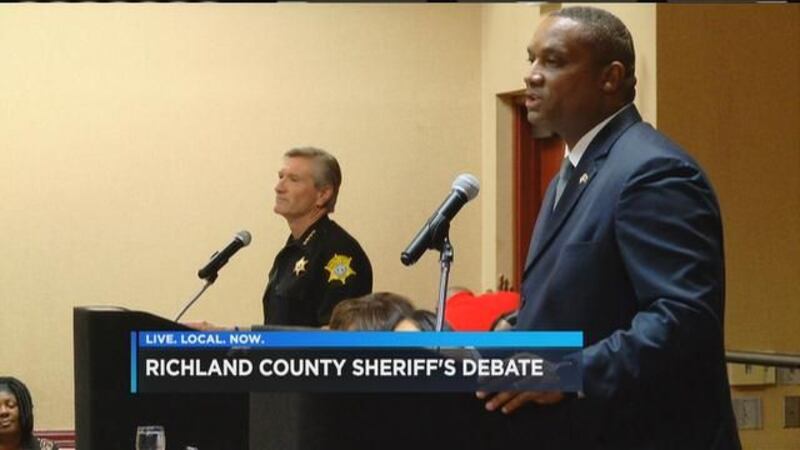 Published: Jun. 8, 2016 at 4:13 AM EDT
|
Updated: Jun. 8, 2016 at 4:18 AM EDT
COLUMBIA, SC (WIS) - It was a fiery debate at times between Sheriff Leon Lott and his challenger, former SLED agent James Flowers.
Flowers and Lott sparred about the department's diversity. While the challenger told the audience the diversity of the department could be found at the bottom, Lott countered saying his department has a good relationship with the community.
"When the young black man was shot on Broad River Road," Lott said, "we didn't have riots. We didn't have problems."
Lott also defended the sheriff's practice of investigating his own deputies when they're accused of wrongdoing. But Flowers had a lot to say about that.
"You cannot call yourself transparent when you investigate yourself," Flowers said. "Cannot. I can tell you now. If I investigate myself, I didn't do anything wrong."
The incident involving a Richland County deputy at Spring Valley High also came up. Flowers questioned why the case hadn't been solved yet. Lott responded.
"If you want to know where the status of the investigation is, then you need to call SLED and the FBI and ask them where it's at and not me," Lott said. "I didn't do that. SLED and the FBI has that case."
Both candidates also addressed crimes throughout Richland County.
"Richland County leads the way in violent crime and has for many years now," Flowers said. "The current sheriff has been sheriff for 20 years. It's kind of like, if you go to the store, and you break it, you bought it. If you've been here for 20 years and violent crime is steadily on the increase, then it belongs to you."
However, Lott disagreed with the challenger's perspective.
"Well, I can say that the sun fell out of the sky today," Lott said, "but that doesn't mean it's true."
The forum gave voters an opportunity to hear each candidate's stance on various issues and some were able to decide who would receive their vote.
"My problem with Mr. Flowers is that at times, he did not tell the truth," said Lott supporter Susanna Cecere.
Others left with a different take.
"I'm very proud of Sheriff Leon Lott's legacy," said Kimberley Brown. "I think he has a very strong South Carolina and Richland County legacy. I'm still on the fence though. I mean, change is always good. So, I'm always open to change."
Copyright 2016 WIS. All rights reserved.