Sheriff's candidate claims deputy 'grabbed, kicked' campaign sign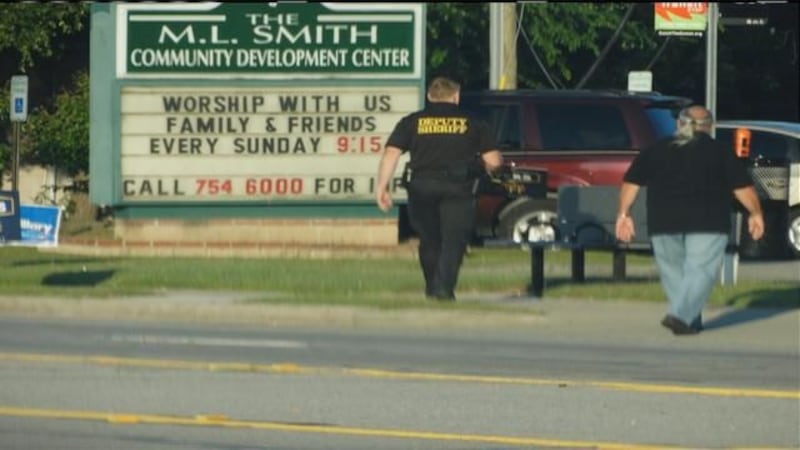 Published: May. 8, 2016 at 3:50 AM EDT
|
Updated: Oct. 20, 2017 at 4:10 PM EDT
COLUMBIA, SC (WIS) - A man running to be the next sheriff of Richland County is accusing one of the Richland County Sheriff's Department's deputies of maliciously removing his campaign sign from grounds around an area church.
"He went directly up to my sign and he kicked it and he grabbed it at the same time and tossed it," Democratic candidate James Flowers, who is running against sitting Sheriff Leon Lott, said.
"It was malicious, it was intentional," Flowers said, "and I can't understand why he would do something like that."
Flowers said he documented the incident Saturday morning by taking pictures from across Farrow Road. The sign was one of several " Flowers for Sheriff" campaign signs that were removed from outside of the M.L. Smith Community Development Center. The center was getting ready to host an event in partnership with the sheriff's department. The focus was to allow criminal offenders facing outstanding arrest warrants to turn themselves in peacefully.
"We made it perfectly clear that there are to be no campaign signs, no campaign paraphernalia," said pastor Michael Baker of the Greater St. Luke Baptist Church, which owns the center and was organizing the event.
Baker went on to say that his staff discovered the campaign signs in front of the center early Saturday and concluded they had been placed there overnight. Baker then said he asked his employees to remove them.
A spokesperson for the sheriff's department also added that the deputy in question began assisting church staff in removing the signs, but did so in a proper way.
"The signs were returned. No damage was done. The signs were not kicked," said Sheriff's Department spokesperson Sgt. Brittany Scott. "They were just gently moved off the ground, out of the way to show that this was not a political event."
Flowers, who claims he has had dozens of his campaign signs vandalized in recent months, said he feels the church had no authority to move the signs. He claimed his volunteers placed them on public property in front of the building.
Flowers said he intends to contact SLED on the matter and file a complaint. That agency is already investigating complaints of vandalism on some of his other signs. The Sheriff's Department said it will continue to follow this matter and look into charges only if they become necessary.
Flowers and Lott face off for the Democratic nomination in the June primary.
Copyright 2016 WIS. All rights reserved.