Sheriff fires Spring Valley SRO who slammed and dragged female student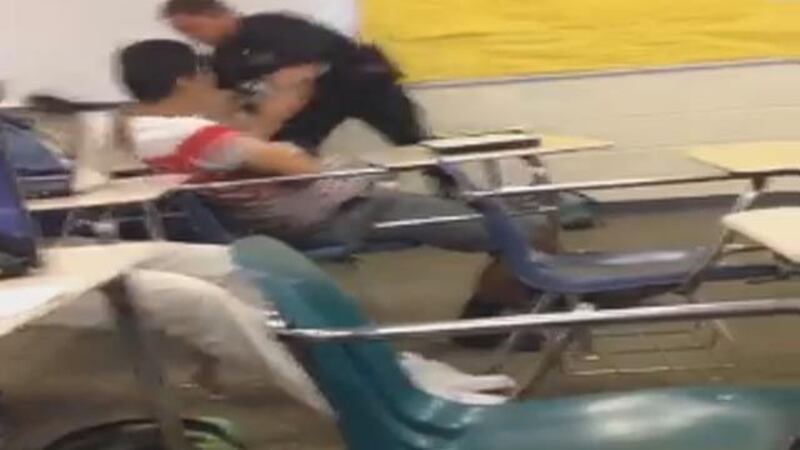 Published: Oct. 28, 2015 at 2:26 PM EDT
|
Updated: Nov. 7, 2015 at 5:08 PM EST
RICHLAND COUNTY, SC (WIS) - Richland County Sheriff Leon Lott said on Wednesday he has fired school resource officer Ben Fields after his actions inside a Spring Valley High School classroom on Monday.
The sheriff's department conducted a swift internal affairs investigation after shocking videos surfaced that showed Fields slamming and dragging a 16-year-old female student in a math class on Monday afternoon.
"The maneuver that he [Fields] used was not based on the training and was not acceptable," Lott said when revealing the findings of the investigation 48 hours after the incident occurred. "Deputy Ben Fields did wrong this past Monday, and we're taking action for that."
Lott also made a point to say the student should also be held accountable for her actions. "The student was not allowing the teacher to teach and not allowing the students to learn," Lott said. "This incident started with a big, disruptive student in a class ... she started this whole incident with her actions."
"While the student's actions do not justify some of the deputy's actions, the school and administration must deal with that issue," Lott said. "Our schools must have an educational environment. That is the responsibility of everyone: parents, students, teachers, administrators and SROs. When one element fails then the process of educating our students fail."
The investigation found Fields followed procedure until he used physical force. "He was allowed to put his hands on her. He told her she was under arrest. Then he threw her across the room. He did not follow proper procedure," Lott said. "In my opinion Deputy Fields could have accomplished the arrest or handled the situation without some of the actions he did."
A teacher and an administrator in the classroom supported Fields said he acted appropriately. "[They said] that he didn't use excessive force. That he did what was necessary. That came from both of them who were present when this happened."
"What he should not have done was throw the student," the sheriff said. "When he threw her across the room, he lost control of her. That's not acceptable."
The student who was taken into custody was handcuffed, but eventually turned over to her parents because she is a juvenile. She faces a charge of disturbing school. An 18-year-old female student who, according to a sheriff's department incident report, shouted profanities at Fields was arrested and also charged with disturbing school. She was booked into the Alvin S. Glenn Detention Center.
When Lott was asked by a member of the media if Fields, who was initially placed on unpaid leave, was remorseful about the incident, he said the now former deputy was not. "He is sorry that this whole thing occurred," Lott said. "It was not his intent. He tried to do his job and that's what he feels like he did. It happened very quickly."
Lott said Fields told him if he had to do it over again, he'd probably have done it differently.
WIS spoke with Fields at his home late Wednesday afternoon and declined comment. However, his attorney would later release a statement on Fields' behalf.
The first two videos show Fields approaching the girl sitting at a desk in a classroom. Fields grabs the girl's arm while putting his own arm around the student's neck.
However, a third video from Instagram shows Fields try and pick the female student out of her desk, but the student then hits the officer while he brings the desk to the ground.
**WARNING: These videos do contain strong language. Discretion is advised.
This is the first video we obtained.
This second video was sent to us a short time later.
This third video surfaced overnight.
The person who posted the Instagram video says the student was initially asked to leave the class for telling the teacher that she would not put away her phone. The poster says the teacher disciplined the student with a write-up for being disrespectful and disobedient. After being asked to leave again, and her refusing, an administrator came to remove her, she refused, and that is when the SRO was called in.
The poster of this video claims when Fields got to the classroom, he asked her to get up from her desk 4 or 5 times and again, she tells him no. After moving objects from around the student, and asking again to leave the classroom, and her refusing, that is where you see the officer getting physical.
"As in any incident, videos are very useful to us," the sheriff said. "We're glad that the students did take the videos. We welcome people to video us when we do our job. Most of the time it shows we're doing our job in a correct manner. And when it shows we're not doing our job in a correct manner then we'll address it."
To this point, Lott said he had not received any complaints about Fields from the school district. "He has tremendous support from the faculty and staff at Spring Valley and the students ... it's never been a complaint," he said. "If I had cause of concern and thought he was a danger then he wouldn't have been at the school."
Richland School District Two Superintendent Dr. Debbie Hamm applauded Lott and the sheriff's department for the quick response.
"I want to thank Sheriff Lott and his department for their swift response," Hamm wrote in an emailed statement. "There may be some who think this is the end of the matter. In Richland Two, however, we continue to work closely with the Sheriff's Department and independent federal and state investigating agencies to examine exactly what happened."
"We know important work is ahead of us as we thoughtfully and carefully review the decision-making process that may lead to a school resource officer taking the lead in handling a student disruption. Conversations that have already started will continue around how we work with the sheriff's department on improvement and coordination of our work as educators and their work as law enforcement officers."
"Our primary goal is to de-escalate situations through problem-solving and communication techniques, while avoiding actions that escalate and result in unfortunate confrontations. We will continue to move forward with this approach."
RCSD has 87 school resource deputies that are assigned to every elementary, middle and high school in Richland County.
"Everyday these deputies do a fantastic job building positive relationships with students, faculty and parents," Lott said. "Monday's actions by Deputy Fields was not typical of the job I, parents, schools, students and the community expect of our SROs."
"We're going to use this as a learning opportunity for all of us," Lott said. "We won't allow an incident like this to tear us apart."
The FBI and U.S. Attorney's Office investigations into possible criminal charges continue.
Copyright 2015 WIS. All rights reserved.