Cayce sculptor builds ATAT from The Empire Strikes Back film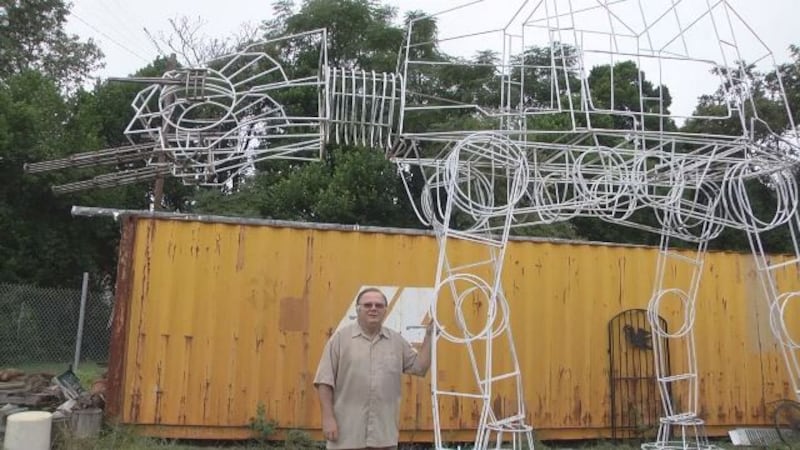 Published: Oct. 1, 2015 at 4:49 PM EDT
|
Updated: Oct. 11, 2015 at 5:00 PM EDT
CAYCE, SC (WIS) - Cayce artist John Sharpe likes to make large pieces of sculpture.
"It's even bigger than I anticipated. But it was quite fun doing it."
Sharpe built a 16-foot sculpture of the ATAT, or All Terrain Armored Transport vehicle from The Empire Strikes Back.
Of course, Sharpe is a Star Wars fan.
"I am looking forward to the new one coming out," he said.
But don't expect Sharpe's ATAT to be a replica from the film. It's his artistic interpretation.
"My intention wasn't to have it look exactly like it is in the movie," he said. "Basically, this is me drawing something in metal instead of using a pencil. I wanted there to be enough to where you could tell exactly what it is, not enough to complete the picture."
Sharpe's creation will be at Soda City Comic Con this weekend at the Columbia Convention Center. It's assembled in three pieces, on wheels, and requires to trailers to move. He said it's fairly light for its size.
"It's just a few hundred pounds."
He said a few people have stopped outside his Frink Street shop, recognized the sculpture in the yard, and taken photos. He also posted photos of the construction process online.
"I want somebody to see it and go, 'Oh, that is a ____.'  I don't want to completely finish it for them."
Even though it looks completed, Sharpe said there's more he wants to do with it. He wants to add a sculpture of a man pulling it, and wants the metal to weather and rust naturally.
"I want it to look like it's been well-worn. All the different rust running down it, kind of unfinished, like it's been really wore out. I like showing struggle," he said. "And if you're a Star Wars fan, it's all about the struggle."
Despite conveying a struggle, he said he hopes the sculpture triggers big smiles.
"I'm hoping the kids just go away with a huge smile."
Click here for a link to Sharpe's Gallery, Sharpe Creations. Click here for a link to Sharpe's Facebook page.
Copyright 2015 WIS. All rights reserved.