Hillary Clinton cites economic recovery, says 'black lives matter' in SC stop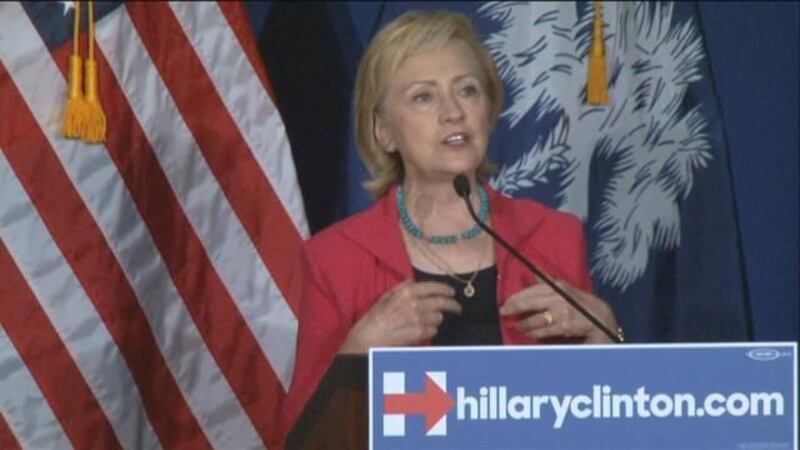 Published: Jul. 23, 2015 at 12:30 PM EDT
|
Updated: Jul. 30, 2015 at 12:30 PM EDT
WEST COLUMBIA, SC (WIS) - Democratic presidential candidate Hillary Clinton brought her campaign back to the Palmetto State on Thursday with a rally and question and answer session with local mayors.
Clinton hosted a forum at Brookland Baptist Church in West Columbia.
The former Secretary of State and senator from New York started her speech by praising South Carolina leaders for their removal of the Confederate flag from the State House grounds.
But Clinton also took a step further and said society still has a long way to go on race issues.
"Black lives matter," Clinton said. "We have a responsibility to face hard truths on race and justice."
When specifically asked by a member of the audience how she'd improve race relations, she responded saying it starts with repairing relations between law enforcement and the community.
"Anyone who says we have not made progress hasn't kept their eyes and their ears open. We have made progress. Anyone who says we don't need to make any more progress is blind to what we need to do to deal with race and justice questions," Clinton said.
From there, Clinton pivoted to the economy and called it the main issue of the upcoming 2016 presidential campaign. She criticized GOP leaders for their continued support of trickle-down economic policies.
"We have so many blessings, but we need to be honest enough to face our problems," Clinton said. "Trickle-down economics don't work."
Mobile users, tap here to see who else is running for president.
Clinton also addressed her campaign to become the first female president of the United States.
"I'm not asking people to vote for me because I'm a woman. I'm asking people to vote for me on the merits," Clinton said. "And I think one of the merits is, I am a woman and I can bring those views and perspectives to the White House."
Copyright 2015 WIS. All rights reserved.