Gov. Nikki Haley on Sen Vincent Sheheen gaffe: 'I really don't care'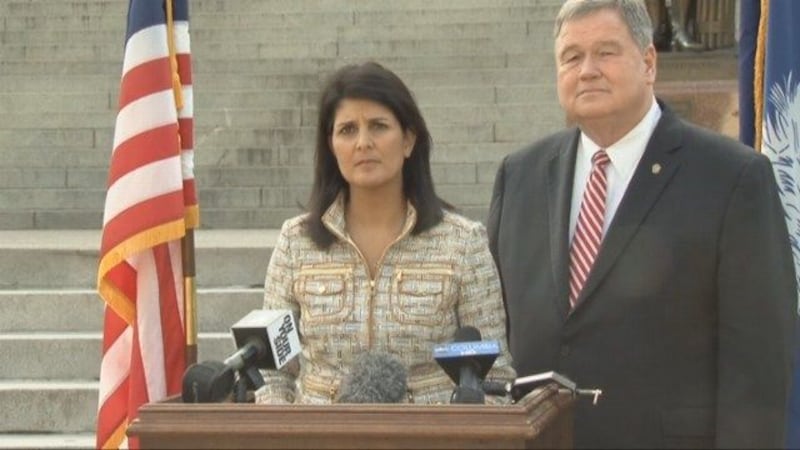 Published: Oct. 29, 2014 at 4:34 PM EDT
|
Updated: May. 12, 2016 at 1:21 PM EDT
COLUMBIA, SC (WIS) - It's the gaffe heard 'round the Palmetto State.
State Sen. Vincent Sheheen is taking heat for an unforced gaffe during a campaign stop in Florence over the weekend when the word "whore" accidentally slipped out of his mouth when he spoke about Gov. Nikki Haley.
"We're going to escort whore out the door," Sheheen said. Realizing what he said, Sheheen corrected himself quickly. "We're going to escort her out the door."
The crowd laughs at the correction, and Sheheen himself laughs a bit.
Since then, the comment has lit a powder keg under the Palmetto State and national political world. Even Ann Romney, Mitt Romney's wife, is fired up about Sheheen.
"When I first heard about it, it hit me right in my gut. My nerve endings went haywire," Romney said to CNN. "It's so upsetting when you know someone can say something like that about a woman, and not have any kind of reaction. It's so unacceptable. Nikki is a great girl and has been a great governor."
State Republicans have also seized on the comment and Romney's response and used both in a campaign e-mail to help raise money for GOP candidates.
"And if you can bet a Republican said anything like what Vincent Sheheen said, the liberal mainstream media would issue breaking news alerts and cover it endlessly," the e-mail said. "Instead, it's just silence."
But even as state Republicans have pushed the story to national media outlets like CNN and Fox News, Haley herself has been quiet on the comment. That is, until Wednesday, when we asked her about it during a news conference where she asked voters to approve a change in the way the adjutant general is selected.
"I haven't spent a lot of time of this and you have not heard me talk about it and it's because whether it was a gaffe or not, I really don't care. I'm a tough girl, I can handle that. The laughing afterwards, was a kick in the gut. The comment that sometimes you've gotta tell the truth, that was tough. But, having said that, I'm not going to waste my time on that," Haley said.
"I thought that Ann Romney's comments were appropriate. There's no place in South Carolina for comments or laughter."
Sheheen, meanwhile, has since apologized for the gaffe during an appearance on a Lowcountry talk radio show.
"I don't use that word you people are claiming that I used," Sheheen said. "I don't use it in private, and I don't use it in public, but if anybody heard wrong, and certainly my words were garbled, then you know I apologize because I don't want to send that message to anybody."
Joel Sawyer, a Columbia political consultant with PUSH Digital, said candidates, campaigns, and political parties will get a hold of any hot button comment to get voters fired up.
"Anything that happens on either side is an opportunity for the other side to get people to the polls and raise a bit of money," Sawyer said. "If one side does something good or bad, the other side will try and raise money off of it. That's just politics."
Copyright 2014 WIS. All rights reserved.