Inmate testifies he received special treatment in former SC sheriff trial
Published: Apr. 11, 2014 at 3:21 AM EDT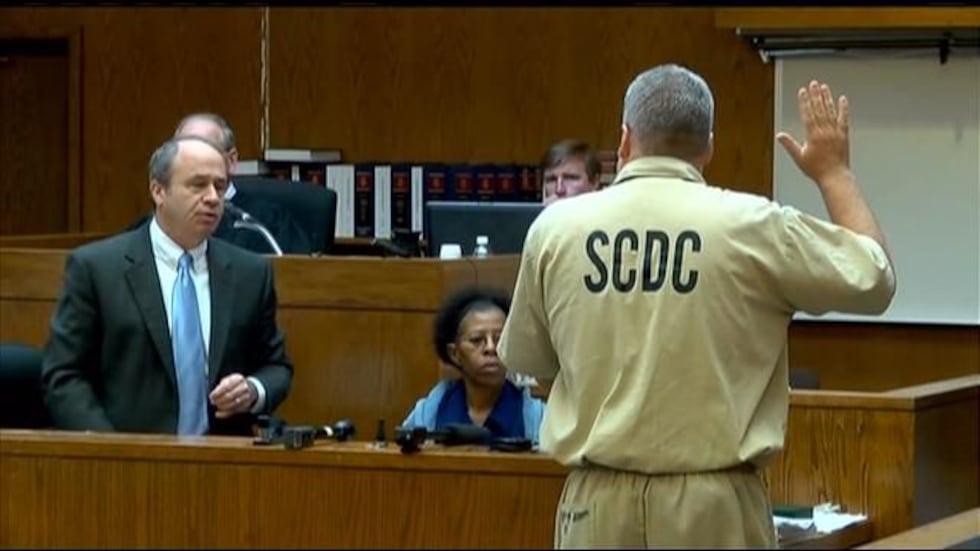 CHESTERFIELD COUNTY, SC (WBTV) - Jurors in Chesterfield County heard eyebrow raising testimony from one of the inmates at the center of former Sheriff Sam Parker's corruption trial, Thursday.
Parker is accused is giving Mike Lee and another inmate special privileges in exchange for work on his property.
Lee is currently serving a 15 year sentence for arson.
Sam Parker appeared calm in court, Thursday, while one of his former right hand man-inmates told jurors about the life he lived under Parker's watch.
Lee testified while in the Chesterfield County jail he was able to furnish his cell with flat screen TV's, a fridge and a new mattress.
Lee purchased the items with his own money sent from family.
Lee told jurors that he would eat lunch with deputies and he was allowed to purchase and wear regular clothes instead of his jail outfit.
Lee said he worked at one of the county's impound lots where he had access to Internet, phones and a Facebook account.
Eventually, Lee moved out of the jail into the Sheriff's armory where he had sex with a female visitor and hosted his birthday party where guests ate filet mignon and drank alcohol.
"When did the Sheriff call and tell you that you couldn't be drinking alcohol in the armory," asked the State Prosecutor.
"He didn't," Lee responded.
"He never did," asked the prosecutor.
"No," said Lee.
During his time in Chesterfield, Lee said he was able to take a private jet from Cheraw to Mt. Pleasant to see his wife in child.
He was able to purchase items such as Rolex watches, iPads even a tanning bed which was kept in a closet in the sheriff's office.
Lee also testified he was driven to Florence, South Carolina along with another inmate by a deputy in a marked sheriff's car to meet a female friend for a lunch date.
Lee explained how he became very close with Parker by working at his home, going to church with Parker and giving gifts to Parker's daughter.
On one occasion, Lee recalled firing the sheriff's gun at targets at Parker's home with him present.
"Did the sheriff stop you? Did the sheriff ever say give me that gun, you can't have that gun," asked the prosecutor.
"No ma'am," responded Lee.
Prosecutor: Did the sheriff yell or lock you up," ask the prosecutor.
"No ma'am," answered Lee.
The trial will pick back up Friday, when the second inmate accused of receiving special treatment is expected to testify.
Parker's defense team says they will re-evaluate their strategy to see if Parker will take the stand.
Copyright 2014 WBTV. All rights reserved.