Tests show Monkey Joe's does not have bedbugs
Published: Feb. 20, 2014 at 7:59 PM EST
|
Updated: Mar. 1, 2014 at 4:23 PM EST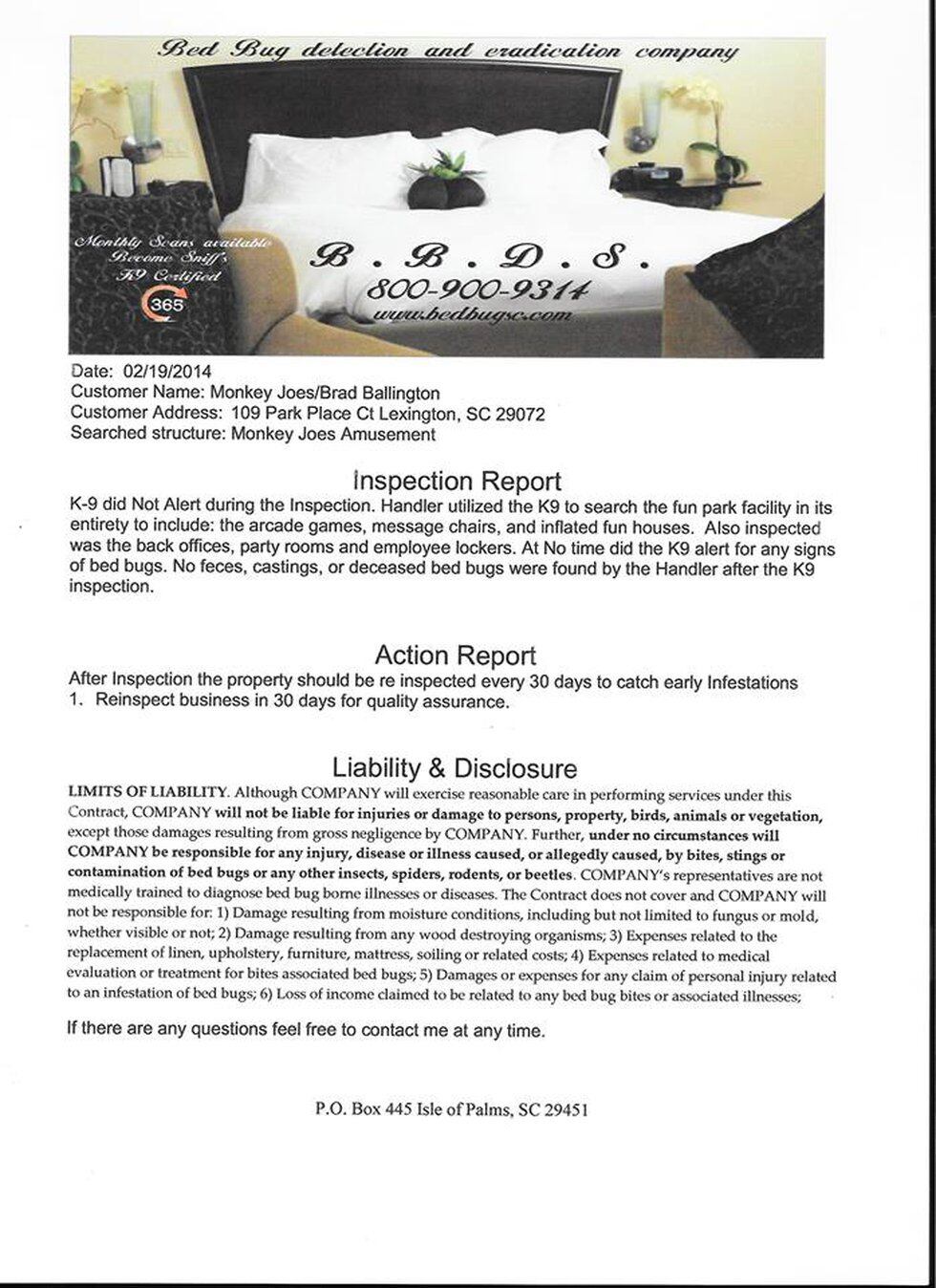 LEXINGTON, SC (WIS) - A Lexington play center reports it is clear of bed bugs after one parent posted on social media that her child contracted bed bugs after visiting the business.
Monkey Joe's in Lexington had a preliminary inspection Wednesday morning by Cayce Exterminating and another review Wednesday afternoon by Bed Bug Detection Services in Isle of Palms, which came with a bed bug dog to do the inspection. Both inspections reported the play center is free of bed bugs.
Bed Bud Detection Service's report was also posted to the WIS Facebook page by an account linked to Monkey Joe's.
"At No time did the K9 alert for any signs of bed bugs," said the report. "No feces, castings or deceased bed bugs were found by the Handler after the K9 inspection."

"In an effort to be expedient as possible, we reached out to two separate pest control companies, one of which recommended the dog," said Kelly Ronna, a spokeswoman for Monkey Joe's. "It is our understanding that a human inspection is the most thorough possible; however, as we are taking this situation very seriously, we wanted to be as thorough as possible."
The bed bug report at Monkey Joe's surfaced on Facebook Tuesday when Lexington mother Nicole Struck said her 10-month-old daughter contracted bed bugs after her first visit to Monkey Joe's in Lexington on Feb. 4.
Struck posted pictures of the supposed bed bugs and wrote about her allegations on Facebook. She also contacted local media outlets to share her daughter's story.
Since authoring the post, Struck was contacted by Monkey Joe's employees to say the business had the inspections. Struck said her daughter is still recovering from the bed bug bites.
Monkey Joe's Lexington owner Brad Ballington said the business is cleaned weekly by Swisher Hygiene.
"Swisher is a service that reduces exposure to germs and cross contamination," Ballington said. "This practice removes the surface bacteria for a minimum of seven days, ensuring Monkey Joe's is covered from one weekly visit to the next."
WIS contacted Swisher Hygiene, but has not received a response from the company.
The Cayce Exterminating pest control manager Brent Van Horn said it is possible that if Struck's daughter did get the bed bugs from Monkey Joe's that the bugs could've traveled on another child who was at the business the same time as Struck and her daughter.
"This is not an ideal environment for bed bugs," Van Horn said. "bed bugs are usually in a bedroom where you sleep."
WIS checked with the state Department of Health and Environmental Control since Monkey Joe's also serves food at its establishment. DHEC spokesman Jim Beasley said the agency does not investigate bed bugs because they are not considered a threat to the public since they do not carry disease.
"bed bugs do not feed on food, and therefore, would not be drawn to the food operation of a retail food establishment," Beasley said.
However, DHEC did inspect Monkey Joe's food operation.
"Retail food establishment inspections encompass all portions of the property used in conjunction with the food operation," Beasley said. "Given that the playground area at Monkey Joe's is not part of the food operation, the playground area is not included in the routine inspection process."
Monkey Joe's received at 95 on its Dec. 17, 2013, restaurant inspection and a 97 on Jan. 4, 2013.
Copyright 2014 WIS. All rights reserved.