To men spending decades in prison, hope walks on 4 paws
Updated: Jan. 27, 2015 at 2:30 PM EST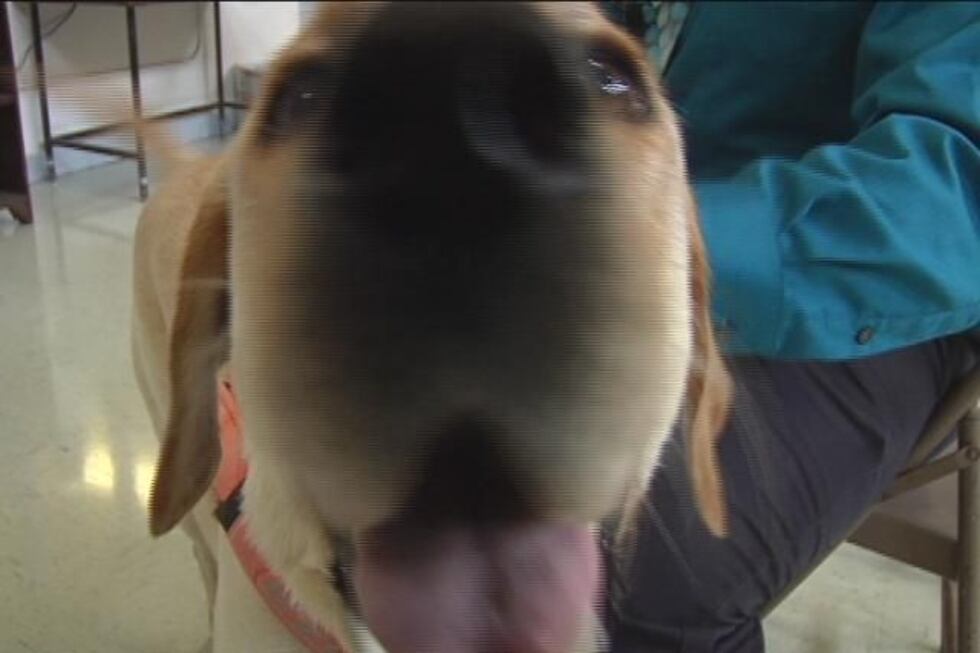 BISHOPVILLE, SC (WIS) - In June 2012, inmates at Lee Correctional Institution assaulted a corrections officer. Three months later, inmates at another dorm took attacked another officer and held him hostage.
Since then, the atmosphere in some parts of the maximum security prison has changed.
"I know there's been a turnaround," said Mike McCall, Director of Programs with the South Carolina Department of Corrections. "I wouldn't have let you walk across this yard 19 months ago."
"The population's still the same. They're just being treated differently," he said. "It's still the same inmates, the same men who were here 19 months ago. We're doing it differently. We manage things in being out and about, in listening to them, and seeing what's going on in the institution."
One of the innovations is a character dorm, where the men live in trust of one another with their cells unlocked, an unorthodox concept for a prison that houses convicted murderers and violent offenders.
"These are men living in a community doing the right thing," said McCall. "When they have problems with one another, they work it out. It's a community. They talk about it instead of using violence.  They're living like….men.  They're being men."
"Treating them like a man, treating them like a human being, letting them know I'm going to do the right thing by you if they're going to do the right thing."
As part of the transformation, McCall brought the Healing Species program to the character dorm 4 months ago. The program has been successful at Perry Correctional Institution for 4 years.
"I saw grown men tear up and cry because they hadn't touched a dog in 35 years, 15 years, 10 years, and never thought they'd have the chance to do that again. It's made my institution safer."
"I never thought in 27 years at a level three institution, we would have dogs in here," said Associate Warden James Dean. "The success that the inmates have opened their hearts and arms to these animals.  We're a team here."
Dean says administrators are changing the institution through the people.
"I walk around this unit and I see when we let the dog go to each individual. I see the love. I see the face.  I see these guys looking like, 'God, I never thought I'd be able to experience this.'"
Healing Species was founded by Orangeburg attorney Cheri Thompson, who started the program for at-risk children.
"Especially violent crimes, these individuals were abused as children and while they were still children, they would begin repeating behavior that was familiar to them," said Thompson.
Healing Species spread to schools throughout South Carolina and four other states. Then it expanded into South Carolina prisons.
"We found out that this was a match made in heaven," she said.  "That the inmates have time and we have unwanted dogs that we could not get adopted through rescue.  And we thought if we could pair them to inmates, it might be a healing opportunity for everyone."
Just like the inmates, the dogs had no hope. Some could not be adopted because they were so badly abused and had behavioral problems.
"Most of these dogs are dogs that everyone has given up on," Thompson said. "Sometimes the inmates can relate and maybe feel the same way that maybe they were someone that everyone else in society had given up on."
Some dogs waited as long as 2 years to be adopted, like Maggie.
"She was abused real bad. She was real scared," said Maggie's partner, a Summerville inmate. "She's come a long ways. She's been therapy for me.  I got a lot of problems, she's got a lot of problems. I've been locked up 34 years. I'm probably the worst person here."
"She gives me therapy you wouldn't believe," he said. "I spent more time with her than I have my own three kids. She opens the door for me. I didn't speak to people before. I didn't talk to the officers."
"This little dog has had a hard life," he continued. "I couldn't even touch her. She trusts me. She probably never had that before.  It's taken me 4 months to get her to be a normal dog."
And Maggie is a normal dog now. Her tail is constantly wagging and she approaches people on her own, searching for a pat or a scratch.
"I see more of a wagging tail," said Adele Little with Healing Species, who remembered Maggie from when she was rescued. "I see a light in her eyes. She's come a long way."
But tears fell as Maggie's handler said it would be hard to say goodbye when she found her forever home.
"As long as I know she's going to someone to take care of her," he said, voice breaking. "She's a special dog."
"It's healed me," said another inmate, a tall man from Greenville who admitted he would die in the prison. "I'm guilty and I deserve to be here. It's meant a lot to us to have these animals here."
"These inmates know how to nurture the dogs and care for these dogs and bring out the best in the dogs," said Thompson.
So far, five dogs have been rehabilitated and adopted into loving homes. Prison employee Duane Schnipke was taking home a rambunctious yellow lab named Baron the day I visited the prison.
"I've seen inmates actually change with the animals when they came in," he said. "It's actually changed the way they walk around.  They're happy to see the dogs here, so it brings a lot of cheer to the institution."
The inmate who worked with Baron says knowing he's going to a good home makes it easier to say goodbye. Schnipke isn't sure if he can bring Baron back to visit, but he can share photos and updates with the inmates.
"He's been like a child. I feel like if I kept him here, I'd be holding him back," said Baron's inmate friend. "He's got a lot of land and young kids. He's got a lot more love coming his way."
The Florence native said Baron helped him through the grief of losing his brother.
"My brother passed away while I had him," he said. "He's been a tremendous help. It's bad being away from family. A dog has pure agape love. It's good to have someone to love. It's almost like you find something you lost when you got locked up. I've been here 10 years. It does help. It's like therapy for people having a bad day. I've seen more smiles since that dog has been here than in the last 10 years. They change the atmosphere."
This particular inmate says he will spend the next 49 years of his life serving a 60-year sentence. What he was convicted of isn't relevant now, but the dogs' presence has improved relations among the inmates.
"Having him helped improve my relationships with other prisoners.  People talk to me now that I normally wouldn't talk to."
"The inmates are trying to do something that's very positive," said Warden Dennis Bush. "Some of these guys never had the responsibility of taking care of anything in their lives. Now they're taking care of the dogs and as a whole, they treat the dogs like a human."
"I've personally have had guys come up to me and say things like 'When I came into the unit, Shep ran up to me and licked me all over, and that was the first unconditional love I can remember having,' or a man who could hardly speak English pulled me aside and said 'I just want to tell you these dogs have healed me,'" recalled Little.
"There's hope. This has given them hope," said McCall. "I truly believe that I'm energized when I walk in here and see these men because it's hope. You can't take hope from a human being. Without hope, you're nothing."
Click here for more information on Healing Species.

Copyright 2014 WIS. All rights reserved.