Hospital staff member classifies child as 'loser' for lack of immunizations
Published: Nov. 5, 2013 at 9:40 PM EST
|
Updated: Nov. 16, 2013 at 7:41 PM EST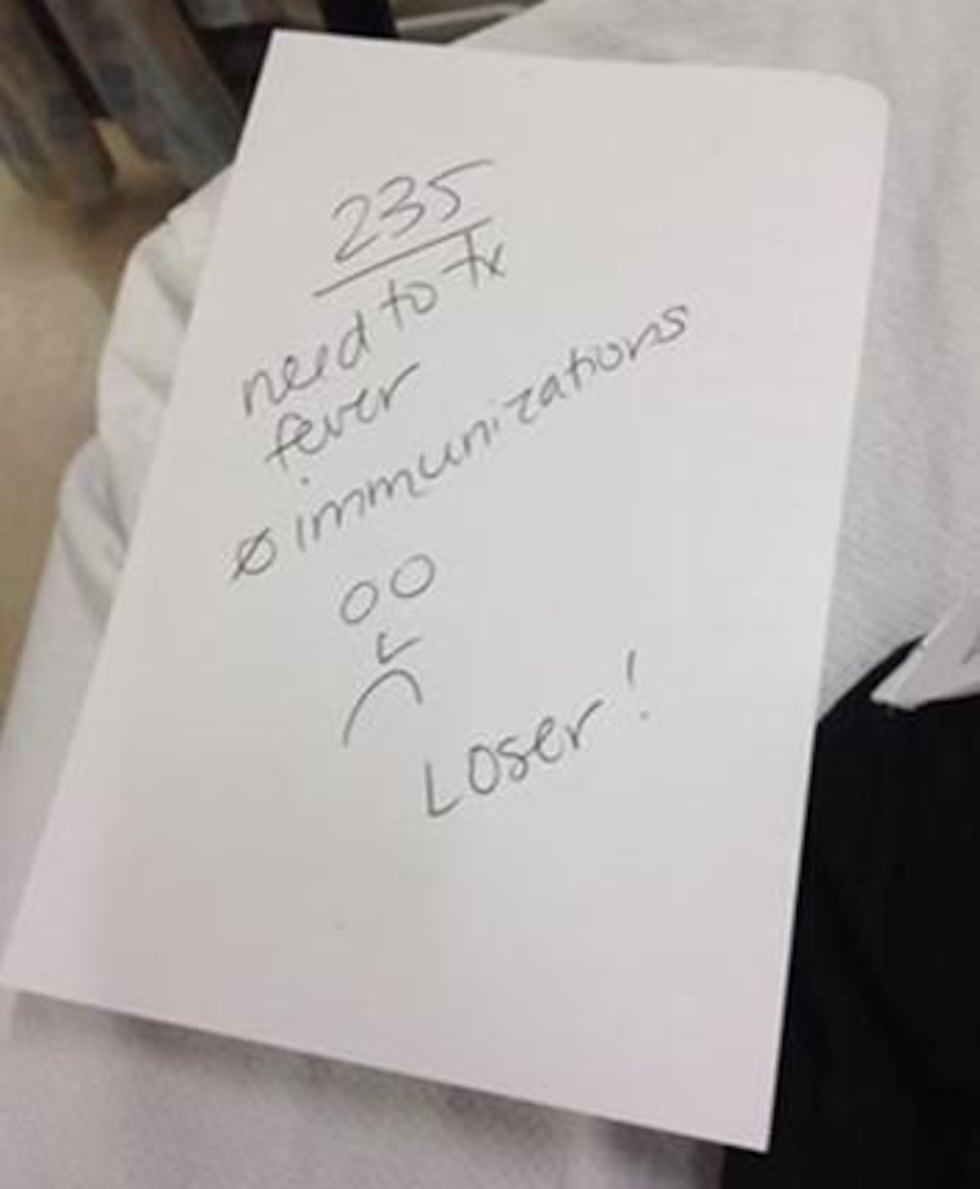 COLUMBIA, SC (WIS) - Palmetto Health has taken swift action against a staff member who left a note in a child's room classifying him as a "loser" because he was not vaccinated.

According to the 9-month-old's father, Trevor Smart, the unidentified staff member left the handwritten note on a table inside the boy's room in the emergency room at Palmetto Health Children's Hospital Monday evening.
"My wife took our 9-month-old child into the ER around 5:45 p.m. on Monday the 4th of November for an injury he sustained trying to pull up and start walking earlier that day," said Trevor. "After the initial screening and overall check of my child, we found out he had a temp of 101. The doc came in and wrote a prescription for the fever and ordered

an

X-ray."
"The nurse came in and left this note on the table," said Smart.
The note read:
235
need to tx
fever
0 immunizations
Loser!
"This kind of inappropriate behavior is unacceptable and unprofessional," said Trevor referencing the word "loser."
Katie Smart said she did feel like she was being judged by the staff member.
"For her to say that, she doesn't know why I choose not to vaccinate," said Katie.
The Smarts said they chose not to vaccinate two of their three children after researching the ingredients of vaccinations.
The family filed a complaint with the hospital after they discovered the note.
"The behavior of our team member in this situation does not reflect Palmetto Health's standards of behavior, and we sincerely apologize for what happened," wrote Tammie Epps, spokesperson for Palmetto Health, in an email to WIS.
The person or persons involved has been placed on administrative leave pending an investigation, Epps said. She did not identify the staff member who authored the note.
"Along with taking quick and appropriate disciplinary action with the team member involved, we are using this as a real-time learning opportunity to ensure every Palmetto Health team member clearly understands and reflects our standards of behavior with every patient, every time," continued Epps.

Epps explained that the hospital does advocate vaccinating pediatric patients.
"Yet we recognize that it is our role to provide information and education to our patients and their families, and empower them to make the health care decisions they feel are right for them," said Epps. "Palmetto Health is always respectful of those decisions, and we strive each day to live our vision of being remembered for providing the care and compassion we want for our families and ourselves."
The Smart's said they just want to make sure other families who make the same choice not to vaccinate their children are not subjected to the same treatment.
"I'm worried that this might not be a one incident kind of thing, and that is the only children's hospital in the area that we can go to," said Katie.
Copyright 2013 WIS. All rights reserved.