Volunteers build wheelchair ramp for disabled WWII vet
Published: Aug. 29, 2011 at 11:23 PM EDT
|
Updated: Sep. 8, 2011 at 11:23 PM EDT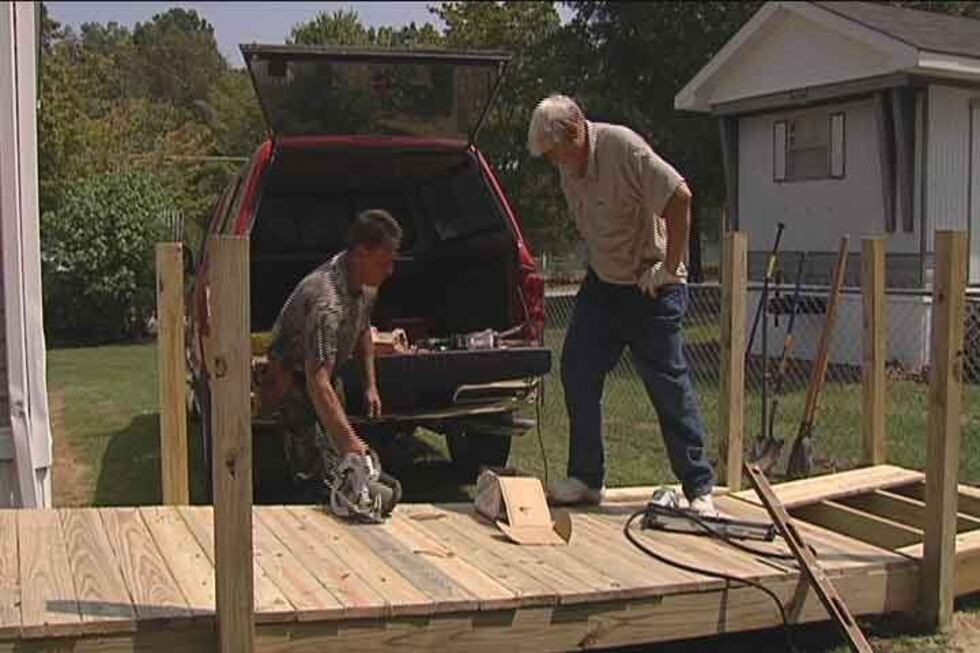 SUMMERTON, SC (WIS) - After spending years as a prisoner in his own home, a disabled World War II veteran has a way out. A crew of volunteers built a wheelchair ramp at his Clarendon County home, working for free after answering a plea for help from an unusual source.
There aren't many things Mary Ann Matthews can't do for 89-year-old Jess Reeves. "She cleans my house, takes care of me," said Reeves. "She's my right arm."
    
So it makes sense the caregiver would take on one of the veterans biggest roadblocks -- his own home. Reeves suffers from neuropathy and depends on a wheelchair to get around his house.
"Which is great for inside but it doesn't offer much outdoor activity without a ramp, so I had the bright idea to contact the Clarendon Citizen," said Matthews. "Me and my big mouth, and here we are having a ramp built."
On Monday, volunteers came out of the woodwork and answered the call laid out in the paper a week before. "It's an opportunity to give back," said John Belding, who helps others from the Summerton Rotary collect donations, buy supplies and beat the heat to help give a former Army Medic a fresh perspective.
"This will allow Mr. Reeves to actually get out of the house and wee what else is going on in this world," added Belding. "This community is very supportive. When something happens, people are out there to help."
"Not many communities would do that, but this one did," commented Reeves.
    
When the ramp's done, Reeves will get his first trip out of the house in three years.  "I would have cabin fever so bad right now I'd be ready for the mad house," said Matthews. "This man has the patience of Job!"
Belding says they raised so much money they'll be able to make a few other upgrades to Reeves' house free of charge.
Copyright 2011 WIS. All rights reserved.