Anti-gay church sign smashed after peaceful protest
Published: Aug. 15, 2011 at 12:38 PM EDT
|
Updated: Aug. 15, 2011 at 12:43 PM EDT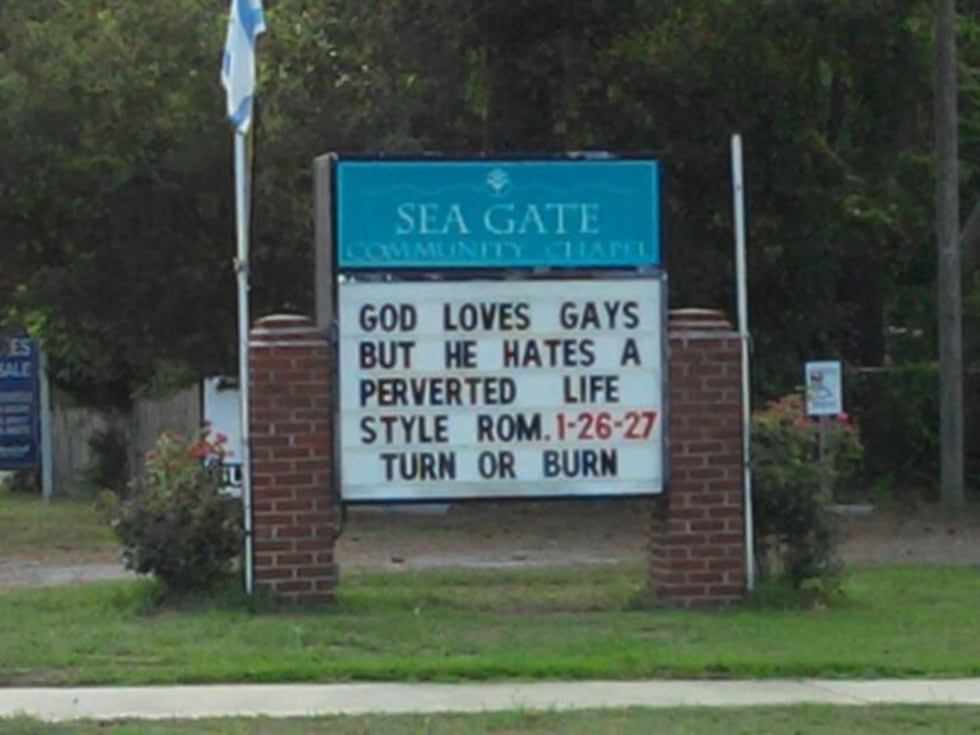 WILMINGTON, NC (WECT) - Wilmington, North Carolina police are searching for a man who smashed Sea Gate Community Chapel's sign Sunday afternoon.
The message was put up earlier this week by church leaders. It states: "God loves gays but hates a perverted lifestyle." At the bottom of the sign, it states, "Turn or burn."
Witnesses tell police a tall man took a hammer to the sign before leaving in a silver Ford Taurus. The car is reported to have bumper damage and a missing hubcap from the front left tire.
This happened after police broke up a peaceful protest held outside the church.
Wilmington Pride protested the sign's message Sunday morning. The organization supports homosexuals in the community. A member of the group wrote that the church's message "supports hate of homosexuality".
Thursday morning, WECT spoke with members of Sea Gate Community Chapel on Oleander Drive. The sign maker said it's not meant to offend anyone because she feels no animosity towards homosexuals.
"I love the gays," said Anna Benson, "I love everybody."
Benson said the messages she posts are straight from the Bible. The church's pastor, David Heuring, said he stands behind any message on the sign as long as it's biblically correct. "We're going to teach the entire truth," said Heuring, "and I'll take the heat for it."
Dozens of viewers have weighed in about this on Facebook. Some agreed with the sign's sentiments; many others said it's derogatory toward homosexuals.
Copyright 2011 WECT. All rights reserved.