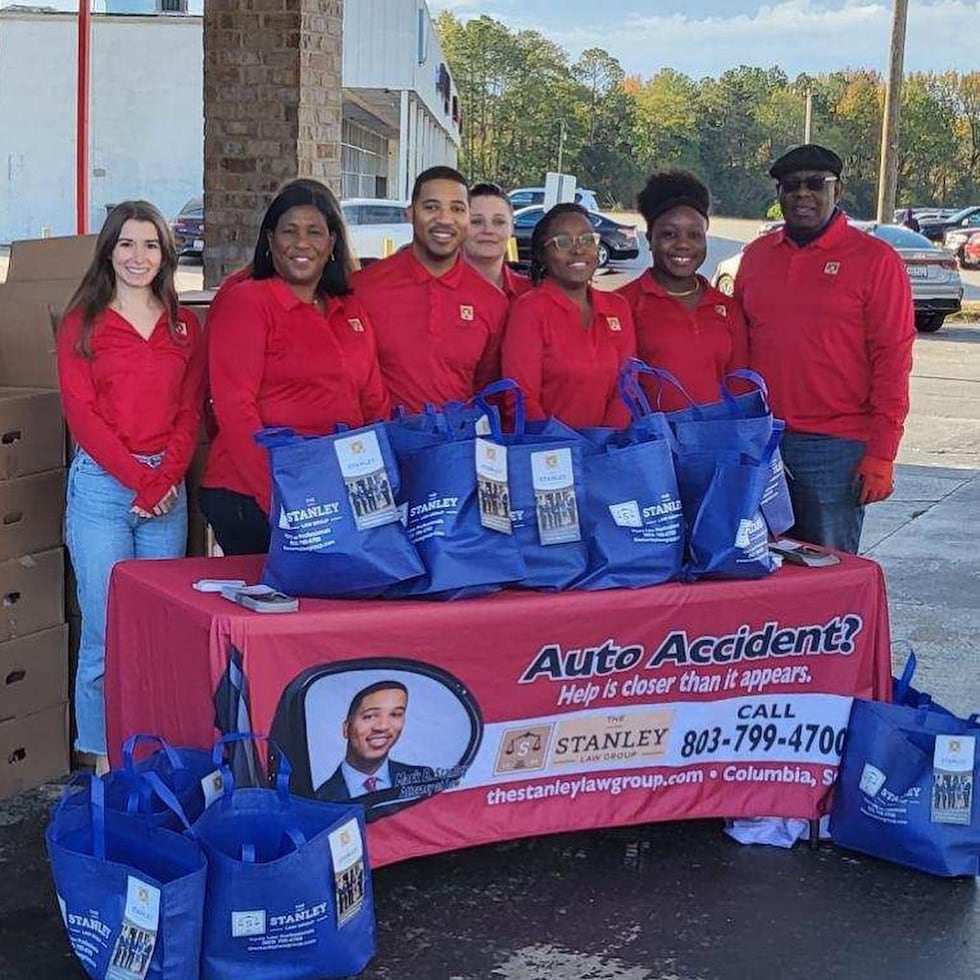 Sponsored - The following content is created on behalf of Stanley Law and does not reflect the opinions of Gray Media or its editorial staff. To learn more about Stanley Law, visit https://www.thestanleylawgroup.com/
The Stanley Law Group aims to help marginalized communities with a drive-thru turkey giveaway.
COLUMBIA, South Carolina, October 30, 2023 – The Stanley Law Group, in conjunction with Toliver's Mane Event Barbershop, announces it will donate 300 frozen turkeys to families in Richland County, South Carolina in time for Thanksgiving. This donation is a part of The Stanley Law Group's ongoing mission to help build stronger communities.
As a part of this effort, The Stanley Law Group is organizing a drive-thru Turkey Giveaway at Toliver's Mane Event Barbershop located at 6102 N. Main St., Columbia, SC 29203 at 10:00 A.M. on Tuesday, November 21st, 2023. One turkey will be provided per vehicle, and all attendees are encouraged to stay in their vehicles.
According to a recent report by the City of Columbia Food Policy Committee, over 65,000 Richland County residents are food insecure – which the committee defines as "lacking access, ability, availability or income to acquire healthy, safe, culturally-appropriate food."
In recent years, six (6) grocery stores have closed in lower-income Columbia areas, leading to increased food insecurity. The Piggly Wiggly on West Beltline closed in 2016. In 2018, three (3) locations of Harvey's grocery store around Columbia closed, including the North Main Street, Decker Boulevard and Broad River Road locations. Both the Save-A-Lot on Harden Street and the Walmart Neighborhood Market on Broad River Road closed in 2019.
These grocery store closings have left nearby communities to rely on local convenience and dollar stores, which often only provide highly processed, unhealthy food options.
"We started our turkey giveaway in 2021 after seeing the shortage within our communities caused by Covid –19. However, after doing more research we quickly realized that food insecurity plagued our community long before Covid-19. The thought of families right here in Richland County not having access to proper food is heartbreaking. Our annual turkey drive is a way for us to give back to a community that has supported us for so many years", said Mark B. Stanley, Co-Owner of The Stanley Law Group.
About The Stanley Law Group
The Stanley Law Group was established over 30 years ago and is comprised of a group of attorneys who have more than 100 years of combined legal experience along with a staff that prides themselves on being honest, aggressive, competent, and dependable. With a proven track record of success, The Stanley Law Group handles catastrophic injury cases, including injuries resulting from auto accidents, tractor trailer accidents, slip and falls, medical malpractice and wrongful death.