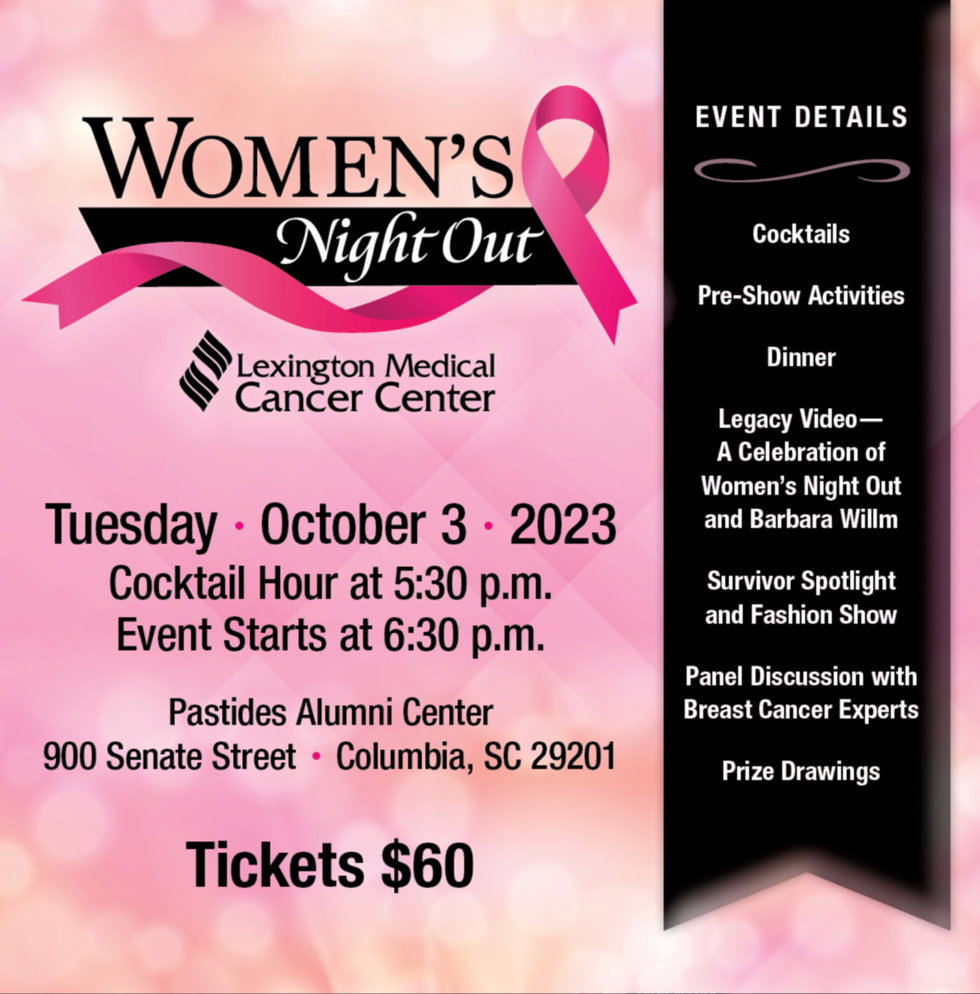 Sponsored - West Columbia, S.C. – Lexington Medical Center is pleased to present the 2023 edition of Women's Night Out, an evening of celebrating breast cancer survivors and their families. The event will be on Tuesday, October 3, 2023 at the Pastides Alumni Center at 900 Senate Street in Columbia's Vista. Tickets are still available!
This fun event begins with a cocktail hour at 5:30 p.m., followed by dinner, raffle drawings for terrific prizes, a fashion show with breast cancer survivors and a panel of clinicians, caregivers and survivors talking about the best ways to treat breast cancer and help a loved one with the disease.
Proceeds benefit the Crystal Smith Breast Cancer Fund at the Lexington Medical Center Foundation. Crystal was a hospital employee who died from breast cancer at a young age, leaving behind her husband and small children. The fund benefits breast cancer patients at Lexington Medical Center by providing essential items and services, such as post-surgical kits and supplies for mastectomy patients, wigs, mammograms, and critical emergency assistance.
This year's event will also include a special tribute to Barbara Willm, a former vice president of Community and Development at Lexington Medical Center, who championed advocacy for screenings and helping women who are medically underserved or uninsured. Barbara died of cancer last year.
Tickets for Women's Night Out are $60. You can buy individual tickets or a table. Visit //LexMed.com/WNO.
About Lexington Medical Center
Lexington Medical Center is a 607-bed hospital in West Columbia, South Carolina. It anchors a health care network that includes five community medical centers and employs a staff of more than 7,800 health care professionals. The hospital was ranked best hospital in the Columbia Metro and #2 hospital in South Carolina by U.S. News & World Report and was named one of the "Best Places to Work in South Carolina" by SC Biz News, in partnership with the South Carolina Chamber of Commerce and Best Companies Group. Lexington Medical Cancer Center is an accredited Cancer Center of Excellence and has a clinical research and education affiliation with MUSC Hollings Cancer Center. The network includes a cardiovascular program recognized by the American College of Cardiology as South Carolina's first HeartCARE Center. The network also has an occupational health center, the largest skilled nursing facility in the Carolinas, an Alzheimer's care center and 70 physician practices. Lexington Medical Center operates one of the busiest Emergency departments in South Carolina, treating nearly 100,000 patients each year. The hospital delivers more than 4,000 babies each year and performs nearly 32,000 surgeries.