Sponsored -
Halloween at Hogwarts • Sunday, October 29 – 3:00 p.m. • Koger Center for the Arts
Join us for a family-friendly Halloween celebration as we transform the Koger Center into that famous school of witchcraft and wizardry. Enjoy a spooktacular program of hair-raising classical favorites and plenty of John Williams' works from the Harry Potter films under the baton of guest conductor Antoine T. Clark! Join us for tunes, tricks and treats!
This concert furnishes pre-concert family fun in the lobby by providing Hogwarts-themed activities. Audience members can get their very own lighting bolt on their head, engage and learn about amazing creatures through a partnership with Carolina Wildlife, or grab one of the "Have You Seen This Wizard?" frames for a photo op with family and friends. Costumes are highly encouraged.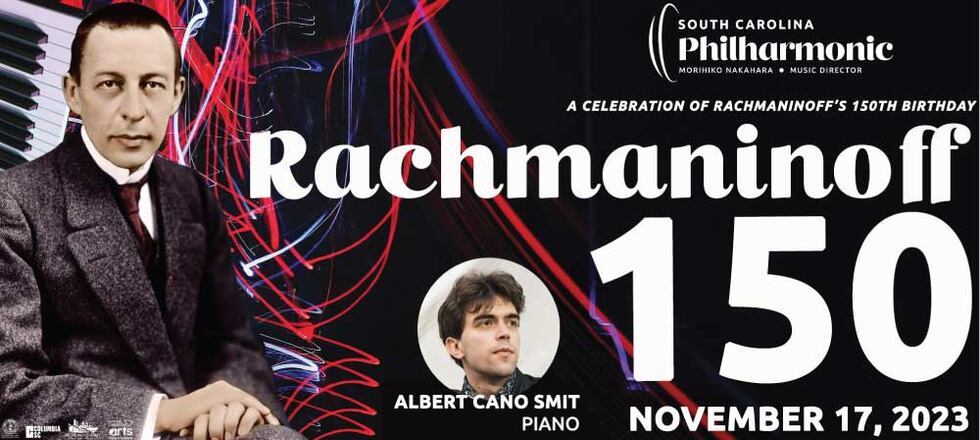 Rachmaninoff 150 • Friday, November 17, 7:30 p.m. • Koger Center for the Arts
A Celebration of Rachmaninoff's 150th Birthday. With guest Artist: Albert Cano Smit, piano.
Composers of the Romantic Era sought to create music that was individualistic, emotional and dramatic – and one of the masters of the movement was born in Russia on April 1st, 1873: Sergey Rachmaninoff. This season the SC Phil is joining orchestras all over the world to celebrate his 150th birthday. Featuring Rachmaninoff's Third Symphony, one of the few works to be composed during the composer's self-imposed exile from Russia after 1917 - our celebration spotlights one of his strongest and most original compositions. It reveals his usual sure touch with orchestral color, calling for a degree of technical virtuosity from an ensemble that he rarely demanded in other works.
This concert features a double-dose of Rachmaninoff as Albert Cano Smit (piano) joins the SC Phil for a thrilling performance of Rachmaninoff's Piano Concerto No. 4. The evening will begin with a bit of a symphonic rarity as the orchestra performs D'un Soir Triste, or "Of a Sad Evening," which was written by French composer Lili Boulanger in 1918, shortly before her death at age 24.
Home for the Holidays • Thursday, December 21 • 7:00 p.m. • Koger Center for the Arts
It's the happiest time of the year, and the SC Philharmonic is bringing you a merry and warm evening of holiday fare that the whole family will enjoy. After many sold out performances at Harbison Theatre, our holiday pops concert moves to the Koger Center this year – bigger, merrier and more festive than ever! As our families and friends gather in Columbia to celebrate, HOME FOR THE HOLIDAYS will bring you that special feeling that warms the heart. It's sure to become a new holiday tradition for you and your loved ones, so be sure to reserve early and join us for this very merry Philharmonic event!