FIRST ALERT WEATHER - Sunshine continues Sunday but showers return Tuesday
Published: Nov. 18, 2023 at 9:21 AM EST
|
Updated: Nov. 18, 2023 at 8:48 PM EST
COLUMBIA, S.C. (WIS) – Sunny and dry conditions will linger into Sunday before our next frontal systems brings rain back to the Palmetto state on Tuesday, which could impact holiday travel.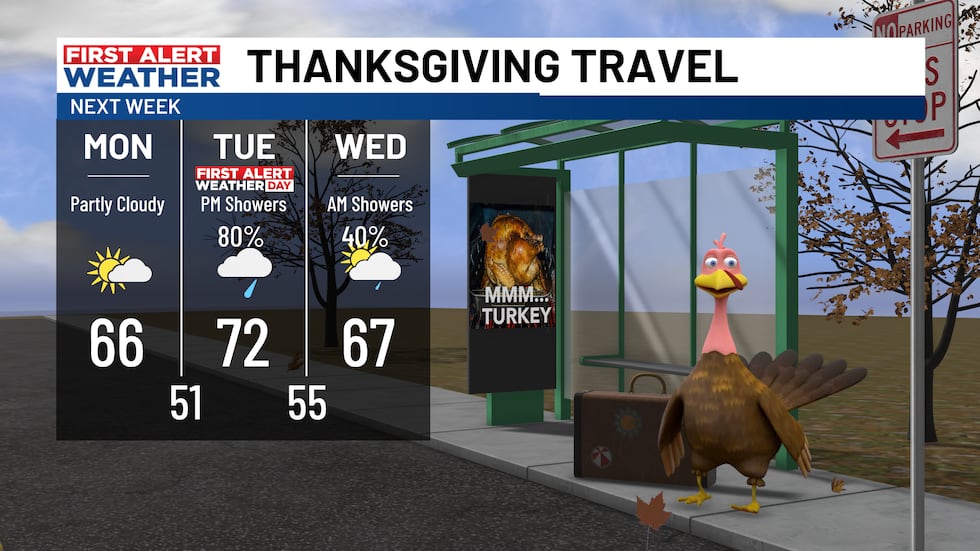 First Alert Headlines
· Sunny but a little cooler on Sunday.
· First Alert Weather Day Tuesday for rounds of heavy rain.
· A few showers continue into Wednesday morning.
· Dry and cooler for Thanksgiving.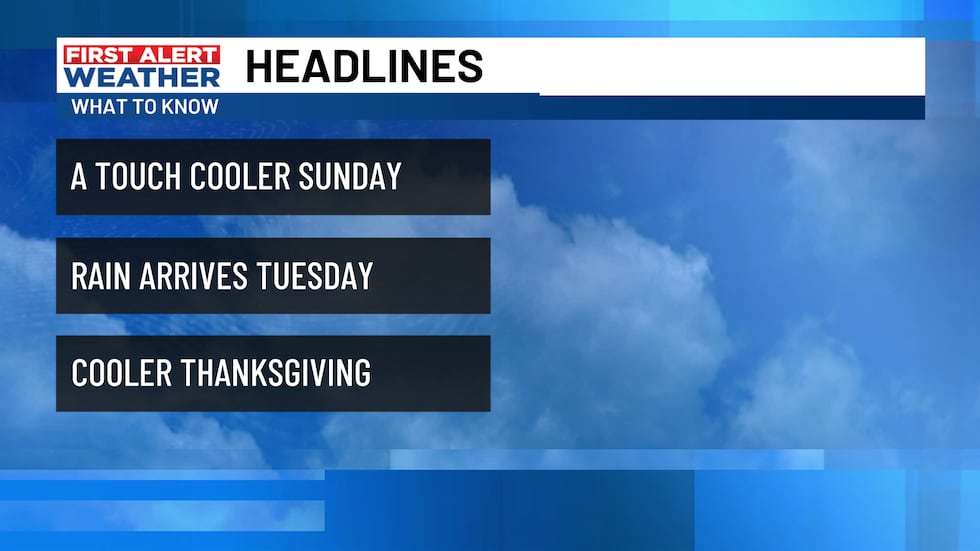 First Alert Summary
A weak front will slide through the region tonight ushering in cooler air as temperatures will dip down into the 40s tonight.
High pressure will build over the eastern half of the country on Sunday creating another sunny and dry day with highs in the upper 60s.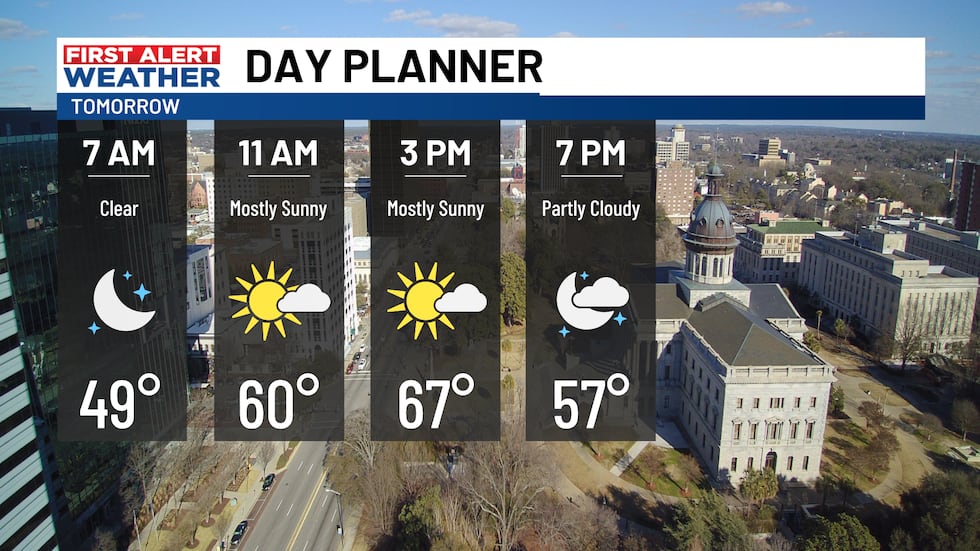 We will stay dry on Monday but clouds will be building over the Carolinas ahead of our next system with highs in the upper 60s.
Our next cold front arrives Tuesday producing rounds of heavy rain throughout Midlands. These showers could impact the holiday travel ahead of Thanksgiving so we've issued a First Alert Weather Day for Tuesday. If we're able to clear out enough ahead of the frontal boundary, isolated storms are possible with this system. For now, the opportunity for severe weather is low. In total about a half inch to an inch of much needed rain is expected for the Midlands.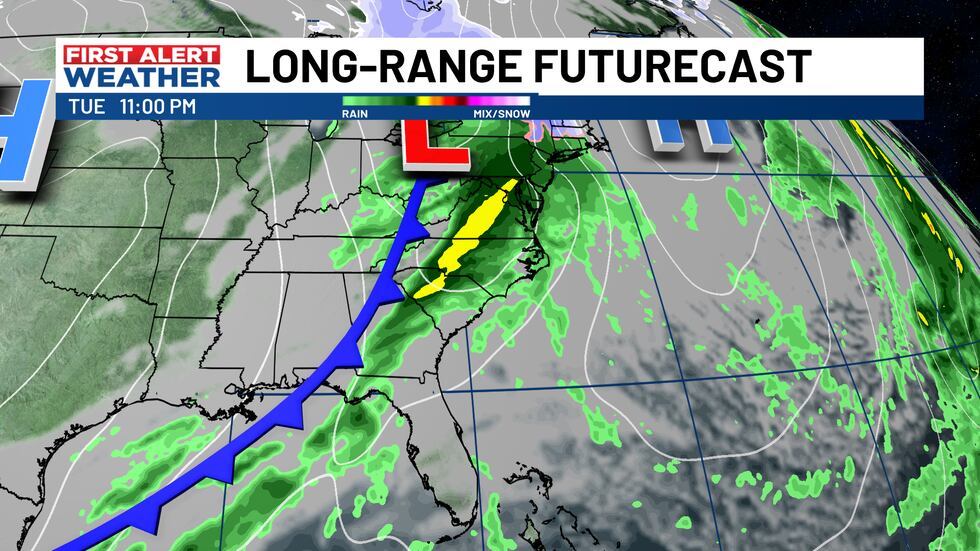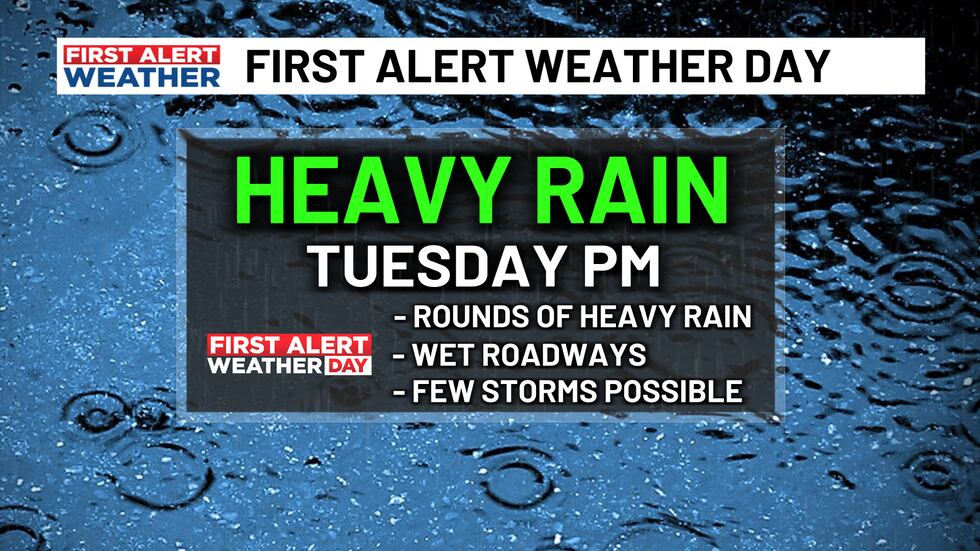 A few showers could linger into Wednesday morning but overall things will be drying up with highs in the middle 60s.
Thanksgiving is looking nice with mostly sunny skies just a little on the cool side with highs only in the lower 60s.
First Alert Forecast
Tonight: Mostly clear skies and cooler with lows in the mid-40s.
Sunday: A few passing clouds. Highs in the upper 60s.
Monday: A blend of clouds and sunshine. Highs in the upper 60s.
First Alert Weather Day Tuesday: Cloudy skies. Rounds of heavy rain, especially in the afternoon and evening. Chance of rain 80%. A few storms are also possible. Highs in the lower 70s. Rainfall amounts between a half inch to an inch.
Wednesday: A few showers early then skies trying to clear in the afternoon. Chance of rain 40%. Highs in the mid-60s.
Thanksgiving: Mostly sunny skies but cooler with highs in the lower 60s.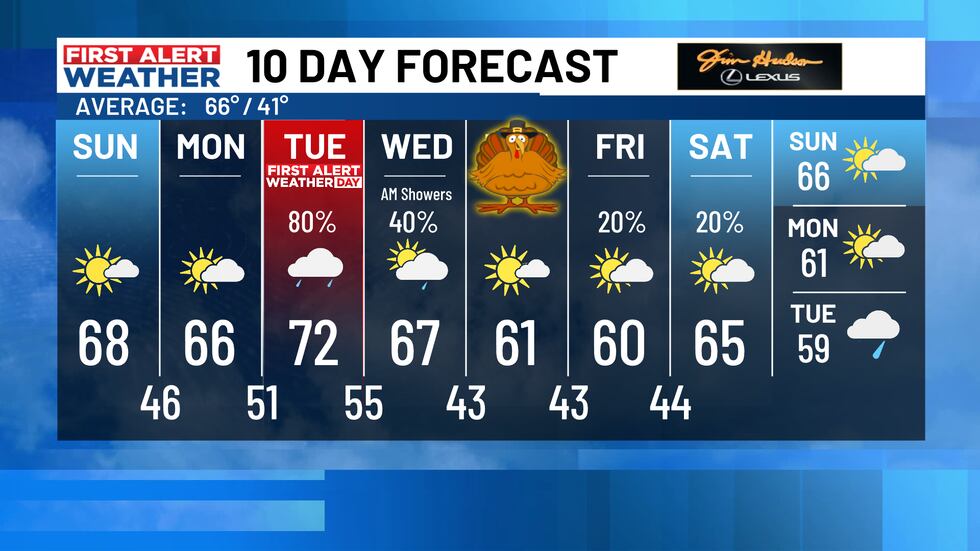 Notice a spelling or grammar error in this article? Click or tap here to report it. Please include the article's headline.
Stay up to date with WIS News 10. Get the app from the Apple App Store or Google Play Store and Stream us on Roku, YouTube, Amazon Fire, or Apple TV.
Copyright 2023 WIS. All rights reserved.