Police escort pastor out of Charleston Co. School Board meeting
Pastor was not charged in incident, police confirmed
Published: Nov. 13, 2023 at 7:21 PM EST
|
Updated: Nov. 14, 2023 at 9:50 AM EST
CHARLESTON, S.C. (WCSC) - Charleston Police escorted a Lowcountry pastor and activist out of the Charleston County School Board meeting Monday night while the audience sang "We Shall Overcome."
The board went into recess shortly after the Rev. Nelson B. Rivers III refused to stop speaking after board members said his public comment time had expired.
Rivers, who is a vice president of religious affairs for the National Action Network and the pastor of Charity Missionary Baptist Church, said he would not leave until he was arrested.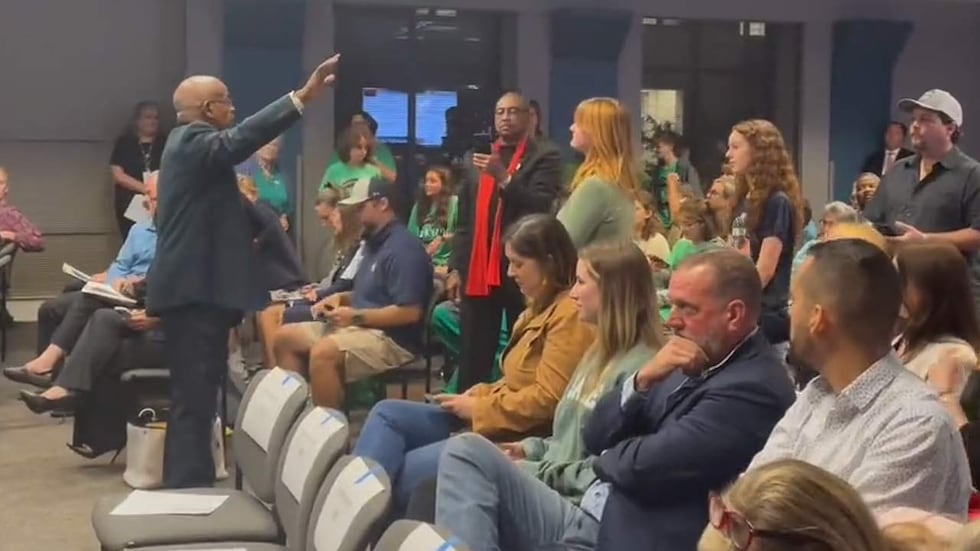 Shortly before 7 p.m., Rivers was allowed to return to the board room.
Sgt. Anthony Gibson said Monday night that no charges were filed against Rivers.
Last month, School Board Chair Pamela McKinney released a statement saying that recent board meetings have seen "a significant amount of dialogue and loud voices from audience members" that make having "productive discussions" difficult.
She said that a notice would be placed stating that anyone who used "profane, abusive, or obscene language" or engages in disorderly conduct which "disrupts, disturbs or otherwise impedes" the meeting could be "barred from further attendance during the meeting and may be removed from the building or premises."
"The Board must be able to complete the business before it, so we have to balance the desire of the community to provide feedback with our need to fulfill the responsibilities entrusted to us," she said.
But she also warned that "continued crowd-level disruptions" at board meetings that interfere with the board's ability to conduct meetings could result in a recess being called until order is restored or that the board reconvenes in "a separate location" and then live-streams the meeting into the board room for public viewing.
Board considers future of Health Advisory Committee
The board is expected to discuss several important topics including the reconsideration of the district's Health Advisory Committee.
The board voted 5-4 during its Sept. 25 meeting to remove six sitting members of the committee well before their terms were up. The committee is made up of 13 members to review sex education curriculum and make recommendations to the board.
Committee members said they were blindsided by the decision – and are hoping the board decides to save their positions.
The committee members were released the same night the school board voted to place former district superintendent Dr. Eric Gallien on paid administrative leave and voted against hiring Michelle Simmons, a 24-year veteran of the district as its chief academic officer. She had been serving in that role on an interim basis.
The decision to place Gallien on paid leave followed a complaint by a district employee about a "hostile work environment."
McKinney announced the findings of the investigation cleared Gallien of any wrongdoing related to the complaint on Oct. 27, but Gallien resigned from the role.
The board reconvened shortly before 7 p.m. and was expected to discuss the committee and whether to keep or disband the committee.
Copyright 2023 WCSC. All rights reserved.