South Carolina defeats Maryland in home opener of season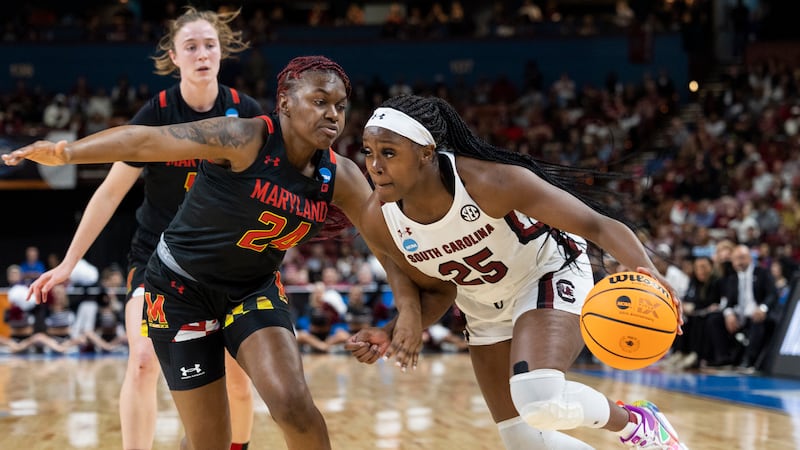 Published: Nov. 12, 2023 at 1:21 PM EST
COLUMBIA, S.C. (WIS) - The South Carolina women's basketball (1-0) team continues their new era post-freshies with a matinee matchup against the Maryland Terrapins (1-0).
Early on, it appeared the team had a few jitters being back in front of the FAMS at Colonial Life Arena with players struggling to score many times during the first quarter.
However, what has always been the Gamecocks calling card under head coach, Dawn Staley, which looks to be continuing was their hardnose defense with the Terps not finding any easy baskets.
S.C. native and true freshman Milaysia Fulwiley continued to deliver under the bright lights for South Carolina with impressive moves finishing at the basket.
Throughout the first two periods of the game, Kamilla Cardosa made her defensive presence felt by the Terrapins by committing several blocks and reaching for key defensive rebounds throughout the first two quarters.
During the second quarter, both teams came alive from beyond the arc hitting multiple three-pointers, making the game an extremely close contest.
68% of Maryland's points came from three-pointers during the first two periods. Toward the end of the second quarter, the Gamecocks started to pull away on the backs of multiple Gamecocks including Chloe Kitts and Te-Hina Paopao.
At the half, South Carolina led 48-36.
All players who have hit the floor for South Carolina have scored during the game. Maryland started the third quarter by doing what worked for them best in the first two quarters, the three-ball while the Gamecocks attacked the rim, getting multiple close buckets.
The height of the Gamecocks started to be the difference maker for the Gamecocks during the 3rd quarter, with South Carolina successfully attacking the rim multiple times for several scores.
South Carolina turned up their defensive intensity which stifled the Maryland offense while extending the Gamecocks' lead.
Maryland started to match South Carolina's defensive intensity and started chipping away at the lead the Gamecock built during the later portions of the 3rd quarter.
After 3 quarters, the Gamecocks held a firm 77-59 lead.
The play-making ability of the Gamecocks stood out during the 4th quarter with South Carolina always finding the open player for the score.
South Carolina's shooting beyond the arc was remarkable with the Gamecocks hitting 53% of their shots from three-point land, with the team making more triples than last season's high of threes in their win against Charleston Southern.
South Carolina defeated Maryland 114-76, moving to 2-0 on the year.
Notice a spelling or grammar error in this article? Click or tap here to report it. Please include the article's headline.
Stay up to date with WIS News 10. Get the app from the Apple App Store or Google Play Store and Stream us on Roku, YouTube, Amazon Fire, or Apple TV.
Copyright 2023 WIS. All rights reserved.