Law Firm files verified claims on behalf of Murdaugh financial crime victims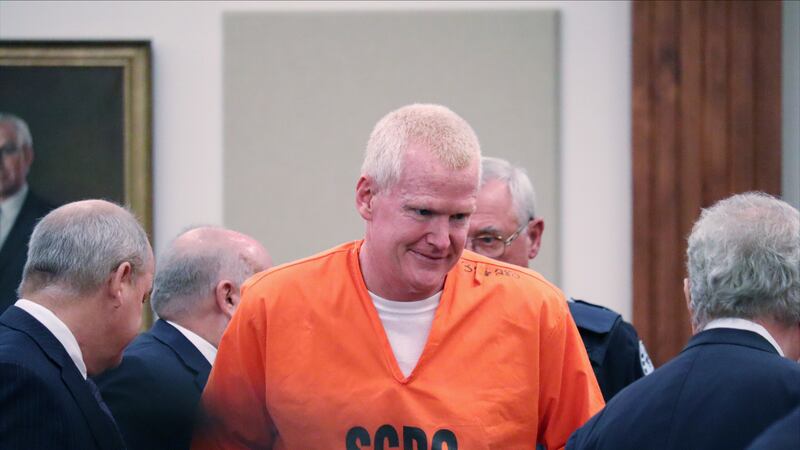 Published: Oct. 26, 2023 at 2:04 PM EDT
CHARLESTON, S.C. (WIS) - The Bland Ritcher Law Firm announced Thursday that it has filed verified claims on behalf of four victims of convicted killer Alex Murdaugh.
Murdaugh was sentenced to two life sentences in March after being found guilty of the June 2021 shooting deaths of his wife, Maggie, and son, Paul. He is also accused of stealing Millions of dollars from his clients during his time as a lawyer.
According to a press release from the Bland Ritcher Law Firm, claims were filed in the Hampton County Court of Common Pleas, where a receivership has been established to manage Murdaugh's assets.
The claims are on behalf of the following individuals:
Hannah Plyler

Alania Spohn

Brian Harriott

Michael "Tony" Satterfield
The claims allege that Murdaugh aided and abetted convicted criminal Russell Laffitte to defraud Plyler and Spohn out of their money.
Laffiette was sentenced to seven years in prison in August for his role in helping the disgraced attorney steal millions from clients and his former law firm.
Officials said the claims also allege Murdaugh settlement money from Brian and Tony after their mother died in a fall at Murdaugh's property.
"Our clients were victims of Alex Murdaugh's greed and deceit,' said Eric Bland, co-founder of Bland Richter Law Firm. "We are committed to letting the public know that Murdaugh's crimes will not be tolerated," said co-founder Ronnie Richter. "Bland Richter will continue to fight until justice is served."
In September, Murdaugh pled guilty to 22 federal charges of financial crimes.
A plea deal was filed by Murdaugh's attorney on charges that ranged from conspiracy to commit wire fraud and wire fraud to bank fraud and money laundering. As part of the deal, prosecutors would recommend Murdaugh's sentence run concurrently with any sentence given to him on the state level for financial crimes.
As part of the deal, Murdaugh will also be forced to pay restitution set by the court.
Meanwhile, Murdaugh is scheduled to be back in court on Nov. 27 on more than 100 state charges related to financial crimes that he also faces.
You can see the files here.
Notice a spelling or grammar error in this article? Click or tap here to report it. Please include the article's headline.
Stay up to date with WIS News 10. Get the app from the Apple App Store or Google Play Store and Stream us on Roku, YouTube, Amazon Fire, or Apple TV.
Copyright 2023 WIS. All rights reserved.