Inside the 2023 South Carolina State Fair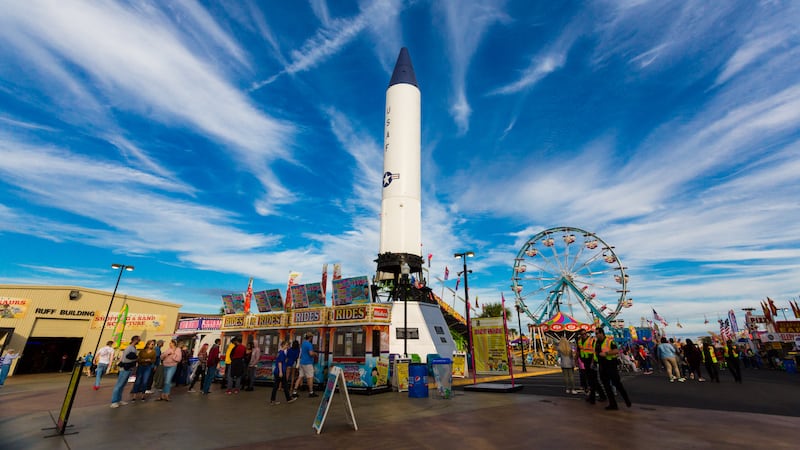 Published: Oct. 12, 2023 at 6:50 AM EDT
COLUMBIA, S.C. (WIS) - Though this year's South Carolina State Fair began Wednesday, WIS continues to showcase what to expect in the next 11 days of the fair.
State Fair officials said the fair will feature new rides, food and exhibits.
WIS will be at the fair throughout the day to show you what to expect this year.
The South Carolina State Fairs runs from Oct. 11 - Oct. 22.
Evening news
Head meteorologist Adam Clark provides the evening news alongside a cow!
Head meteorologist Adam Clark goes behind the scenes of the Princess Diana exhibit at the SC State Fair.
Anchor/reporter Billie Jean Shaw was live at the fair experiencing the sites, sounds, and the food, yummy!
Things may have had a rainy start on Thursday so before you head to the fair, Meteorologist Tony Chiavaroli gave us a quick look into today's weather.
WIS Midday
Trying "Pizza on a Stick"
State fair coverage continued with our very own Judi Gatson.
Gatson spoke with "Spaghetti Eddie, Jr." from Spaghetti Eddie's Pizza and Pasta.
Eddie introduced "Pizza on a Stick," which is available for purchase during the fair.
"Pizza on a Stick," according to its creator, is made out of Colby jack cheese, garlic butter, pepperoni and shish kabob all accompanied by homemade marinara sauce on the size.
Meeting professional blacksmith Trenton Smith
WIS met many people who will take part in the fair this year.
Gatson spoke with a professional blacksmith, Trenton Smith, who will captivate fair attendees with a cool show.
WIS Sunrise
Meet Me At The Rocket: Cattle Shows
WIS' Jordyn Markhoff kicked off the day by visiting some cattle.
Markhoff spoke with Tom Dobbins who is the superintendent of Livestock for the fair. We were introduced to some cool cows that will soon compete at the Dairy Show, which will be held on Friday, Saturday and Sunday.
Markhoff also took a look at the showroom. Dobbins told WIS about the process of the show and what to expect.
Later in the morning, we got to meet some rabbits that people can visit in the smallstock barn.
Ron Diamond meets WIS Sunrise
Magician and hypnotist Ron Diamond gave WIS a special treat.
Diamond gave WIS a little taste of what fair attendees will see during his show.
Morning look at SC State Fair's food options
WIS finished morning coverage with a look at some rides and food spots fair attendees can enjoy during their visit.
WIS will continue coverage of the fair during WIS Midday, Soda City Live and evening shows. Check back here to watch a preview of coverage.
Notice a spelling or grammar error in this article? Click or tap here to report it. Please include the article's headline.
Stay up to date with WIS News 10. Get the app from the Apple App Store or Google Play Store and Stream us on Roku, YouTube, Amazon Fire, or Apple TV.
Copyright 2023 WIS. All rights reserved.