James Island female student football coach breaking barriers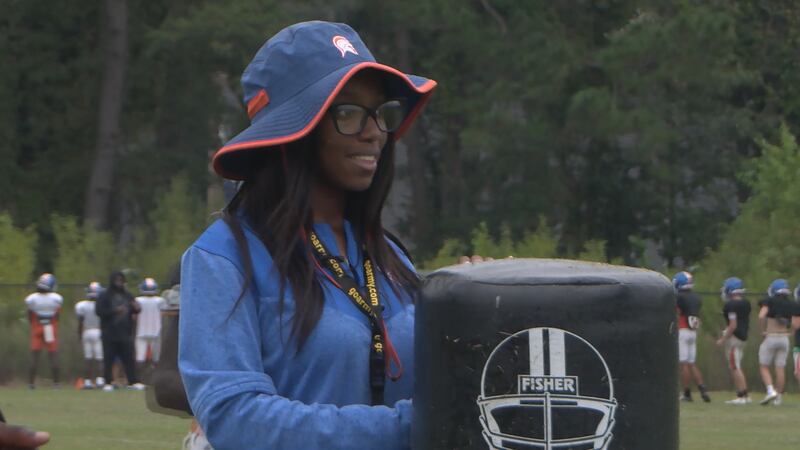 Published: Sep. 27, 2023 at 7:09 PM EDT
CHARLESTON, S.C. (WCSC) - Ahnyia Jenkins is a sophomore at James Island Charter High School. She's the youngest member on the Trojans coaching staff, and the only female on staff.
"I've never loved anything, I've never been more passionate, I've never invested so much time into something like I've done coaching," Jenkins said.
James Island Head Football Coach Jamar McKoy admits when Jenkins first told him she wanted to come coach football, he was skeptical.
"At first I thought it was a joke, and I was like, yeah sure come," McKoy said. "She came out and she stayed a week and I was like 'hmm, well maybe she really likes it.'"
He says she was persistent and intentional throughout the process.
"Then I read her notes from what she took in Spring ball and was like she's going to be really good at coaching football and this is something that she has a passion for," McKoy said.
Jenkins was born and raised on James Island. She says she grew up going to James Island football games with her grandpa. He was a youth coach for years in the Lowcountry. Jenkins says he played a big role in encouraging her to pursue coaching.
"She hasn't missed a practice. She hasn't missed a coach's meeting," McKoy said. "We generally meet on Sunday mornings during the season and Ahnyia hasn't missed one."
McKoy says this staff has given Jenkins the space to share her opinions and ideas in those meetings.
"They've just accepted me as one of their own," Jenkins said. "I mean, it's really nothing to it. I don't even think about it like male, female, it's just like coach to coach, player to coach."
McKoy says he plans to give Jenkins her own position group next season. She'll be the Junior Varsity running backs coach.
"When I first got over there I felt like running backs is where I was going to be at," Jenkins said. "It was just all down to footwork, the plays, and I just understood it."
The Trojans are off to a 5-0 start to the season. They enter Region 7, 4A play this Friday against Colleton County. Jenkins says it's been humbling to be on this journey with the team, but she knows just like the team, this is just the beginning for her too.
The sophomore coach, Jenkins, says she hopes to be a coach at the college level in the future.
"Whatever she wants to do with this sport, in and around it, in the future, the world is her oyster," McKoy said.
Copyright 2023 WCSC. All rights reserved.