With narrow margin for error, winless Panthers hurt themselves with penalties vs. Seahawks
The Panthers dropped to 0-3 on Sunday, losing 37-27 to the Seahawks.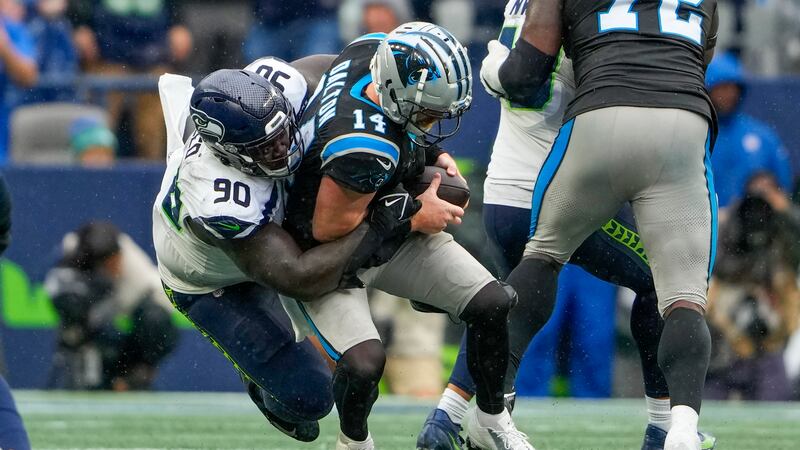 Published: Sep. 25, 2023 at 5:51 AM EDT
SEATTLE (AP) - Frank Reich has coached long enough to know his rebuilding and injury-depleted Carolina Panthers had a narrow margin for error while playing at Seattle.
After Carolina committed 13 penalties, had no running game and couldn't get stops in the second half, it's safe to say Reich's team didn't follow his formula for victory.
"I don't think anybody feels like we've been outmanned in any game," Reich said. "We just have beat ourselves. Just have to continue to get better."
The Panthers dropped to 0-3 on Sunday, losing 37-27 to the Seahawks while constantly setting themselves back with penalties.
Carolina got a big day from veteran backup Andy Dalton, who threw for 367 yards, and held Seattle to field goals early on. But the Seahawks eventually found the end zone and the Panthers were left to lament their mistakes in a frustrated locker room.
"It's tough because you can't put your finger on it," said wide receiver DJ Chark Jr., who caught a 47-yard touchdown. "I don't feel like we are that far away, but when we end the game and we're done and we lost, it's tough."
The Panthers started 0-3 for the fifth time. They've never won more than eight games in any of those seasons.
"I've been on teams that started worse. To be honest, we just have to stay together and keep climbing," linebacker Deion Jones said. "We all have to stay together, we all have to get better. Everybody has to take another step, and we all have to buy in. No one can veer off."
Carolina played without No. 1 overall draft pick Bryce Young, who injured an ankle in last Monday night's loss to New Orleans. His injury is one of many that have depleted an already thin roster. Linebacker Shaq Thompson and cornerback Jaycee Horn are hurt, too.
Nonetheless, the Panthers were within 22-20 after Miles Sanders scored on a 1-yard run on the first play of the fourth quarter. But Seattle scored the next 15 points while Carolina made a series of miscues.
"As coaches and as players, if you have that many self-inflicted things, it's hard to overcome those," Reich said.
Eight of the Panthers' penalties were false starts by offensive linemen. Left tackle Ikem Ekwonu moved early four times and right tackle Taylor Morton jumped twice. Left guard Chandler Zavala was caught once and linebacker Chandler Wooten moved early on a punt.
"I was obviously disappointed in the way I handled the noise today. It's something that we prepared all week for and I came out here and I didn't get it done today," Ekwonu said.
Carolina faced third-and-4 while trailing 29-20 with 8:15 left. Morton and Zavala were flagged on consecutive snaps, turning a possible easy conversion into a third-and-14 and an eventual punt.
The Panthers had their most penalties in a game since 2011.
"We got to find a way to play clean football, especially pre-snap. You know you're gonna have penalties post-snap, but it's important for us to start drives the right way and play clean football and then if we get beat from there, so be it," said Adam Thielen, who had 11 catches for 145 yards and a late touchdown. "But we got to find a way to clean it up."
Copyright 2023 The Associated Press. All rights reserved.