FIRST ALERT WEATHER - Sunshine and warmer temperatures return to the Midlands on Sunday
Published: Sep. 23, 2023 at 8:22 AM EDT
|
Updated: Sep. 23, 2023 at 9:09 PM EDT
COLUMBIA, S.C. (WIS) – The remnants of Ophelia continue to lift to the north taking the clouds with it allowing for sunshine to come back out across the Midlands on Sunday.
First Alert Headlines
· Clouds moving out tonight with lows near 60.
· Lots of sun and warmer temperatures with highs in the middle 80s.
· We could have one more 90 degree day on Monday.
First Alert Summary
The remnants of Ophelia is lifting into the Mid-Atlantic taking the clouds with it tonight with temperatures cooling off down to the lower 60s.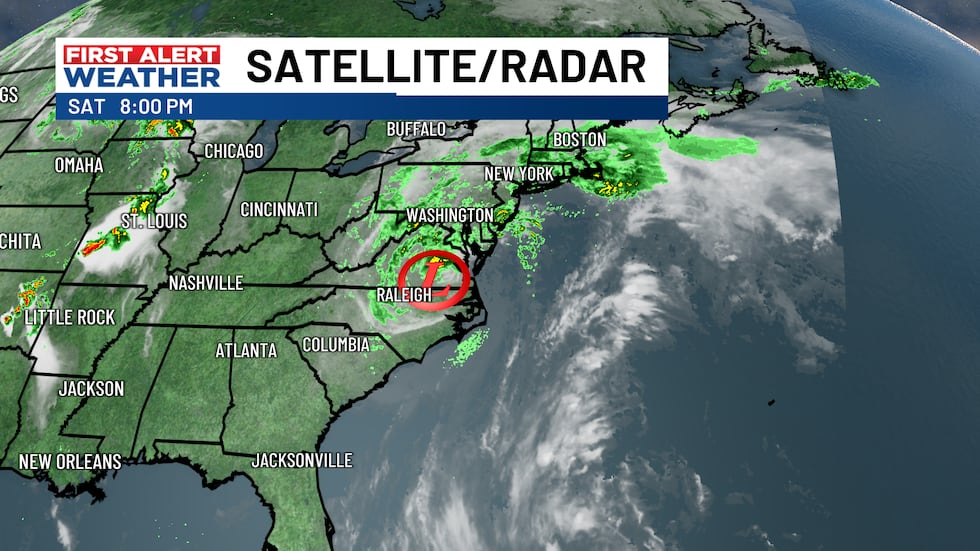 High pressure takes over for Sunday and Monday! This means lots of sunshine to round out the weekend and at the start of next week. It'll be warmer too, with high temperatures in the mid and upper-80s.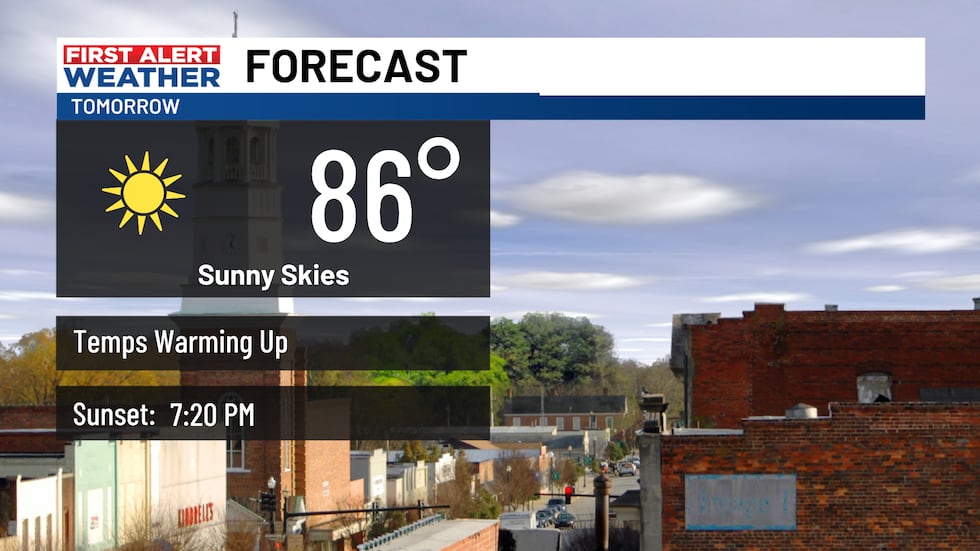 By the middle of the upcoming week, our weather pattern will briefly turn unsettled again. A back door cold front will be drifting down over the Carolinas sparking off a few scattered light showers Tuesday, Wednesday and Thursday.
This front will also produce a fair bit of clouds and with a northerly breeze temperatures will be cooling off with highs dropping back down into the 70s.
High pressure will return Friday into next weekend allowing for lots of sunshine but temperatures will remain on the comfortable side in the upper 70s to near 80.
First Alert Forecast
Tonight: Clouds clearing out tonight and cooler. Lows near 60 degrees.
Sunday: Lots of sunshine and warmer with highs in the mid-80s.
Monday: Mostly sunny skies. High temps in the upper-80s to near 90.
Tuesday: Clouds building in the afternoon with the slight chance for a few stray showers. Chance of rain 20%. Highs in the mid-80s.
Wednesday: More clouds than sun with a few showers are possible throughout the day. Chance of rain 30%. Highs in the upper-70s.
Thursday: Times of sun and clouds with some light showers possible. Rain chances near 30%. Highs in the mid-70s.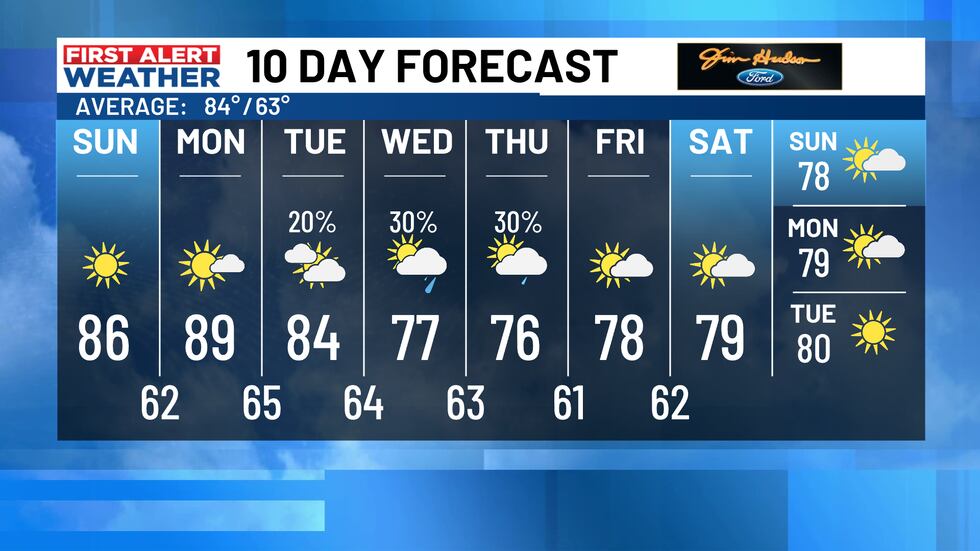 Notice a spelling or grammar error in this article? Click or tap here to report it. Please include the article's headline.
Stay up to date with WIS News 10. Get the app from the Apple App Store or Google Play Store and Stream us on Roku, YouTube, Amazon Fire, or Apple TV.
Copyright 2023 WIS. All rights reserved.