FIRST ALERT WEATHER - Gusty winds continue into Saturday as Ophelia moves north
Published: Sep. 22, 2023 at 7:40 AM EDT
|
Updated: Sep. 22, 2023 at 3:37 PM EDT
COLUMBIA, S.C. (WIS) – Tropical Storm Ophelia will bring gusty winds tonight and into Saturday morning, showers are possible too.
First Alert Headlines
· Gusty winds up to 30mph are possible this evening and into Saturday morning.
· Best chance of rain is east of Columbia.
· End of the weekend looks great with highs in the mid 80s Sunday.
· Rain chances go up by the middle of next week.
First Alert Summary
Happy Friday! It looks like a breezy and cool night tonight with a few gusts around 20 to 30mph as Tropical Storm Ophelia moves north into eastern North Carolina. Lows tonight will be in the low 60s and there's a 20% chance of a few showers too. For football tonight expect breezy winds and just a brief shower or two.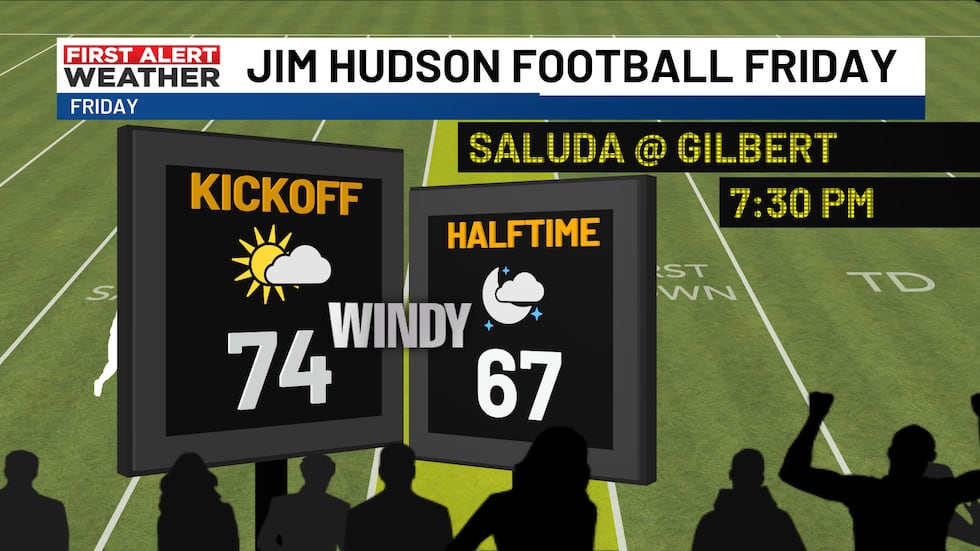 Saturday will be windy with clouds throughout the morning. There's a 20% chance of a couple of showers in Columbia. The better chance of rain is to our east around Lee, Sumter, Clarendon, and Kershaw Counties. Around 0.1-0.5″ is possible.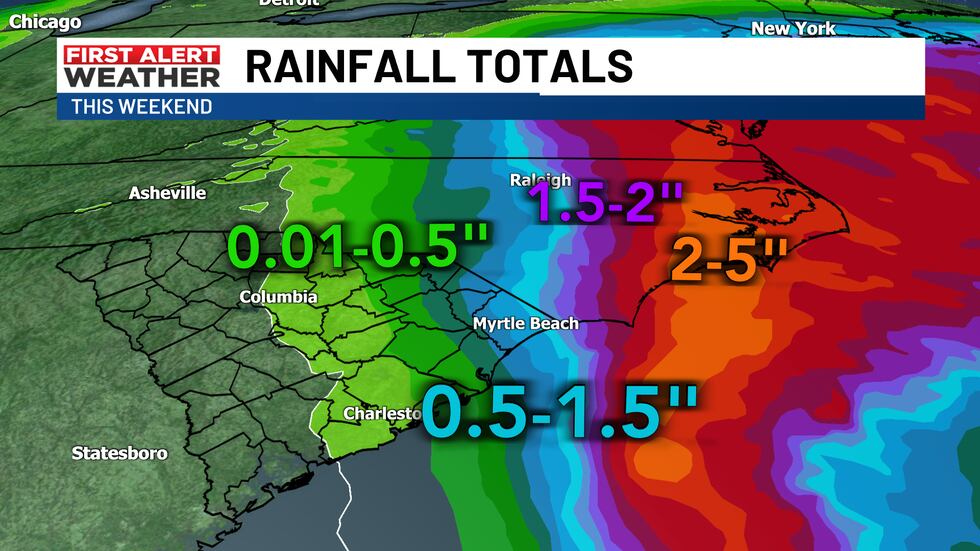 Gusts should die down during the late afternoon, just in time for the USC/MSU game at 7:30. The Clemson game should be great weather-wise with sunshine and dry conditions.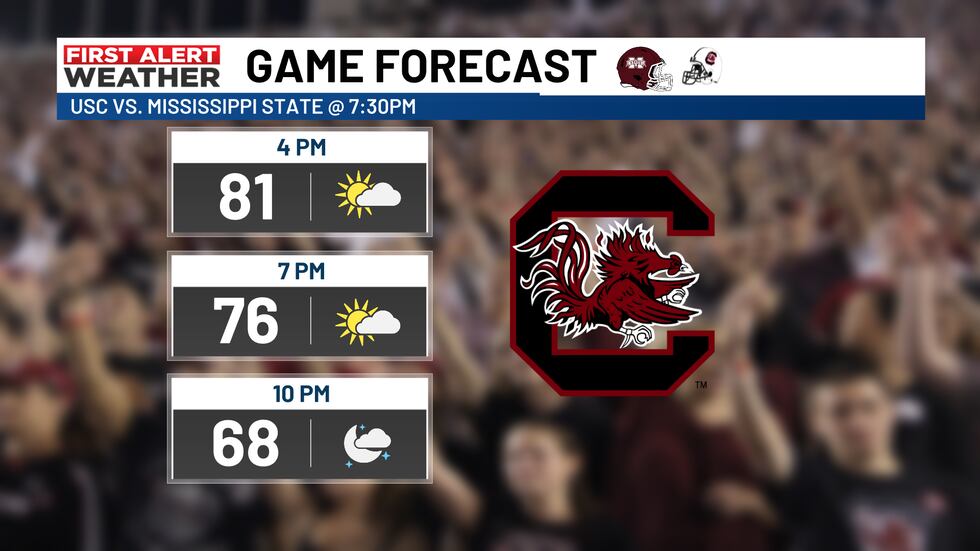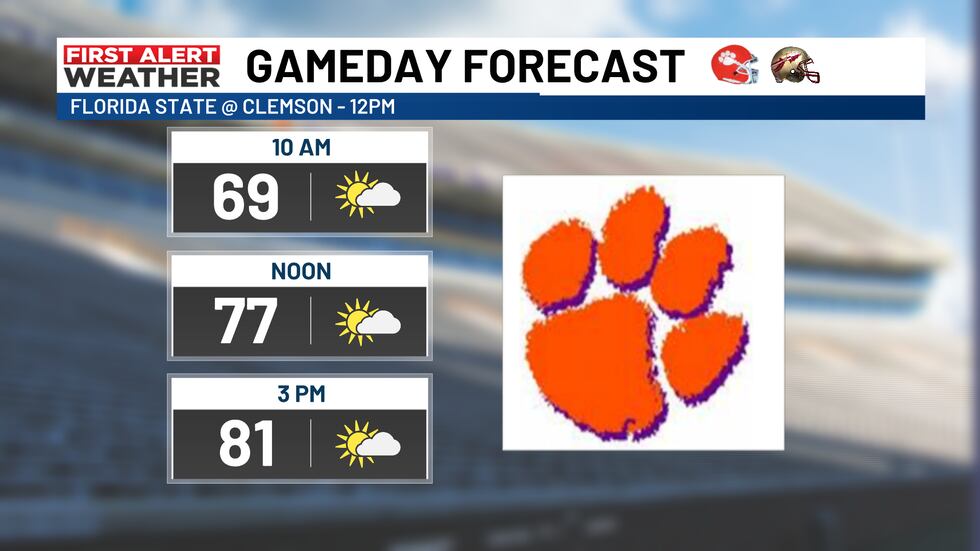 Highs reach the upper 70s and into Saturday afternoon and evening the skies will be mostly clear as Ophelia moves north and weakens.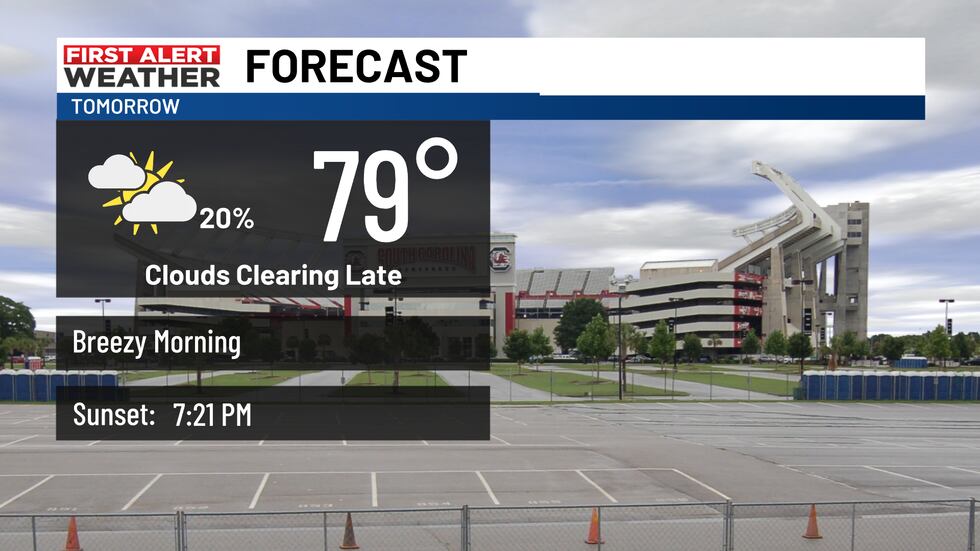 We've got a beautiful Sunday in store with highs in the mid 80s and sunny skies. High pressure is building over the region. This high sticks around Monday with mid to upper 80s and mostly sunny skies.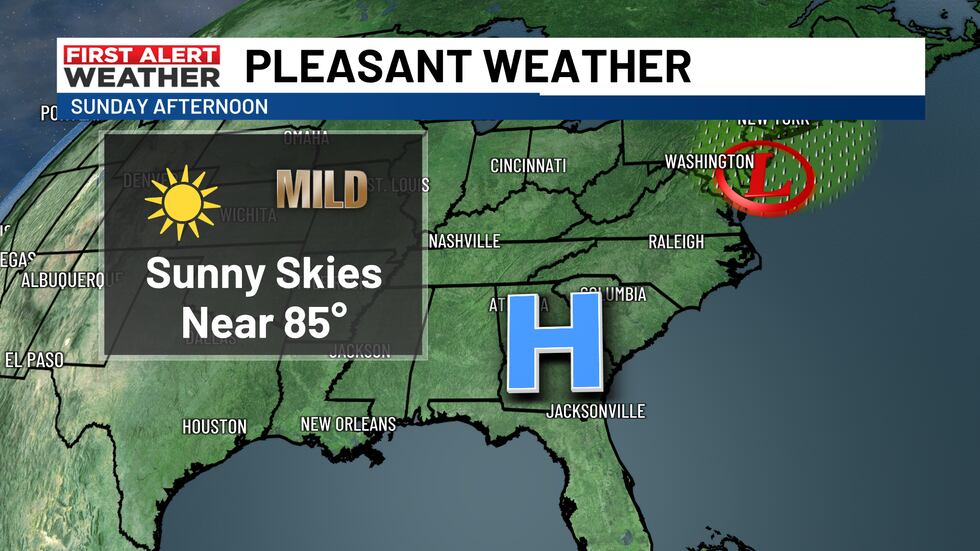 A low pressure system approaches from the west and brings a chance of showers Tuesday with a 20% shot. Highs are in the low 80s. The best chance of rain looks to be Wednesday with a 40% chance as the low pressure system nears.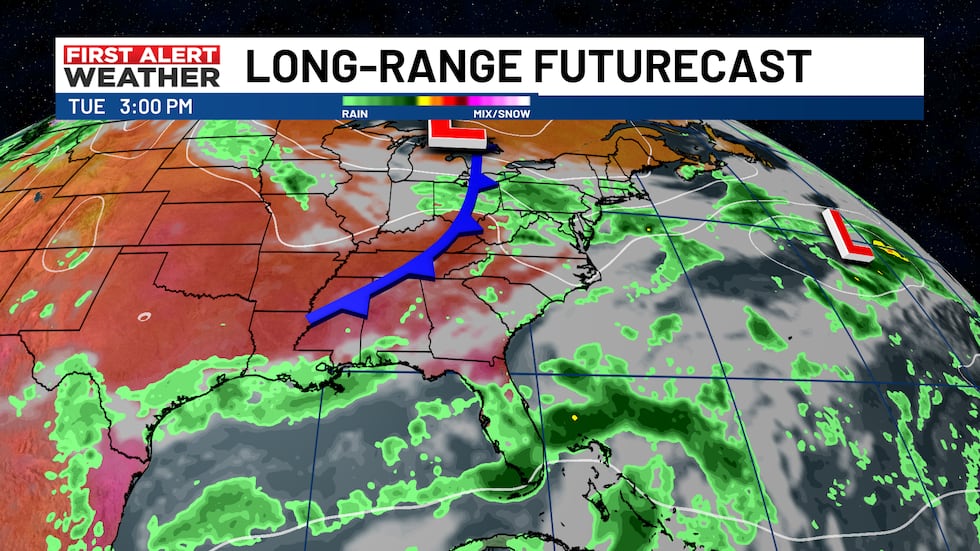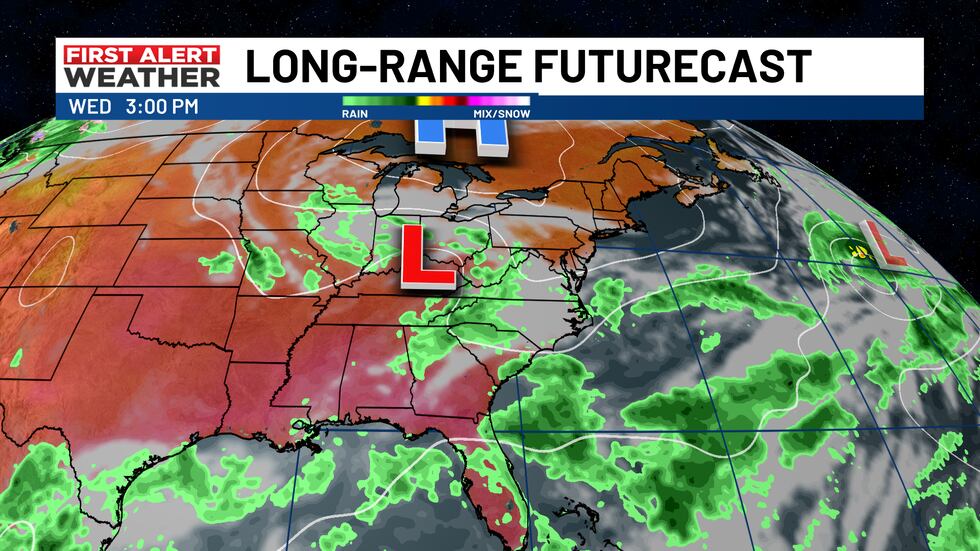 First Alert Forecast
Tonight: Mostly cloudy and windy with a few gusts up to 30mph tonight. Lows dip into the low 60s, there's a 20% chance of showers.
Saturday: Cloudy and breezy with leftover showers around in the morning. Then, clouds and the breeze slowly clear out. Highs in the upper-70s.
Sunday: Lots of sunshine! Warm, with highs in the mid-80s.
Monday: Mostly sunny skies. High temps in the mid-80s.
Tuesday: Partly cloudy skies. A stray shower is possible in the afternoon. Highs around 80 degrees.
Wednesday: Upper 70s and cloudy with a 40% chance of showers.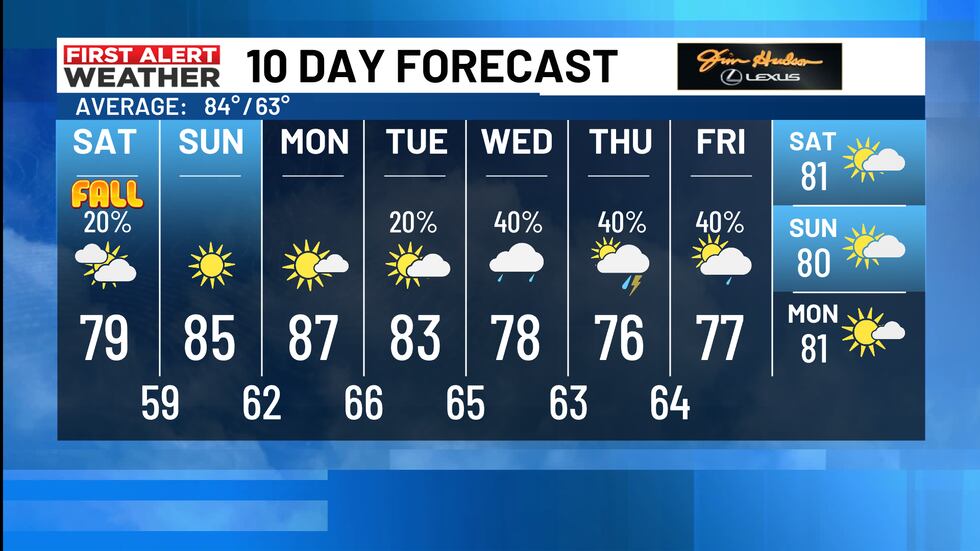 Notice a spelling or grammar error in this article? Click or tap here to report it. Please include the article's headline.
Stay up to date with WIS News 10. Get the app from the Apple App Store or Google Play Store and Stream us on Roku, YouTube, Amazon Fire, or Apple TV.
Copyright 2023 WIS. All rights reserved.