Cinematographer gives behind-the-scenes look at Netflix's 'Murdaugh Murders: A Southern Scandal'
With season 2 now streaming, we found out what viewers can expect to see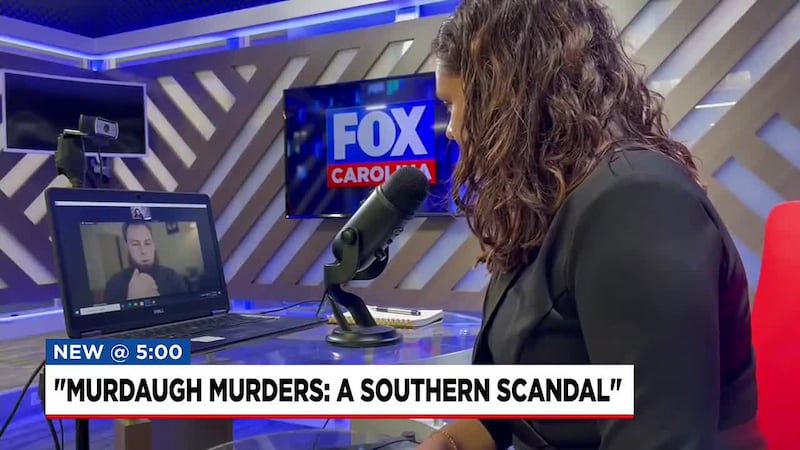 Published: Sep. 21, 2023 at 6:25 PM EDT
GREENVILLE, S.C. (FOX Carolina) - The second season of a Netflix docuseries focusing on the infamous Murdaugh saga is now streaming.
FOX Carolina's Grace Runkel, who covered all six weeks of the double murder trial from Walterboro, sat down with cinematographer Brandon Riley to learn about the making of "Murdaugh Murders: A Southern Scandal" season two.
GRACE RUNKEL: "Tell me a little bit about your role as cinematographer on this wildly popular series."
BRANDON RILEY: "I'm a native South Carolinian and went to College of Charleston and kind of was monitoring the Charleston news looking for something to do in the area. This thing popped up. It's obviously a terrible story and all of the things. The upside for me as a South Carolinian is sort of seeing or letting people see the natural beauty of the area and all the other things that maybe they can get a piece of that, you know, outside of this just unbelievable tale."
GR: "You guys actually used one of my live shots from the auction ... You have done a lot of incorporating of the local media's coverage of it. Is there a reason behind that?"
RB: "It's all about authenticity, right? So it's like you can come in and kind of pretend to be a certain thing, but why not just go straight to the source?"
GR: "What do you think it is about this story that is just driving people wild?"
RB: "It has everything ... I think the build-up was so palpable because you really didn't know. You didn't know for sure if he did it. That was kind of the debate, and we would ask people, 'What do you think?' and everyone had an opinion, but no one really knew. It was so hard to believe that this ... was really happening this way. You know, such a storied history and, you know, this community that feels so tight-knit and all this stuff. Not just the murders but the way that he took advantage of the local people that he was supposed to be protecting and supporting, and it's just like mind-boggling."
GR: "What can people expect in this second installment?"
RB: "Obviously, at the end of the first one, we didn't know what was gonna happen. So there's a little bit of, you know, now we know what happened. There's more access to the police video and some other video that is really enlightening. [We're] also sort of ... highlighting some of the witnesses from the trial that really stood out that people didn't know and giving them a chance to be rounded out as humans. You know, we're seeing it as entertainment or a way to pass time, but these people lived it and just how devastating it was to every aspect of their life. It just upended everything, and [we're] just giving them a chance to become real people, is kind of what season two is about."
GR: "Was there one person's story that kind of sticks with you the most?"
RB: "Blanca [Turrubiate-Simpson], who was kind of with the family through the years and then through all the tragedy, was a close friend of Maggie's and one of the few people who really knew her. She had some really good insight into Maggie as a person and Paul as a person because she was around when he grew up. It's nice. You know, everyone has flaws and all the things, but it is nice for them to get a little bit of respect and just the human element to them. So they're not just those still photos we always see of them ... [Blanca] has a really nice moment that closes out the series that's kind of poignant."
Copyright 2023 WHNS. All rights reserved.