Man with traumatic injury rescued after friends left him alone in Grand Canyon, officials say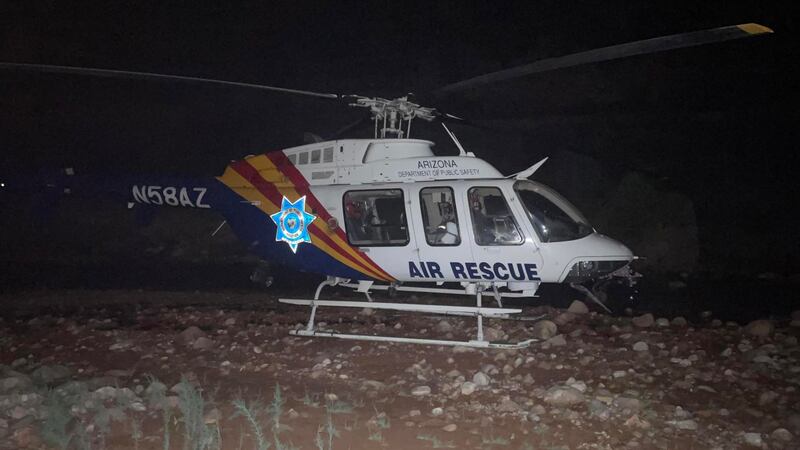 Published: Sep. 18, 2023 at 12:39 PM EDT
GRAND CANYON, Ariz. (3TV/CBS 5/Gray News) — A 63-year-old hiker was rescued Friday night at the Grand Canyon after his four friends called for help and continued backpacking without him.
Rescuers said the man had a "traumatic injury to his shoulder that needed emergency medical attention and evacuation."
The Mohave County Sheriff's Office said the man fell and injured his shoulder around 2 p.m., four hours before the office received a call for help. The sheriff's search and rescue team, along with a Department of Public Safety helicopter out of Kingman, arrived about a quarter mile from the injured hiker's location while it was extremely dark and hard to see. He was found along Kanab Creek on the north rim of the Grand Canyon.
Rescue crews made their way through a creek and boulders to the injured hiker, stabilized him, took him back to the helicopter and flew him to a hospital in Flagstaff. Rescuers learned from the man that he was part of a group of five friends.
The man told rescuers that he and his friends were backpacking through the canyon for three to four days and had another three to four days left.
One of the man's friends called for aid. However, it's unknown when the first attempt to call for help was made, as the four friends took the phone when they decided to leave their injured friend alone after 6 p.m.
"It was fortunate that the helicopter was able to rescue this injured hiker," the sheriff's office said. "It would have taken an extended period of time for ground crews to reach his location. Search and Rescue encourage everyone never to leave someone behind alone and, whenever possible, to stay with them and ensure they are rescued before continuing on their journey."
Copyright 2023 KTVK/KPHO via Gray Media Group, Inc. All rights reserved.