Prosecutors ask judge to revoke bond of mother of Virginia boy who shot his first-grade teacher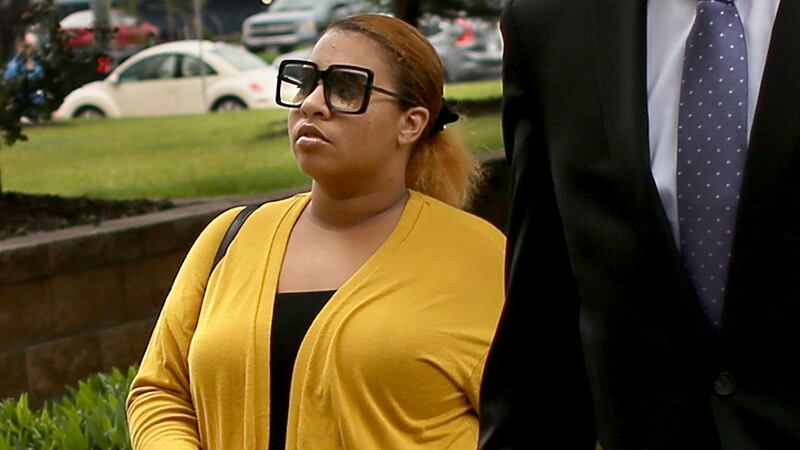 Published: Sep. 6, 2023 at 4:11 PM EDT
RICHMOND, Va. (AP) — Prosecutors have asked a federal judge to revoke the bond for the mother of a Virginia boy who shot and wounded his first-grade teacher after she allegedly failed multiple drug tests while awaiting sentencing on two felony charges.
Deja Taylor pleaded guilty in June to having a gun while possessing marijuana and to lying on a federal background check form when she purchased the 9mm handgun her son used to shoot teacher Abigail Zwerner at the Richneck Elementary School in Newport News. The boy was 6 when he pulled out his mother's gun in January and fired one shot at Zwerner in a classroom full of students. Zwerner was seriously wounded.
Taylor was released on bond pending sentencing on the condition that she refrain from unlawful drug use and possession. In a motion filed in U.S. District Court last week, prosecutors said Taylor tested positive for marijuana and cocaine use, failed to show up for two drug screenings and missed two scheduled drug treatment sessions.
"These violations are serious and call into question the defendant's danger to the community, respect for the law and this Court's Orders, and gives the United States no faith that the defendant will abide by the terms of her court supervision since her conduct is repeated and not merely one mistake," Assistant U.S. Attorneys Lisa McKeel and Peter Osyf wrote.
James Ellenson, one of Taylor's lawyers, told The Virginian-Pilot that he will ask U.S. District Judge Mark Davis not to revoke her bond.
"Like so many Americans, my client has serious substance abuse issues that are exacerbated by mental health issues. We would ask for compassion and understanding at this time. As always, we express a continued speedy recovery to Ms. Zwerner," Ellenson told The Associated Press in an emailed statement.
Prosecutors asked the judge to hold a hearing on their request. No date has been scheduled yet. Sentencing is scheduled for Oct. 18. As part of a plea agreement, prosecutors agreed to ask for a sentence of 18 months to 24 months in prison.
Taylor pleaded guilty last month to a separate state charge of felony child neglect. In that case, prosecutors agreed to ask for a sentence that falls within state guidelines, which is expected to be no more than six months. Prosecutors also agreed to drop a misdemeanor charge of reckless storage of a firearm. Sentencing is scheuled for Oct. 27.
Ellenson has said Taylor believed her gun was secured on a high closet shelf with a trigger lock before the shooting occurred. Federal prosecutors have said that neither a trigger lock nor key to such a lock was found during searches of Taylor's home.
Both cases are among the repercussions that followed the shooting, which shook the city of Newport News near the Atlantic Coast.
Zwerner is suing the school system for $40 million, accusing school administrators of gross negligence and of ignoring multiple warnings the day of the shooting that the boy had a gun at school.
Copyright 2023 The Associated Press. All rights reserved.