Tributes continue to pour in following death of SC Senator John Scott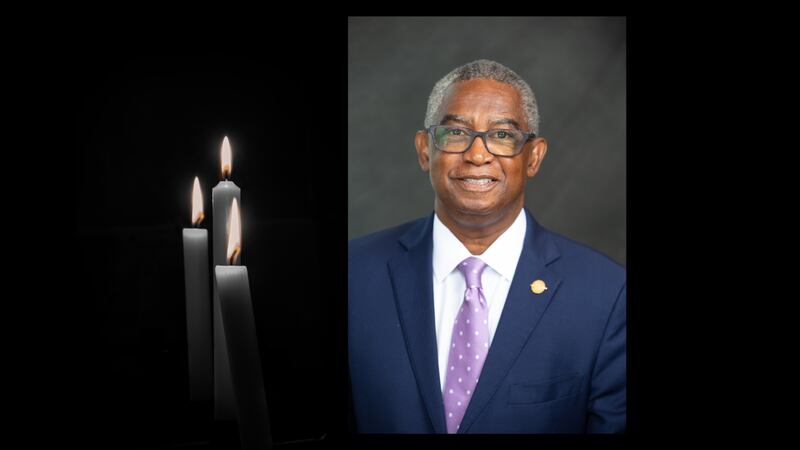 Published: Aug. 13, 2023 at 6:19 PM EDT
COLUMBIA, S.C. (WIS) - Various lawmakers, state representatives and organizations are making statements after learning of the passing of Senator John Scott.
The news of the late senator's passing was confirmed by the South Carolina Senate Democratic Caucus on Sunday.
Since 2009, Scott represented the 19th District of the South Carolina Senate.
Scott graduated from South Carolina State University in 1975 with a degree in accounting. The university shared the following statement via a press release Sunday evening offering Scott's family their "deepest sympathies."
In the press release, the university's president, Alexander Conyers, said Scott was a "vital contributor to the university's successes, as well as to those of South Carolina's other Historically Black Colleges and Universities (HBCUs)."
You can find the university's statement below:
South Carolina State University offers the family of South Carolina Sen. John L. Scott Jr. its deepest sympathies following his passing on Sunday at age 69.

Senator Scott was a loyal son of SC State, having graduated from what was then SC State College with a degree in accounting in 1975.

"In addition to his hard work on behalf of his constituents in Richland County, Senator Scott's devotion to his alma mater was apparent throughout his 33 years in the state Legislature," SC State President Alexander Conyers said. "He was a vital contributor to the university's successes, as well as to those of South Carolina's other Historically Black Colleges and Universities (HBCUs)."

Conyers said the senator's faith in HBCUs was never more evident than when he led the recent effort to establish the South Carolina Institutes of Innovation & Information (SCIII). This collaborative program involving seven HBCUs in South Carolina brought the Institute of Business, Economics, Communications and Transportation (BECT) to SC State.

"We are seeing the fruits of Senator Scott's labors now with numerous projects, grants and awards, which are spurring innovation at SC State by way of the BECT Institute," Conyers said. "Senator Scott will be missed tremendously, but his significant legacy will live on at SC State through generations of students whose education and careers are furthered by BECT.

"Our hearts go out to Senator Scott's family, friends and colleagues in the South Carolina Legislature," Conyers said.
Many current and former state representatives and lawmakers shared their grief and condolences. Their statements can be found below:
South Carolina Democratic Party Chair Christale Spain:
"We are deeply saddened by the passing of State Senator John. L. Scott, Jr. Senator Scott represented Richland County in the state house and state senate for over 30 years. He used his voice in the General Assembly to fight not only for his district but for all South Carolinians and his life's work on issues of education, healthcare and economic development will have a lasting impact on our state."

Senator Scott was my state senator and I know first-hand how hard he fought for my community. His death is a tremendous loss for our Party and all of South Carolina. We extend our deepest condolences to Senator Scott's family."
On social media, tributes continued to pour in.
U.S. Senator Tim Scott:
"Saddened to hear of the passing of SC State Senator John Scott. I pray for his family and friends and hope they feel God's comforting grace during this difficult time."
Representative Kambrell Garvin, D-Richland:
"A giant tree has fallen. Senator John L. Scott, Jr., was my political mentor and friend. I am absolutely devastated by his unexpected passing. Monique and I send our sincerest condolences to Mrs. Joan and the entire Scott family along with all who knew and loved our Senator."
Senator Mia McLeod, I-Richland:
"We didn't agree MOST of the time, but we joked abt our disagreements almost as much as we fought about 'em. Praying for the Scott Family, my Senate colleagues, our staff and all who knew and loved John. Rest in Peace, Senator."
Senator Nikki Setzler:
"Senator John Scott was not only an outstanding public servant but a true gentleman. He worked tirelessly for his constituents and the people of this State. My friend will be missed but his legacy will live on."
Representative Jermaine Johnson, D-Richland:
"Senator Scott loved my daughter Khloe! Senator Scott loved our Lower Richland community! Senator Scott loved HBCUs. Senator Scott loved South Carolina. This is horrible news for all of us. God bless him and his family during these times."
Democratic National Committee chairman Jaime Harrison:
"I'm heartbroken to learn of the passing of SC Senator John Scott. He was a passionate legislator and political strategist. No one could outwork the Senator! I always enjoyed his counsel and will miss him. I send my deepest condolences & prayers to his wife, family, & friends."
Representative Beth Bernstein, D-Richland:
"I'm deeply saddened to learn of the passing of Senator John Scott. He was a cherished colleague and friend who dedicated decades of service to our community and state. My thoughts and prayers go out to his wife Joan and family."
Representative Ralph Norman:
"SC Senator John Scott had a true love for our state and leaves behind an incredible legacy. This is a certainly a sad day for South Carolina. My prayers are with him and his family."
Senator Thomas McElveen, D-Sumter:
"Sen. John Scott was my colleague, my desk-mate, & my friend. I'm proud to have known him & served with him. And he always treated my children like solid gold (I think my 5 y/o was his favorite!). Every day when I'd walk in the Senate-'How's my boy doing?' Rest well, brother."
Senator Katrina Shealy, R-Lexington:
"So Sad to hear of the passing of friend and colleague Senator JohnScott of Richland County. Our Prayers go out to Joan and the entire Scott family."
Senator Darrell Jackson, D - Richland:
"My heart was broken to hear of the passing of my dear friend and colleague Senator John Scott. John was one of kind and loved the people of Richland County and our great state. He will truly be missed. Rest in peace my friend."
Representative Todd Rutherford:
"We lost a giant in Sen. John Scott. I'm lifting his family in prayer in the wake of his passing. John's legacy speaks for itself, and his service made South Carolina a better place."
Richland County Sheriff Leon Lott:
"Sheriff Lott and the entire Richland County Sheriff's Department send our condolences to the Scott family. Thank you Senator Scott for your service to Richland County, you cared about this community and it will never be forgotten. Our thoughts and prayers are with your family."
Former state governor Jim Hodges:
"Sad to hear of passing of my longtime friend, #SenatorJohnScott. Remarkable life of public service on Rich Co Council, House, Senate. Helped us on big issues- the lottery, First Steps, etc. Real focus on making SC better for all. Thanks to Joan and kids for sharing him with us."
Representative Jim Clyburn:
"My thoughts are with the loved ones and constituents of South Carolina State Senator John Scott as they mourn this tremendous loss. A dedicated public servant for more than 30 years, his voice and passion for the betterment of every South Carolinian will be deeply missed."
Notice a spelling or grammar error in this article? Click or tap here to report it. Please include the article's headline.
Stay up to date with WIS News 10. Get the app from the Apple App Store or Google Play Store and Stream us on Roku, YouTube, Amazon Fire, or Apple TV.
Copyright 2023 WIS. All rights reserved.