FIRST ALERT WEATHER: Severe Storms Remain Possible Later Today
Published: Aug. 7, 2023 at 6:52 AM EDT
|
Updated: Aug. 7, 2023 at 1:46 PM EDT
COLUMBIA, S.C. (WIS) - Today will be a Monday to be weather aware with a sweltering afternoon, followed by some strong t-storms late!
First Alert Headlines
· First Alert Weather Day Monday!
· Hot and very humid to start the day with heat indices topping out near 107-110 this afternoon. *Heat Advisory*
- Scattered strong to severe storms are likely late today/this evening, with damaging wind gusts up to 60 mph as the main threat.
· Drier weather returns Tuesday and Wednesday, but highs will still push to the mid-90s.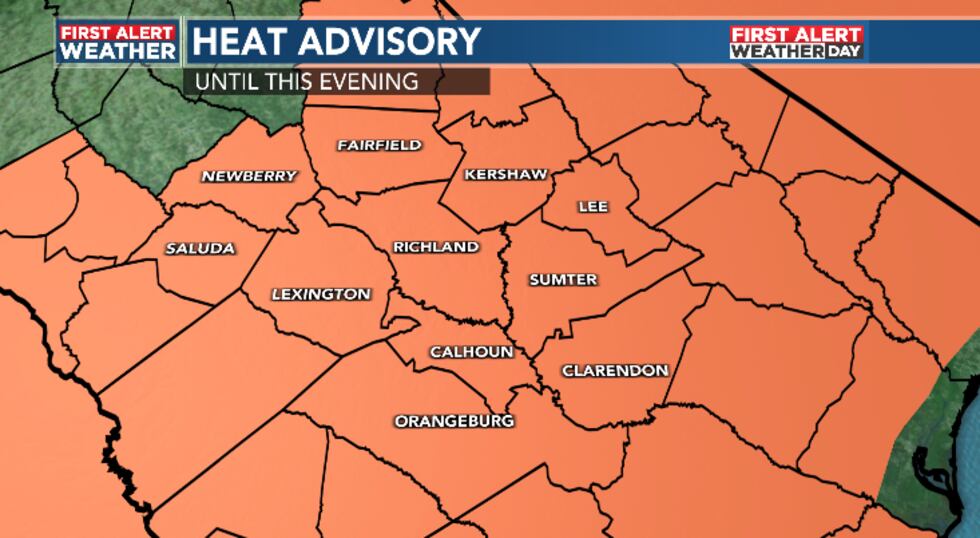 First Alert Summary
Today is a First Alert Weather Day for what we can see later this evening! It will start off sunny, hot and very humid with highs climbing into the mid to upper 90s, with feel like temperatures pushing 110 during the afternoon. This all with a heat advisory to boot.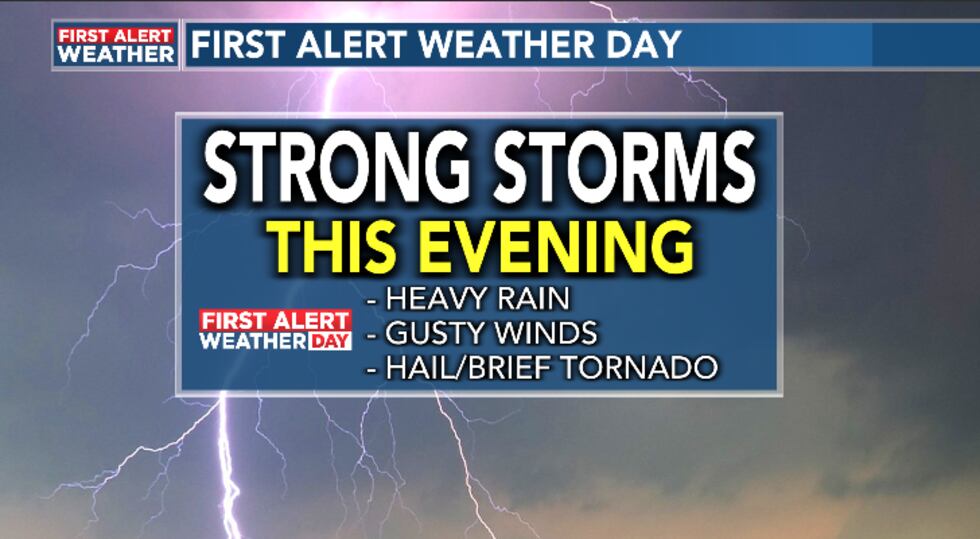 This extreme heat and humidity will help to fuel a line of storms that will move through the Midlands during the late afternoon and evening. Timing looks to be between 6PM and 11PM for the worst of the storms.
Most of the Midlands is under a Level 3 out of 5 or an Enhanced Risk for severe weather Monday. The main concern will be damaging wind gust up to 60 mph and downpours, along with lots of lightning, but some large hail and even a brief tornado can not be ruled out.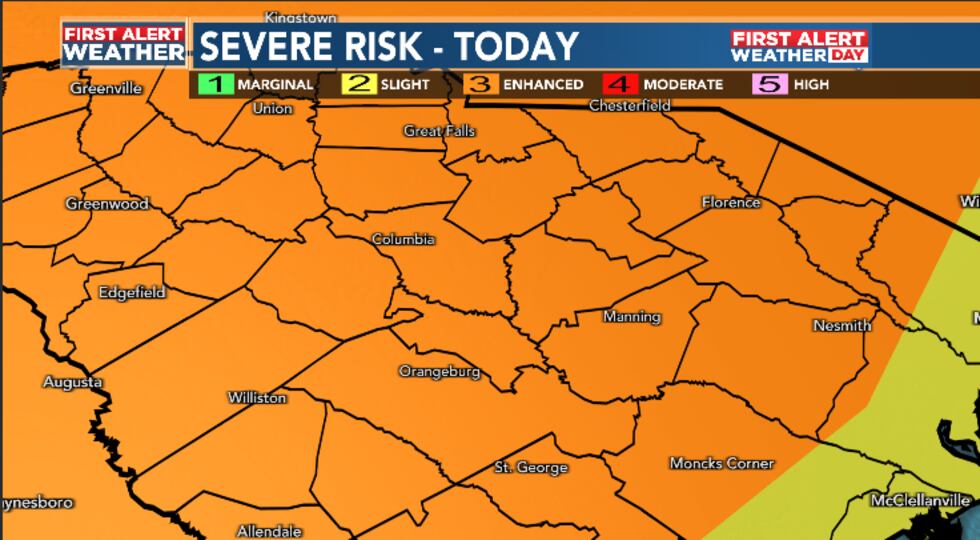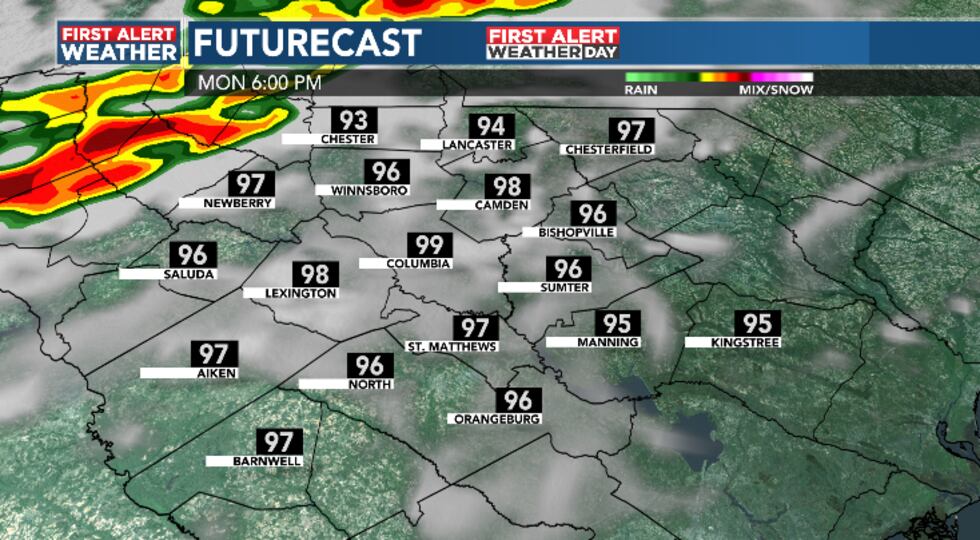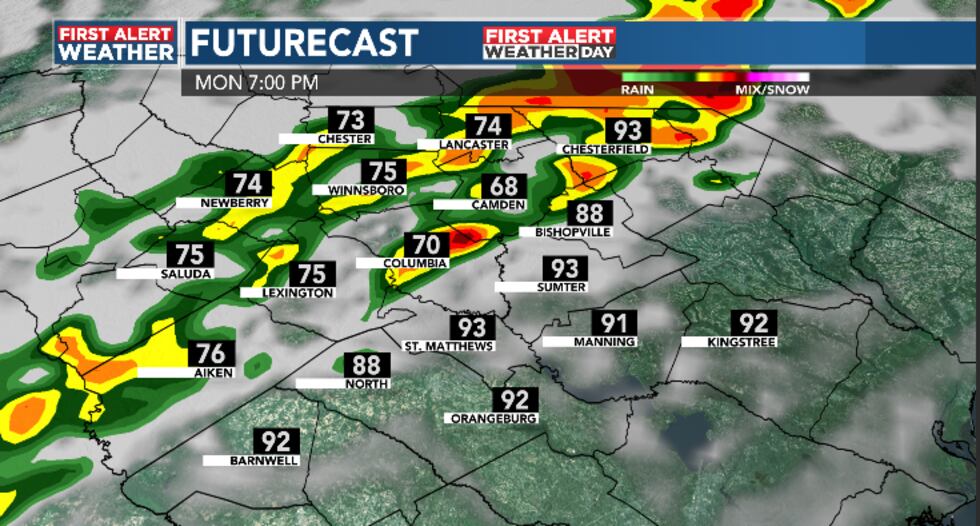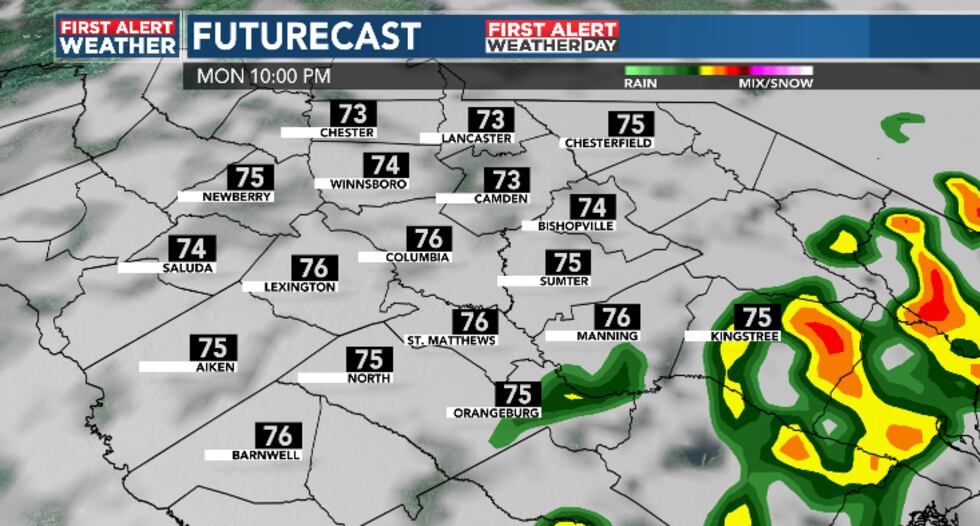 A few more lighter showers could push through the Midlands behind the severe weather late Monday night into earlier Tuesday morning as a cold front moves through the Carolinas.
Once this cold front passes on, our pattern will be calmer through Wednesday! Tuesday and Wednesday are likely dry with a good deal of sun. Also, it'll be less humid but still hot with highs in the low to mid 90s.
By the end of the week, our pattern turns unsettled again, with isolated showers and storms projected for Thursday and Friday.
First Alert Forecast
First Alert Weather Day Today: Sunny, hot, & very humid. Highs in the mid to upper 90s with max feel like temperatures nearing 110. Then scattered strong to severe storms into the evening. Wind gusts up to 60 mph are possible late today with these storms.
Tuesday: Mainly sunny skies, breezy and hot. High temperatures in the low and mid 90s.
Wednesday: Mostly sunny skies. Not as humid into the day. Highs in the mid 90s.
Thursday: Isolated showers and storms in the afternoon with partly cloudy skies otherwise. Highs in the low mid-90s.
Friday: Some breaks of sun with a few showers and storms into the afternoon. Highs in the lower 90s.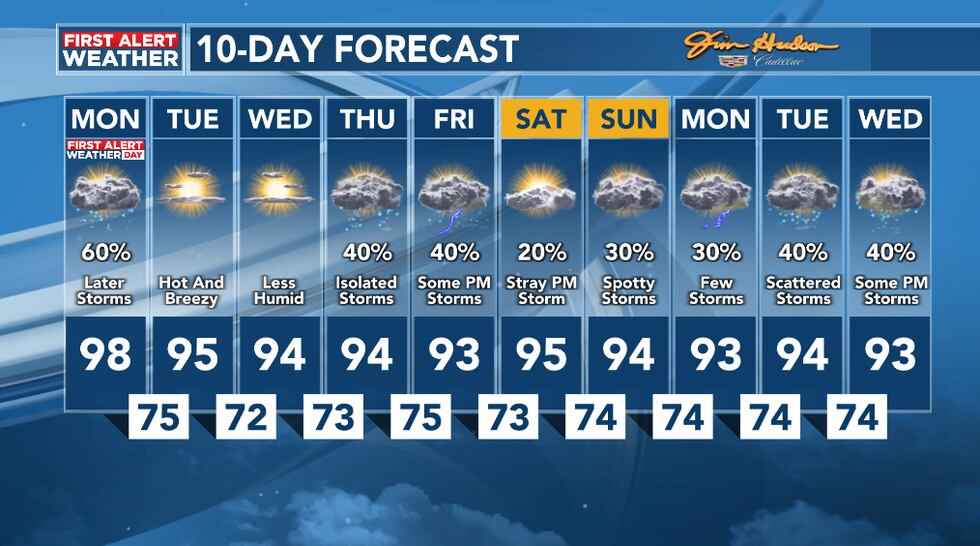 Notice a spelling or grammar error in this article? Click or tap here to report it. Please include the article's headline.
Stay up to date with WIS News 10. Get the app from the Apple App Store or Google Play Store and Stream us on Roku, YouTube, Amazon Fire, or Apple TV.
Copyright 2023 WIS. All rights reserved.