Newberry on-duty officer dies after crash involving tractor-trailer
Published: Jul. 27, 2023 at 11:13 AM EDT
NEWBERRY, S.C. (WIS) - The Newberry Police community is mourning the loss of one of their own: Lieutenant Michael Wood.
The Newberry Police Department and the Newberry County Coroner's Office identified Wood in press releases on Thursday evening.
Wood, 48, died after his unmarked patrol car collided with a tractor-trailer on Wednesday night while he was on duty.
According to the South Carolina Highway Patrol, the crash happened along S.C. Highway 395 in Newberry around 5:30 P.M. on Wednesday at the intersection of Nance Street and Dixie Drive.
That is a little more than a mile away from the Newberry Police Department downtown.
In an interview Thursday, Newberry Police Chief Kevin Goodman called Wood the ultimate public servant who had dedicated the last 20 years of his life to this department.
Wood, who began his career as a Newberry Police officer in 2003, rose through the ranks and was promoted to Corporal in 2006, Sergeant in 2008 and Lieutenant in 2017.
"Lieutenant Wood was an awesome individual," Goodman said. "He loved his family, and he absolutely treasured the city of Newberry, and the city of Newberry Police Department. Often times he would just reassure me 'he loves this department, he's not going anywhere, he's going to be here the rest of his life.'"
Goodman called him a "blessing," and said Wood would be greatly missed.
Wood was transported to Prisma Health Richland, where he later died.
Around 1 P.M. on Thursday afternoon, a procession of various law enforcement agencies escorted his body back to Newberry Hospital.
The honor guard procession went from the hospital in Columbia to Exit 76 in Newberry, along Main Street, and ended at Newberry Hospital.
Along Newberry's Main Street, firefighters, public works employees, and other officers all gathered to pay their respects to Wood.
Wood, a beloved father, and husband, was from the small Newberry County town of Prosperity.
Newberry Mayor Foster Senn called Wood's passing a great loss for the community.
"I would see him a lot of times like at festivals, and I always appreciated his smile, but I also know that he took his job very seriously," he said. "He really cared about the safety of the public, and it just showed through how dedicated he was, a 20-year officer for our police department."
The South Carolina Highway Patrol and the Newberry County Coroner's Office are investigating the crash.
Troopers could be seen investigating at the intersection where the incident happened on Thursday, and very little debris was visible.
The driver of that tractor-trailer was taken to the hospital as well.
A memorial police car has been placed outside the Newberry Police Department for locals to honor Wood's career of service.
Goodman asked that Wood's family and the community be lifted in prayer as they try to find peace in this tragedy.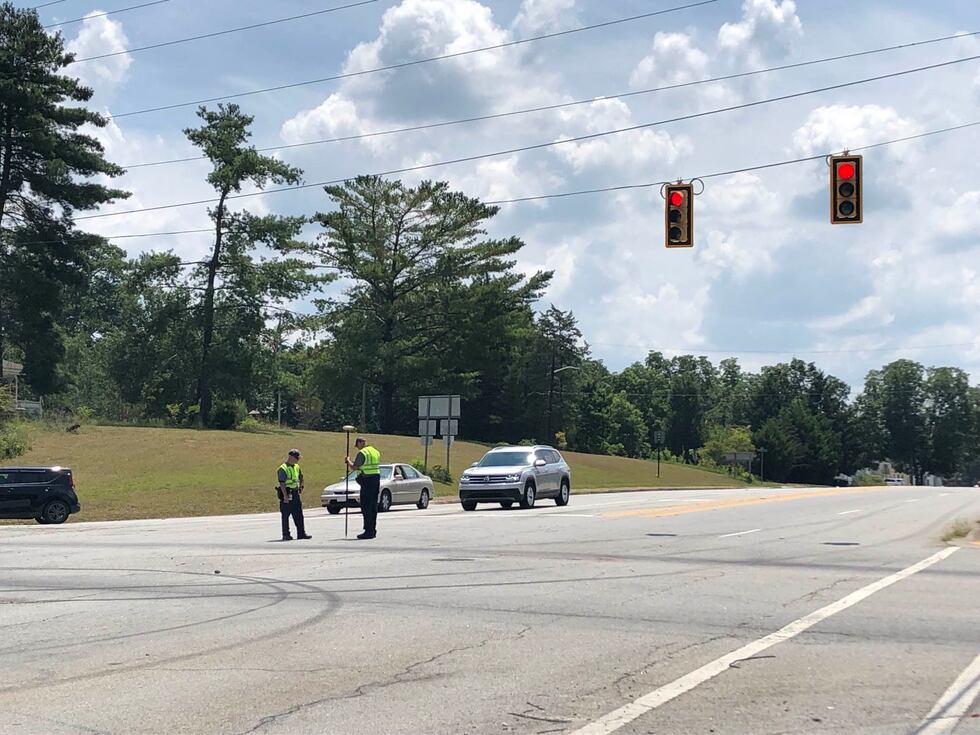 Notice a spelling or grammar error in this article? Click or tap here to report it. Please include the article's headline.
Stay up to date with WIS News 10. Get the app from the Apple App Store or Google Play Store and Stream us on Roku, YouTube, Amazon Fire, or Apple TV.
Copyright 2023 WIS. All rights reserved.