FIRST ALERT WEATHER: Watch for a few strong storms on Saturday!
Published: Apr. 21, 2023 at 7:10 AM EDT
|
Updated: Apr. 21, 2023 at 10:59 AM EDT
COLUMBIA, S.C. (WIS) - Saturday is a First Alert Weather Day as cold front will sweep across the Palmetto state bringing us scattered showers and a few strong to possibly severe storms.
FIRST ALERT HEADLINES.
Highs climb into the mid-80s today under mostly sunny skies.

Saturday is a First Alert Weather Day for the possibility of a few strong to severe storms. Gusty winds up to 60 mph is the main threat.

Sunday is a little cooler with highs in the mid-70s, along with abundant sunshine.

Monday is even cooler with lows in the upper 40s and highs only reaching the low 70s.

Rain returns Wednesday with our next system moving into the Carolinas.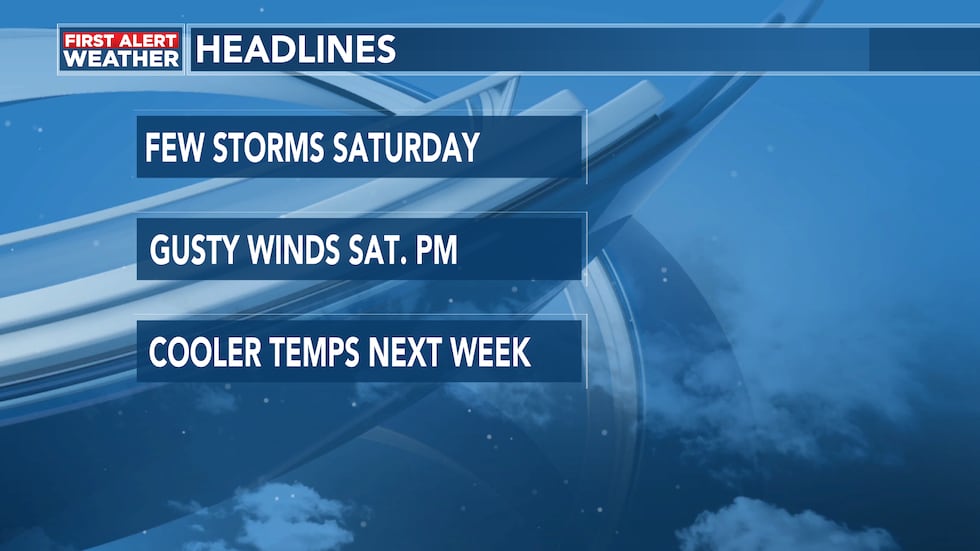 FIRST ALERT WEATHER SUMMARY
Happy Friday Midlands! A southern flow continues for us today, which means our temperatures will remain warm as highs reach the mid-80s under bright sunny skies.
A cold front will push into the region tomorrow, that will increase cloud coverage, and our winds will increase as well with gusts up to 20-25mph. Lows for the morning are in the low 60s and highs reach the upper 70s. The front also brings us some rain showers and a few storms.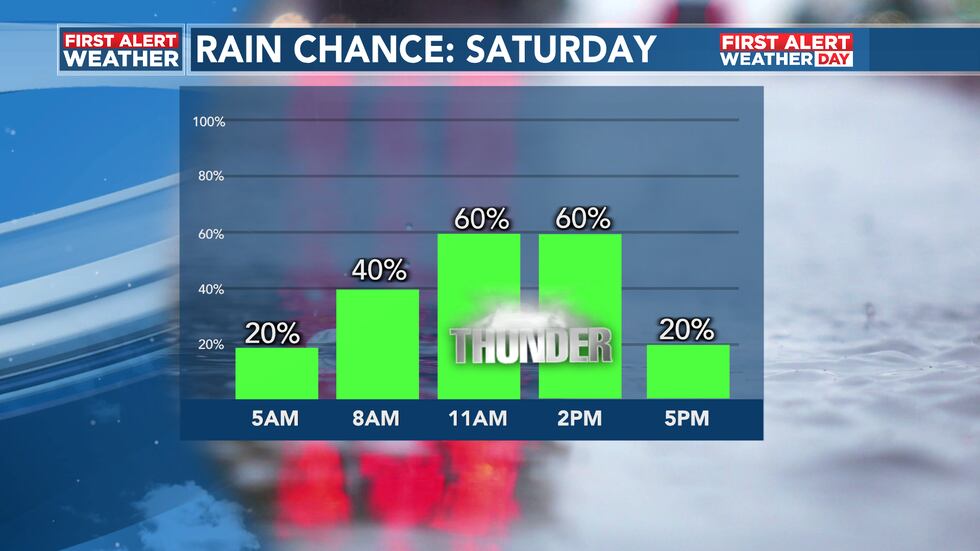 The risk of severe weather is low, with a marginal risk (level 1 out of 5) for most of the Midlands, except for our eastern viewing area, into the Pee Dee as well at a level 2 or slight risk.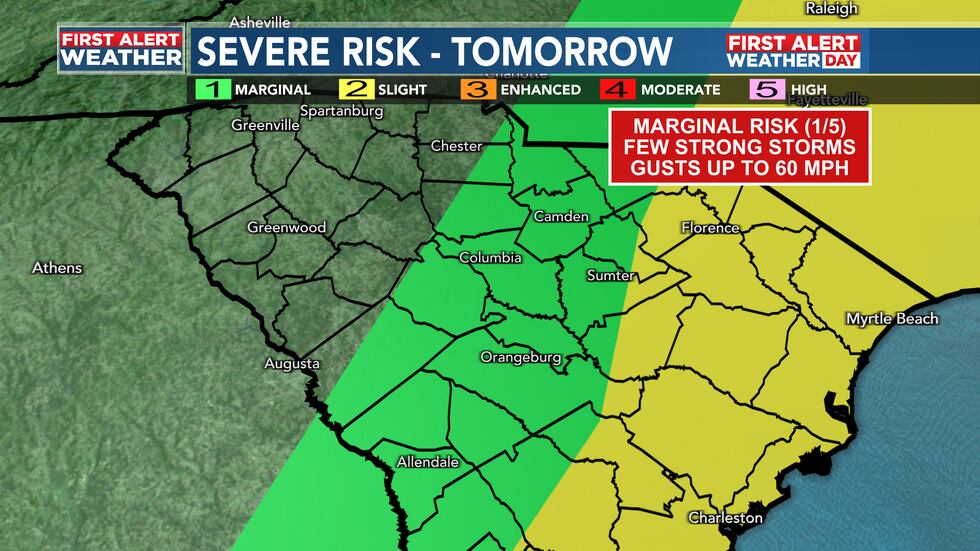 Sunday should have lows in the upper 40s, as highs reach the upper mid 70s. Skies are mostly sunny as high pressure moves in.
Temps are in the upper 40s again for Monday & Tuesday morning as high temps reach the low 70s. Skies are partly cloudy throughout both days.
There are better chances of rain with cooler temps Wednesday through Friday of next week. Right now chances of rain are consistently around 60%.
FIRST ALERT FORECAST
Today: Mostly sunny and warm with highs at least reaching the mid-80s.
FIRST ALERT Weather Day Saturday: Peeks of sunshine with scattered showers and isolated strong storms. Highs in the upper 70s with breezy winds.
Sunday: Mainly sunny skies with highs nearing 77 degrees.
Monday: Sunshine and clouds with highs in the low 70s.
Tuesday: Partly cloudy skies. Highs are likely to be in the low 70s again.
Wednesday: Mostly cloudy with some scattered rain showers. Highs are on pace to fall back to the mid-60s.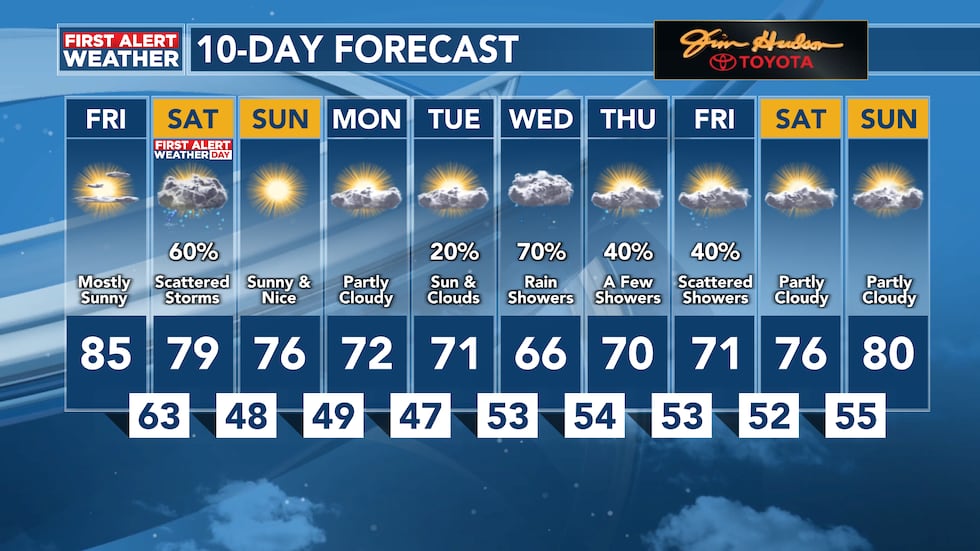 Notice a spelling or grammar error in this article? Click or tap here to report it. Please include the article's headline.
Stay up to date with WIS News 10. Get the app from the Apple App Store or Google Play Store and Stream us on Roku, YouTube, Amazon Fire, or Apple TV.
Copyright 2023 WIS. All rights reserved.