Murdaugh trial witness says piece of evidence was 'game changer'
Q&A with Dr. Kenneth Kinsey about the notorious case
Published: Apr. 18, 2023 at 6:25 PM EDT
|
Updated: Apr. 19, 2023 at 11:00 AM EDT
ORANGEBURG, S.C. (FOX Carolina) - During hours spent on the stand in the murder trial of Alex Murdaugh, crime scene expert Dr. Kenneth Kinsey captivated jurors and audiences with his pivotal testimony.
Kinsey, who describes himself as Andy Griffith with a crime scene background, helped convict Murdaugh of killing his wife Maggie and son Paul at their Colleton County hunting property in 2021.
He got a call from the South Carolina Law Enforcement Division about a month after the double murder at Moselle and was asked if he would review evidence if needed. He agreed but said it was more than a year before he got a phone call from the Attorney General's Office asking him to actually look at the case.
FOX Carolina's Brookley Cromer sat down with Kinsey at his office in Orangeburg to talk about what it was like to help investigate the notorious case - and spend hours in the hot seat answering questions about it.
Kinsey testified during the 6-week trial about key details from the crime scene, working to debunk a two-shooter theory proposed by the Murdaugh's team and a defense witness who made claims about the shooter's height.
"You have an expert come in and say the shooter was five foot two," Kinsey said. "Not five foot three, not five foot one, you know, not six foot. And I just thought that was just a waste of the court's time, and it was utterly ridiculous."
He also testified that the victims didn't have defensive wounds, supporting the state's argument that they knew their killer. Kinsey described the scene as "overkill" and said it wasn't a well-planned crime.
"That leads me to believe something happened," Kinsey said. "We'll never know."
He opened up about a moment when he felt certain that Murdaugh was guilty. Below are some of Kinsey's answers. You can also watch the full Q&A below:
BROOKLEY: I'm just curious, what is it been like, you know, all the notoriety you've gotten here recently? Did you ever expect anything like this?
DR. KINSEY: Ms. Brookley, I was so unprepared for this. We've been doing this, myself and my team, have been doing this for over two decades. And I knew it would be a little bit you know, of attention, but never anything like this. It has been nonstop for a month now. And every time I think it has slowed down, it picks back up again. It's crazy. It's crazy.
What do you think about all the positive things people are saying about you, not just locally, around the state, but also across the nation about how you did on the stand?
Well, it's flattering... When I said crazy, it's a good crazy, I'm so appreciative of the attention. But when people start praising me, I just want to remind them, there was one heck of a team of people that carried this football, you know, for a year and a half before Kenny Kinsey ever came into the equation. I'm talking about the Colleton County Sheriff's Office, SLED, the Attorney General's Office. You know, I'm glad I could help, but I tell people I was just one spoke in this wheel, and I don't want to overshadow the work because they lived it, you know, they lived it every day. This was their main concentration for over a year and a half. So I'm flattered, and I appreciate it, and it's been such a blessing, but I was just a small part in this equation. I never expected this kind of attention. But I'm, I'm thankful for it at a time in my career where I'm getting to the end, and this is what I plan on doing, you know, the rest of my life. So it was a blessing, but just unexpected.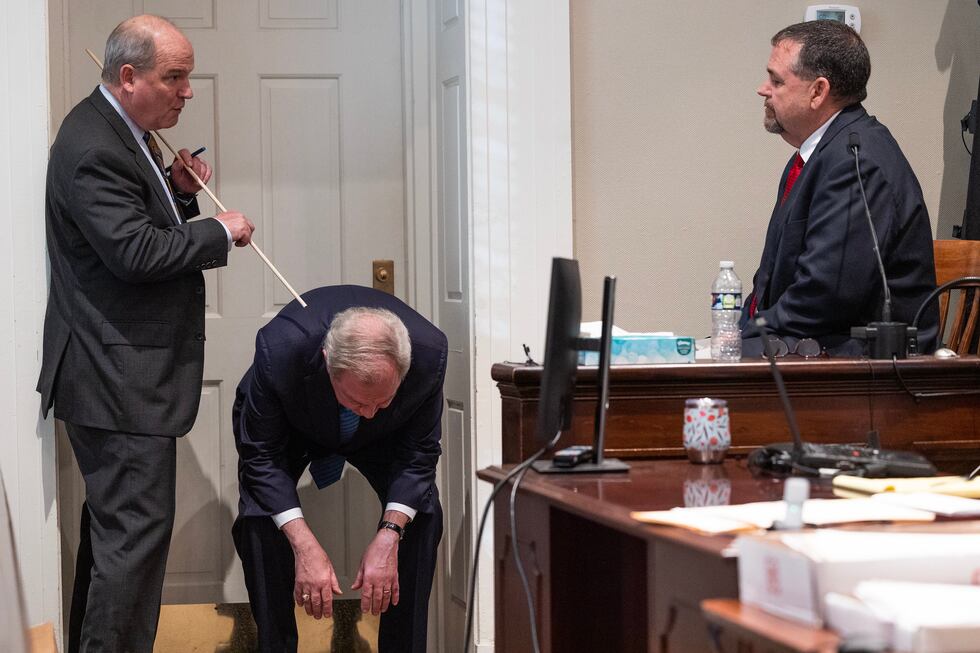 What was it like being up there as Mr. Griffin, Mr. Harpootlian are asking you some of these questions over and over again, as you mentioned? What was it like as you're sitting up there?
Well, I have my report, and I have notes, but I was always taught, only use them as a last resort. So most everything I've testified to is committed to memory. So as long as it's in your memory, good enough that you don't lose it, you know, short-term memory, then I can sit there all day and just keep repeating it. And sooner or later, they're going to move on to the next issue. So it's just keeping your cool. Like I said, you lose points with the jury, if you lose your cool so of course, you'd rather them lose their cool. But every once in a while, when I show my teeth every once in a while, it'll throw them off. I mean, you know, a couple of times, both attorneys just stopped and paused and inhaled. That's when you know that you've thrown them off their game, or they didn't expect that answer. Some attorneys will get up and they'll fire one question after the other question after the other question - and you can slow it down. You got to answer but you can slow it down. And if you can slow it down and get them out of their rhythm, sometimes they will be the ones to trip or they'll just get tired and end the examination. But no matter what, whether it's three hours - I think it was three hours the first time and two hours the second time - no matter what, you've got to be sure of your results. I'm sure of it when it's the truth, I'm sure. And you've got to relate to that jury. Everyone else you want, you want to please, you know, them, but your main job is relaying that evidence to the jury.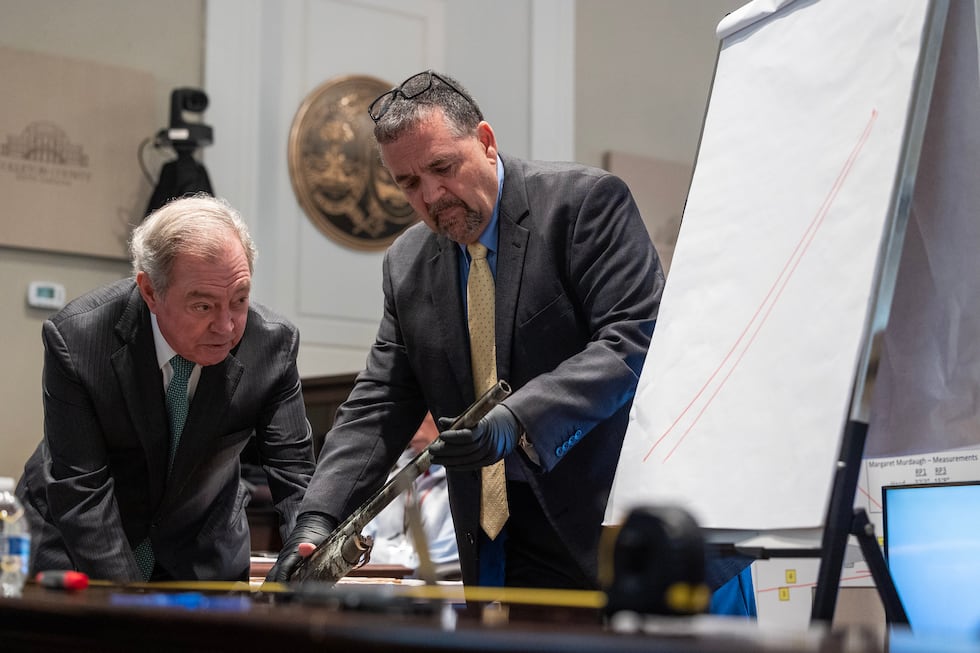 How important was it to debunk that two-person or two-shooter theory?
I think it was very important. A lot of people didn't realize the ballistics tie, or firearms marks on the cartridge cases. And the original guns that belong to the Murdaughs. A lot of people didn't pick up on that. And the firearms examiner, in my opinion, from SLED did a great job, he did a great job. But they had no projectiles that match those weapons. However, the extractor ejector marks did match, which may not mean it was fired, you know, a certain bullet was fired from this gun. But those cartridges were loaded in that gun originally. And then of course, they found the cartridge cases throughout the Murdaugh property and they were also included in that. So that was pretty strong. That was strong. And when you work a hit or when someone is paid to go somewhere and assassinate someone, I don't know in my career that I've ever seen somebody go to a location and there'd be two guns sitting there waiting on them. So if people paid attention to that part, also, you know they're family-owned firearms, just like with the DNA on the shotshells that killed Paul. A lot of people said, well, why, why did you use a shotgun? Well, because it was there, it was standing there. And no one would ever expect someone to sustain a full load of buckshot in the chest and still be standing. And of course, after the first shot, Paul, it was a superficial wound. He was still standing. And they're bird hunters. That's what they do on this property. And the laws are of such, you can only have three shells in your weapon and no one who's safe would carry one in the chamber. So that only leaves two. They talked about the hog problem down there, the feral hogs. Well, you keep a buckshot and a bird shot in your weapon. And so anybody that understands that part of it would say, yeah, that makes sense. And then, of course, we don't know where Miss Maggie was or, you know, proximity to the dog kennels. Did she come up? Was she on the other side of the barn? Nobody really knows those answers. And anybody to testify to it, you know, I'd checked them out because they must have been there because I would never take it that far. I only testify to things that I can prove or things that I can most probably prove.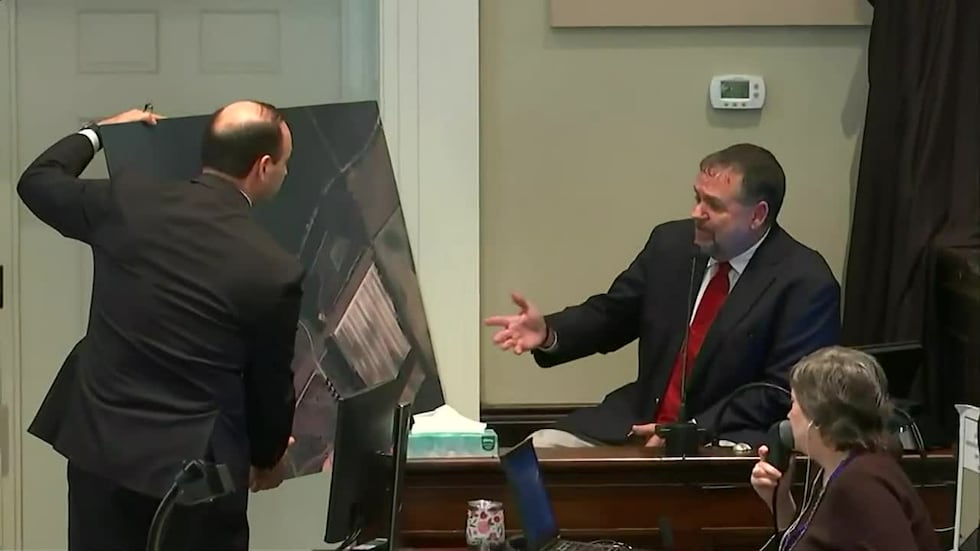 You mentioned that this was a very chaotic, disorganized crime scene. Does that point toward it being unplanned? Or could it have been planned?
Well, it could have been. I think it was unplanned, or at least not planned very well. But then that could just be the way Alex does business, I don't know. You know, I don't know that... And I don't know what the catalyst for this was. Was it an argument? You know, did things just get out of hand? I don't know. And all those variables would have to be taken into account for but I know someone that was really motivated to do it could have done it with one of those weapons and done it a whole lot cleaner. So, you know, that leads me to believe that something happened. We'll never know. I don't ever see, you know, him telling. That's probably just some of those answers we'll never have.
Was there anything that came out during your investigation, maybe even before it got to trial, anything that you were really surprised or shocked to find out?
Well, it wasn't my testimony, but the fact that it took him 42 minutes to call Buster. And you know, when when the sheriff's office arrived on the scene, the first thing out of his mouth was... it's got something to do with the boat wreck and the boat accident, you know, it's got something to do with that. He drew an inference that someone had hurt his family. I think as a parent, I think that you know, I'd have called 911 but my second phone call would have been to my surviving son, saying, 'Get to law enforcement. I don't care where you're at, don't stop, you know, don't pack anything. Just get there, call me when you're there.' Not 42 minutes later. That was the kicker, that was the game-changer for me there. And I knew it going into the trial but hearing testified to was a game-changer.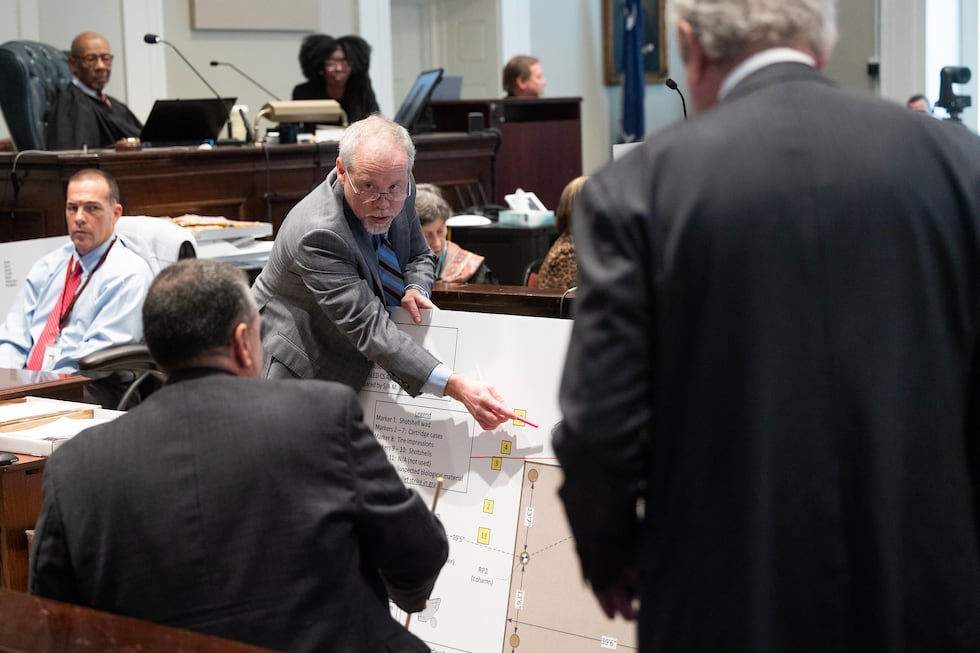 Is there anything else that you want to add about the trial or your involvement?
People were so wonderful. They were just absolutely wonderful. From the courthouse security to the shopkeepers in Walterboro, the news media, the reporters, I mean, it was just it was a great experience. I think that a little town took a big, big situation and they made a couple tweaks here and they made it work and the hospitality was incredible in Walterboro. I've worked bigger, bigger crime scenes, way bigger crime scenes; I've never worked one with that much attention. So it was really a big deal for the men and women you know, who called Walterboro their home. And I think they really stepped up to the challenge and they did a great job because they were on trial, you know, worldwide, and they won. They did a real good job. I've met a lot of new friends down there and a lot of good people so they did a fine job and I'm thankful for the way they treated me.
As for what's next, Kinsey has turned his sights on another Lowcountry case. He has joined the investigation into the unsolved death of Stephen Smith.
READ MORE: Murdaugh star witness sets sights on another Lowcountry case
Copyright 2023 WHNS. All rights reserved.