S.C. State seeking $209 million from legislature for university improvements, and other needs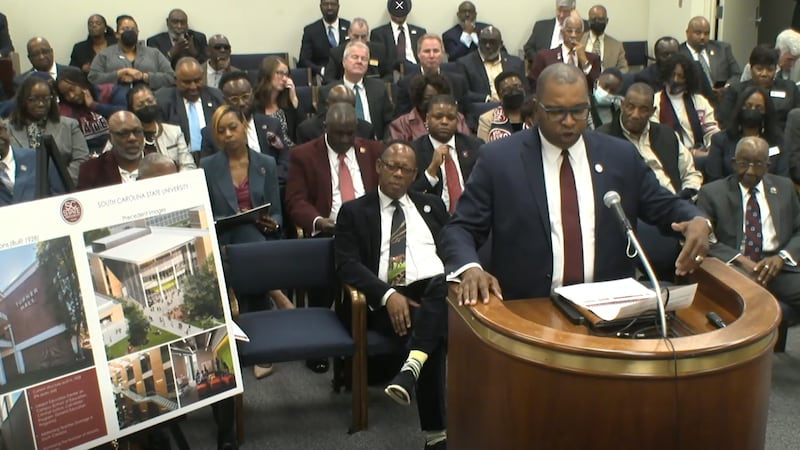 Published: Jan. 18, 2023 at 9:17 PM EST
COLUMBIA, S.C. (WIS) - South Carolina State University President Alexander Conyers asked the South Carolina legislature for funds to improve the quality of the university.
President Conyers addressed the S.C. House of Representatives by requesting a $209 million budget for the 2023-2024 school year. The majority of the requested funds will go toward five major capital projects to replace outdated facilities.
Conyers stated the University needs financial support from the state in order to continue to compete for students. Conyers added it has been 30 years since the school received a full state appropriation for a new academic facility. Newer projects have forced the university to go into debt.
$195 million of the $209 million will be for facilities and infrastructure priorities:
$54.7 million for a new classroom building to replace Turner Hall. With wings dating from 69-95 years old, the complex houses much of SC State's core subjects, as well as the teacher education program. Among the deficiencies are outmoded classrooms and inadequate access for people with disabilities (ADA compliance).

$30.3 million for a new library. SC State's Miller F. Whitaker Library is 55 years old and lacks the infrastructure to support technology in a modern learning environment. The building has only a small freight elevator, which also affects ADA access.

$45 million to replace Smith Hammond Middleton Memorial Center (SHM), which opened in 1968, with a new convocation center with more capacity. The center is used not just for SC State's basketball games, but also for graduations and other campus-wide gatherings. SHM, too, lacks ADA adaptations, as the arena has no elevators. Conyers noted that the Orangeburg community also uses the facility for events.

$40 million to replace Staley Hall with a new health and wellness facility. With similar issues to Turner Hall, Staley is home to athletics offices, the Department of Family and Consumer Sciences, and other programs. The university does not have a health and wellness center on campus to provide students with fitness activities and promote healthy lifestyles. The new building would include a pool to replace the antiquated pool behind SHM.

$5 million to bolster the campus' outdated information technology infrastructure.

A new $20 million building to house SC State's new College of Agriculture, Family and Consumer Sciences. Conyers said the college is using shared space with other programs, and he expects enrollment to grow as agribusiness expands in South Carolina. SC State also is exploring more programming in health-related professions and veterinary technology.

$2.7 million for ADA accommodations throughout the campus, including new railing and sidewalks.
The university also needs new residence halls in addition to the $10 million in renovations scheduled for Sojourner Truth Hall.
Conyers said how Historically Black Colleges and Universities (HBCUs) have been underfunded across the United States and urged legislators to take note of Tennessee's decision to put $300 million into Tennessee State University to address the discrepancies in funding between that state's public universities.
President Conyers told legislators the $52 million for the 2022-23 budget provided help with the renovation of Truth Hall and the $20 million expansion of the campus student center.
Last fall, the university could only admit 1,100 students out of the 8,600 new students due to limited capacity. Conyers added if S.C. State were to reach 4,000 students in upcoming years, the enrollment would bring the university $15 million for recurring expenses.
You can watch President Conyer's full address to the S.C. House of Representatives Ways and Means Committee's Higher Education Subcommittee here.
Notice a spelling or grammar error in this article? Click or tap here to report it. Please include the article's headline.
Stay up to date with WIS News 10. Get the app from the Apple App Store or Google Play Store and Stream us on Roku, YouTube, Amazon Fire, or Apple TV.
Copyright 2023 WIS. All rights reserved.