Football Friday Play of the Week: 2022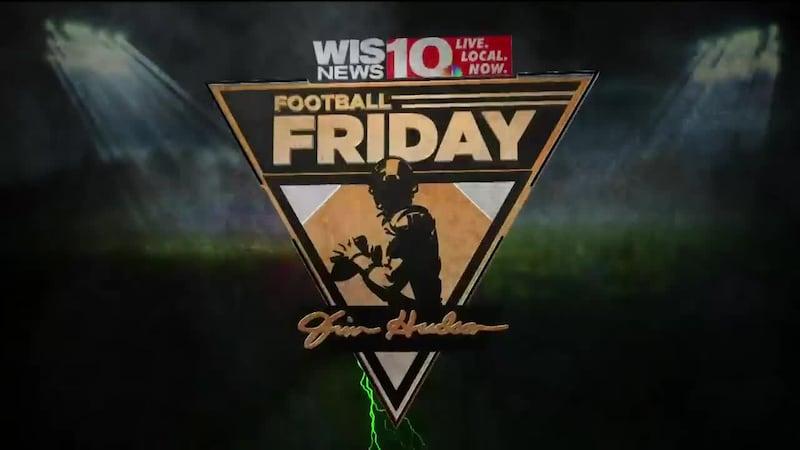 Published: Aug. 19, 2022 at 4:33 PM EDT
|
Updated: Sep. 17, 2022 at 12:10 AM EDT
COLUMBIA, S.C. (WIS) -Every Friday on Jim Hudson's Football Friday show, Rick Henry and the WIS sports crew will pick the finalists for the Jim Hudson Football Friday Play of the Week contest.
Each week you'll be able to visit our page here to vote on your favorite play of the week and help pick the winner!
After the games on Friday, watch this week's finalists and vote below.
WEEK FOURTEEN
1. This time it's Dutch Fork's senior running back Jarvis Green. Green takes off on a 39-yard journey to the end zone. Dutch fork leads 24 to 6, Green had three touchdowns... running, receiving, and a kickoff return.
2. Saluda's Jonah McCary throws it deep to Jamarcus Mobley, he bobbles it but hangs on for a touchdown.
WEEK THIRTEEN
1. Dutch Fork's Tyler Jones blocks a punt with his foot as the Silver Foxes defeat Spartanburg 63-14.
2. Dylan Richardson toss to Aidan Canzater reverse to Jayson Roberts. 58 yards for the touchdown as the Skyhawks defeat Laurence Manning 52-0 to win the SCISA 4-A State Championship.
3. Saluda's Kenmane Brunson is hit in the Backfield, is nearly taken out by a teammate, slips away from another defender and goes in for the touchdown as Saluda beats Strom Thurmond 28-0.
WEEK TWELVE
1. Gray Collegiate's Dre'von Dopson comes up with a leaping interception in the War Eagles' second round game with Saluda.
2. Saluda's Tyleke Mathis goes for 67 yards and the score in the Tigers' second round playoff win over Gray Collegiate.
3. Dutch Fork's Jarvis Green takes it 69 yards to the house in the Silver Foxes' win over Dorman.
WEEK ELEVEN
1. Newberry's Jamel Howse catches a deep ball from Bryce Satterwhite to set up the Bulldogs' first touchdown in their 30-20 win over Batesburg-Leesville.
2. Dutch Fork's Jacob Hamilton catches it over the shoulder and gets two feet in on the Silver Foxes' second touchdown of the night in their 56-0 rout of Mauldin.
3. Lake Marion's Deiquan Montgomery saves a near-interception and takes it in for the touchdown against Woodland.
WEEK TEN
1. Westwood's Noah Jennings picks off Richland Northeast's William Wilson en route to the Warhawks' 21-19 win.
2. Hammond's Aidan Canzater takes it 59 yards to the house in the Skyhawks' 51-0 win over Heathwood Hall.
3. A.C. Flora's Markel Townsend goes up the middle, hits the spin move, and breaks away to the house on his second of three touchdowns in the Falcons' 31-22 win over Ridge View.
WEEK NINE
1. Dutch Fork's Jarvis Green takes it nearly 70 yards down the sideline to the house in the Silver Foxes' 56-7 win over River Bluff.
2. Lower Richland's Jamel Patterson intercepts a tipped pass and takes it back for the pick-six in the Diamond Hornets' 31-0 win over Orangeburg-Wilkinson.
3. Sumter's Pate Merchant connects with Amarion Smith in tight end zone coverage in the Gamecocks' 42-14 win over St. James.
WEEK SEVEN
1. Ridge View's Adonis McDaniel takes it 80 yards to the house off a kick return in the Blazers' win over Irmo.
2. Irmo's Terin Bowman hauls it in over the shoulder and brings it down at the one to set up a touchdown two plays later.
3. Columbia's Nicolas Frank makes a spectacular catch in coverage and maintains possession into the ground.
WEEK FIVE
1. Chandler Perry scores a Dutch Fork touchdown off a pick-six against St. Frances.
2. Hammond's Rucker Brannon executes the one-handed interception in the Skyhawks' 65-6 rout of Camden Military.
3. Saluda's Jonah McCary, Brayden William, and Jamarcus Mobley combine for a wild touchdown - finished by an acrobatic catch by Mobley - to take the lead in the Tigers' 33-21 win over Gilbert.
WEEK FOUR
1. A.C. Flora's Markel Townsend follows his blockers and takes the run outside to the house in the Falcons' 28-19 win over Camden.
2. Hammond's Omar Bennett makes the diving catch to set up a touchdown on the next play in the Skyhawks' shutout win over Wilson Hall.
3. A swarm of Yellowjacket defenders overwhelm Hartsville's quarterback to end the game in Irmo's 17-14 win.
WEEK THREE
1. Lexington's Jonah Norris breaks tackles and rushes 82 yards to the house in the Wildcats' 35-14 win over Blythewood.
2. Gray Collegiate's Justin Pauling intercepts Camden's Grayson White and takes it into the end zone for the first touchdown of the night in the War Eagles' 22-7 win over the Bulldogs.
3. Orangeburg Prep's Austin Hall catches a touchdown in the middle of three defenders against Florence Christian.
WEEK TWO
1. Spring Valley at Chapin: Spring Valley's Kai Inge returns a kickoff for a touchdown.
2. Spring Valley at Chapin: The ball bounces off a receiver and a defender before Spring Valley's Adam Bass grabs the nifty interception.
3. Stratford at Lexington: Lexington's Jarrod Mewborn grabs a touchdown between two defenders.
WEEK ONE
1. Airport's Kendall Stroman hauls in a pick-six during the Eagles' contest with Brookland Cayce.
2. Cardinal Newman's Duncan Skehan connects with Ja'Khaydin Kinard for a 60-yard touchdown.
3. C.A. Johnson's Caleb Pearson makes the leaping interception off Estill's Xaviar Garvin.
WEEK ZERO
1.) A.C. Flora's Chris Lofton flashes a peace sign on his way to a touchdown.
2.) Spring Valley's Nigel Ancrum returns 2nd half kickoff for a touchdown
3.) Irmo QB Aaron Brand rolls out and finds Telvin Smith, who beats two defenders to make a spectacular touchdown catch.
Copyright 2022 WIS. All rights reserved.
Notice a spelling or grammar error in this article? Click or tap here to report it. Please include the article's headline.