Snow and ice accumulates during winter storm in the Carolinas, leading to dangerous roads, power outages
A winter storm swept through North Carolina and South Carolina Sunday, bringing snow and ice that led to some dangerous conditions on roads, flight cancelations and power outages.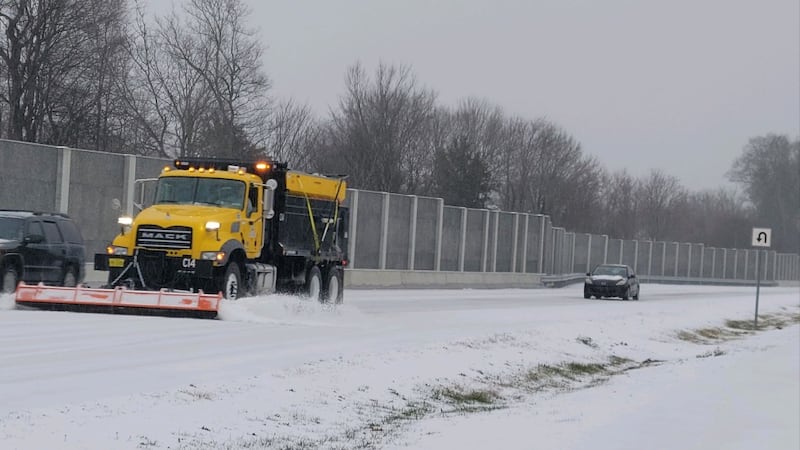 Published: Jan. 16, 2022 at 5:45 AM EST
|
Updated: Jan. 16, 2022 at 11:55 PM EST
CHARLOTTE, N.C. (WBTV) – A winter storm swept through North Carolina and South Carolina Sunday, bringing snow and ice that led to some dangerous conditions on roads, flight cancelations and power outages.
Snow started falling in Charlotte shortly before 3 a.m. Sunday. On Interstate 277, several North Carolina Department of Transportation trucks were seen driving down the highway and spraying solution to help in the event of sticking snow and ice.
CityLYNX Gold Line service is suspended for the remainder of the day due to the inclement weather.
Around 1 p.m., there were roughly 166,000 customers without power in North Carolina and South Carolina. Almost 12,000 customers were without power in Lancaster County alone.
In North Carolina, there are more than 70,000 people are without power across the state Sunday.
Gov. Roy Cooper added some counties have opened shelters for those who have lost power.
A list of open shelters can be found here.
The governor said significant icing is causing issues for the central part of the state and that there have been a number of wrecks on the roads.
"For today, the best way to avoid a car accident or getting stranded is to stay put," Cooper said.
POWER OUTAGE MAPS: Real-time North Carolina and South Carolina updates
On Thursday night, Cooper signed a state of emergency for N.C. ahead of the storm's impact. That allowed for the activation of state resources to respond to the storm and to allow for the possibility of federal reimbursement if it's needed.
Related: Gov. Cooper signs state of emergency for N.C. ahead of winter storm
"This storm is a menace. As much as a foot of snow is expected to fall in the mountains and foothills. In central North Carolina freezing rain and sleet on top of some snow will fall. The eastern part of our state expects heavy rain and flash flooding, plus high wind gusts," Gov. Cooper said during a Saturday update.
A power pole came down on Tremont Avenue in Charlotte around 8 p.m., according to Randy Wheeless from Duke Energy.
Emergency shelters were activated in the Charlotte area in response to the impacts from Winter Storm Izzy.
According to the Charlotte-Mecklenburg Emergency Management Office, the shelters are open to anyone in the general population who needs a warm, safe place to go.
Crews Recreation Center in Matthews opened at 12 p.m. on Sunday, emergency management officials said. All other shelter locations will open Sunday at 4 p.m.
At this time, the following locations will serve as emergency shelters:
Crews Recreation Center,1201 Crews Rd, Matthews, NC 28105

Hopewell High School, 11530 Beatties Ford Rd, Huntersville, NC 28078

Mallard Creek High School, 3825 Johnston Oehler Rd, Charlotte, NC 28269

Central Piedmont, Worrell Building, 1228 Elizabeth Ave, Charlotte, NC 28204
The North Carolina Emergency Management team expects ice and wind to bring down some trees and power lines.
Duke Energy officials said they have brought in extra crews from other parts of the country to help out.
As the worst of the winter storm hits North Carolina, state transportation officials are urging people to stay off the roads because travel could be dangerous.
"Even after the storm passes, we ask North Carolinians to be patient as our crews and emergency responders do their important work to clear the roads," State Transportation Secretary J. Eric Boyette said Sunday. "Everyone should avoid driving in these conditions. There's no need to take any unnecessary risks."
More than 2,000 N.C. Department of Transportation crews and contractors with more than 1,800 trucks and other motorized equipment have been working around the clock to get roads clear across the state. Crews are targeting interstates and major highways first and then transitioning to primary and secondary roads.
In western North Carolina, crews worked overnight and are continuing to plow snow-covered roads.
Crews in central North Carolina, including the Charlotte area, have been salting trouble spots on roads and bridges since early this morning.
A slew of Charlotte malls are closing on Sunday due to a winter storm that is currently impacting the area, causing dangerous road conditions across the state of North Carolina.
Concord Mills, SouthPark Mall and Charlotte Premium Outlets all posted to social media Sunday that they will be closed Sunday due to inclement weather,
All three malls are owned by Simon Property Group and are staples for shopping in the Charlotta area.
NCDOT's de-icing operations staff have been busy overnight through Sunday. They have used more than 5,800 tons of salt and 550 tons of a salt/sand mixture and those numbers will continue to increase.
While temperatures are expected to warm and some thawing is possible, the water on roads will refreeze Sunday night and make travel dangerous in western and central North Carolina. The storm is bringing heavy rainfall with potential flooding and strong winds to much of eastern North Carolina.
"Travel conditions are expected to be treacherous for much of the state through Monday," said NCDOT's Chief Operating Officer Beau Memory. "Please stay home and don't take the chance of driving, especially on icy or flooded roads."
There have been scattered reports of downed trees or power lines. As reports will likely increase Sunday, NCDOT crews are ready with chainsaws and heavy equipment to cut and shove any downed trees.
In the mountains, plenty of snow was already on the ski slopes as the fresh snow was adding to it early Sunday morning.
More than 1,000 flights have been canceled going to and from Charlotte on Sunday due to the incoming winter storm.
According to FlightAware, there are a total of 1,220 cancellations within, into, or out of the United States Sunday at Charlotte Douglas International Airport.
According to a Sunday update, CLT remains open, although the majority of airlines serving the airport have canceled flights for the day. Passengers should check with their airline for cancelations or delays before coming to the airport.
Airport officials said CLT's snow teams were activated Saturday night and five planes were deiced Sunday morning.
A Winter Storm Warning is in effect for Alexander, Iredell, Catawba, Rowan, Cleveland, Lincoln, Gaston, York, Mecklenburg, Cabarrus, Union, Avery, Caldwell, Burke, McDowell and Rutherford counties. An Ice Storm Warning is in effect for Lancaster, Chester and Chesterfield counties.
Snow and a wintry mix developed Sunday across the WBTV viewing area.
Wintry precipitation started off as snow around Charlotte and further to the west, with a transition to freezing rain for the piedmont and foothills, through the day Sunday; the mountains look to stay as mainly snow, yet may have some sleet mixing in at times.
Significant snowfall and ice accumulations are developing through the day Sunday, so traveling is highly discouraged.
Stay with WBTV for complete coverage of the winter storm impacting the Carolinas.
For the most up-to-the-minute updates, download the WBTV Weather App.
Copyright 2022 WBTV. All rights reserved.