Investigation reveals no active shooter at Volunteer High School
Deputies responded and immediately began searching the school but said they did not find any evidence of an active shooter.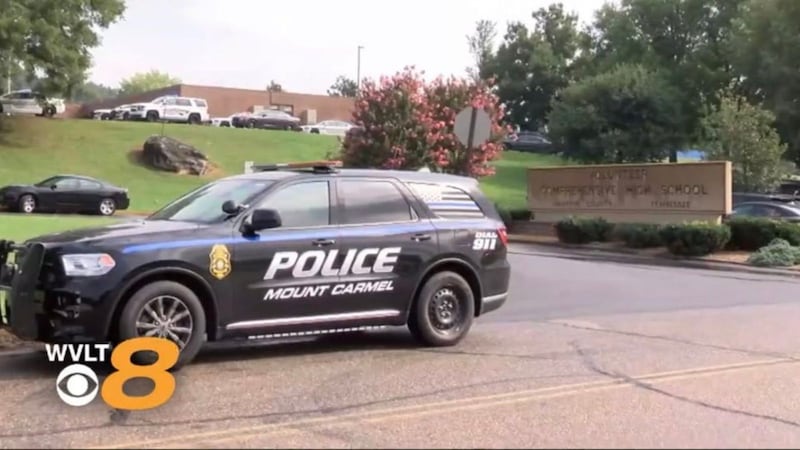 Published: Aug. 10, 2021 at 8:44 AM EDT
|
Updated: Aug. 10, 2021 at 10:41 PM EDT
CHURCH HILL, Tenn. (WVLT) - Detectives with the Hawkins County Sheriff's Office have been working alongside the Church Hill Police Department and the Tennessee Bureau of Investigation and have determined that no active shooter was at Volunteer High School and no shots were fired by anyone.
According to officials from the Hawkins County Sheriff's Office, the school went on lockdown around 7:52 a.m. after reports of a possible active shooter inside the high school.
An unknown person reportedly called police and claimed to be a student in the bathroom at Volunteer High School, according to Hawkins County Sheriff Ronnie Lawson. The student claimed they had been bullied and harassed by students and was armed with a handgun, officials said.
"He said he was next to the office and he was going to make his way to the gymnasium where he was going to shoot his gun," Sheriff Lawson said.
Once officers arrived on scene, they were unable to find any evidence of an active shooter on campus.
After investigating the incident, detectives and agents believe the call made on the active shooter was from a number outside the state of Tennessee.
Sheriff Ronnie Lawson from the Hawkins County Sheriff's Office says other than a medical emergency that occurred around the same time the call came in, no one was injured.
This was all verified by video surveillance inside the school.
Officials say since they have not determined who is responsible, they cannot provide anymore in the investigation
Sheriff Larson says, "While we've not developed any information that indicates the community and students are in danger, we continue to be vigilant and, as always, urge the public to report any suspicious activity."
Copyright 2021 WVLT. All rights reserved.