DHEC says fully vaccinated South Carolinians can stop using masks in most instances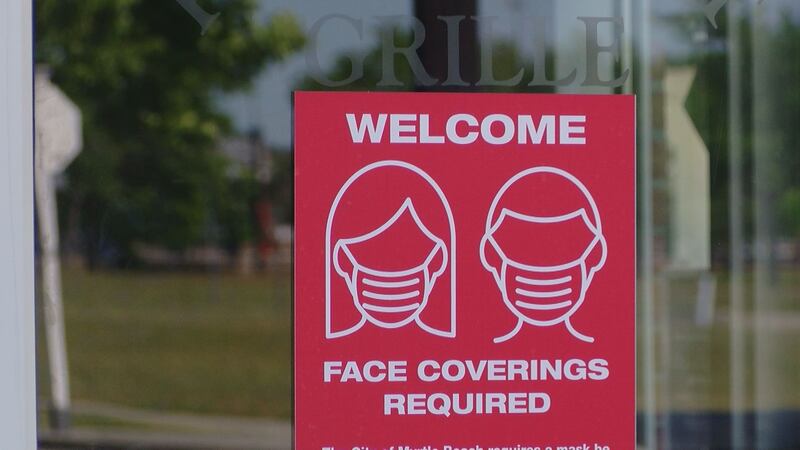 Published: May. 14, 2021 at 6:53 PM EDT
HORRY COUNTY, S.C. (WMBF) – South Carolinians who are fully vaccinated against COVID-19 no longer need to wear face masks indoors or outdoors, with a few exceptions.
That's according to Dr. Edward Simmer, the director of the state Department of Health and Environmental Control. He said Friday that he concurs with the updated guidelines released Thursday by the Centers for Disease Control and Prevention, which says those who are fully vaccinated can essentially ditch the masks and skip social distancing.
"As the state's public health agency, we have a responsibility to protect the health and safety of all South Carolinians. This includes advising our residents what activities are safe for them," Simmer said.
He stressed that the CDC still recommends that people wear masks when in schools, healthcare facilities, correctional facilities, homeless shelters, and on commercial transportation like airplanes and buses.
Simmer said DHEC's decision is based on the latest science that shows the currently approved COVID-19 vaccines are working.
"Over the course of the pandemic, DHEC has worked with our federal partners and others to regularly monitor and review the latest data and science to support us in providing informed guidance and making decisions," Simmer said. "We are highly encouraged and excited by this news because it means that our hard work is paying off."
Conway Medical Center's Dr. Paul Richardson said he cautiously welcomes the new guidance.
"My initial reaction was excitement. I was very excited they have given us some specific guidance. I do want people to embrace that guidance but we still can't let our guard down at the same time," Richardson said.
He said he hopes those who aren't vaccinated or aren't fully vaccinated yet keep their masks on. Richardson added that he hopes this helps those who are on the fence go out and get their shot.
"Consider getting vaccinated. That's the bottom line - masks or no masks, I really hope folks are strongly considering it," he said.
As of Friday, more than 1.4 million South Carolinians are fully vaccinated, according to DHEC.
Simmer stressed that state health officials recognize that there is still "much work to do in our fight against COVID-19."
"We still have many South Carolinians who have not had the vaccine and there is still significant spread of COVID-19 among South Carolinians who have not been vaccinated," he said.
DHEC announced Friday 337 new COVID-19 cases and four additional deaths.
This brings the total number of confirmed COVID-19 cases in South Carolina since the start of the pandemic to 487,178 and deaths to 8,471, officials said.
In Horry County, there were 20 new COVID-19 cases and no additional deaths. In Florence County, 15 new virus cases were reported and no additional deaths.
For a complete breakdown of new COVID-19 cases across the state, click here. For a complete breakdown of additional deaths, click here.
According to DHEC, 14,081 new individual test results were reported statewide, with a percent positive of 3.2%.
Of the state's 11,327 inpatient hospital beds, 8,804 are in use for a 77.73% utilization rate, according to DHEC. Approximately 345 are COVID-19 patients, of which 94 are in ICU and 49 are ventilated.
Regarding the updated guidance for the state, Simmer said health officials are counting on residents to use the "honor system" when it comes to their vaccination status.
According to health officials, a person is considered fully vaccinated after having both doses of the Moderna or Pfizer vaccine or a single dose of the Johnson & Johnson vaccine, plus two weeks.
Simmer added that not everyone who is fully vaccinated is ready to take off their mask just yet. He encouraged everyone who wants to continue to wear a mask to do so, and for others to respect their decision.
"South Carolinians have a long reputation of caring for one another, and today's announcement is as a result of all of us caring for each other," Simmer said. "Together we are winning the battle against COVID-19."
Copyright 2021 WMBF. All rights reserved.