NFL player Darius Leonard provides 100 Thanksgiving meals in his hometown of Lake View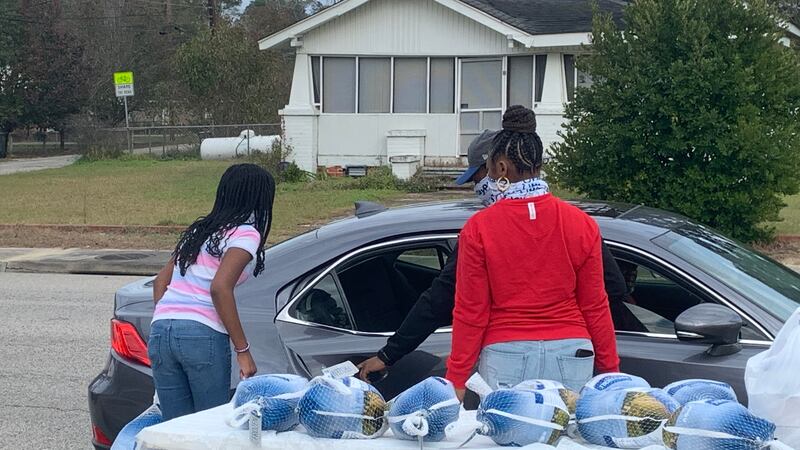 Updated: Nov. 26, 2020 at 10:02 AM EST
LAKE VIEW, S.C. (WMBF) - Indianapolis Colts Linebacker Darius Leonard is a hero in the small town of Lake View for a variety of reasons.
He's an NFL star, but he's also always looking for ways to give back to his community.
On Wednesday, Leonard provided 100 Thanksgiving meals that were distributed to the community
This year, he wasn't able to attend due to COVID 19 protocols, but he still wanted to make sure his town was taken care of.
"It touches my heart regardless of if I'm there or not, I'm thankful to be able to give back, I'm very blessed to be in the position I am, so to be able to give back means a lot," said Leonard.
Each family received a turkey, groceries, and even some Indianapolis Colts gear.
While Leonard wasn't able to pass things out this year, he had a host of friends fill in for him.
"They don't have to do that, they're doing it for free out of love and that's why the town of Lake View is so special, because there are people like that in Lake View everybody who helped out were from Lake View, I grew up with them and they're so happy to give back," said Leonard.
Lake View Mayor Matthew Elvington said Leonard is a busy man, but by doing things like providing meals to people during the holidays, he shows just how much he cares about the community
"He's off playing, but he still wants to look out for his hometown and he still wants to be a part of us and show everybody that he appreciates them sticking behind him and he's sticking behind them this holiday season," said Elvington.
Copyright 2020 WMBF. All rights reserved.