State seeks death penalty against man accused of killing two Florence officers, injuring five others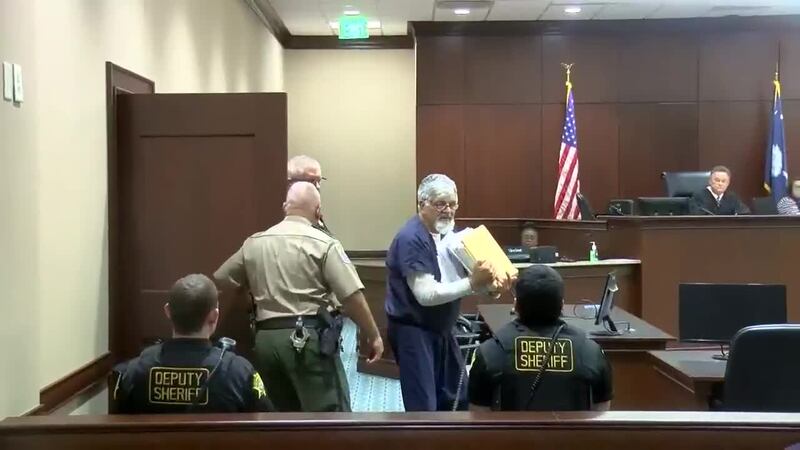 Updated: Jun. 11, 2020 at 6:00 PM EDT
FLORENCE COUNTY, S.C. (WMBF) – Fred Hopkins, the man accused of killing two Florence officers and injuring five others during an ambush in 2018, appeared in court Thursday morning.
Solicitor Ed Clements served Hopkins death penalty paperwork.
The hearing before Circuit Court Judge Michael Nettles lasted about 15 minutes.
Nettles advised Hopkins not to speak, which could be used against him in later proceedings.
However, Hopkins read the death notice and insisted on addressing the court.
Hopkins alleged courtroom and trial procedures weren't properly followed, and began hurling insults at Clements.
"Now I have not received any wonderful, magnificent, accurate, truthful discovery under rule five. Now rule five as you all know is the discovery rule. Mr Clements the third, eloquent though he is and aptly dressed does not obey the rules of the South Carolina criminal procedures," said Hopkins.
Hopkins carried a stack of papers with him into the courtroom, and referred to them as he recounted instances over the last two years where he felt the magistrate and solicitor's office had mishandled his case.
He began reading statutes involving the death penalty, which said the trial had to be set within 30 days of serving the death notice.
Hopkins then claimed he submitted a notarized document to Clements requesting an on-time preliminary hearing, which he claimed was denied.
"I was denied a preliminary hearing by your connivance and corrupt staff, point number one," Hopkins told Clements. "Point number two. Kimberly Baggot Cox, assistant chief magistrate, says well we are going to deem your request to be excused as a waive of right to have a preliminary hearing, and I didn't waive anything."
Nettles stopped Hopkins and reminded him the purpose of the hearing was to present the death notice, and he'd have a chance to appeal, but not today.
"You have no jurisdiction to give me that notice," Hopkins responded.
RELATED STORY: Solicitor to ask judge to grant mental health evaluation for Florence deadly ambush suspect
Hopkins continued insulting Clements and several other representatives from the state before he was led away.
Hopkins is charged in connection to a deadly shooting that happened in Florence's Vintage Place neighborhood on Oct. 3, 2018.
Officers were there to serve a search warrant on Seth Hopkins, Fred's son, following allegations of child sex abuse.
Fred Hopkins then allegedly opened fire on authorities.
Florence police Sgt. Terrence Carraway died at the scene. Florence County Sheriff's Inv. Farrah Turner died from her injuries sustained in the ambush a few weeks later.
Seth Hopkins pleaded guilty to a charge of second-degree criminal sexual conduct with a minor in 2019. He was sentenced to 20 years in prison.
Fred Hopkins is charged with two counts of murder and five counts of attempted murder.
Copyright 2020 WMBF. All rights reserved.