VIDEO: Charleston protester arrested minutes after praising police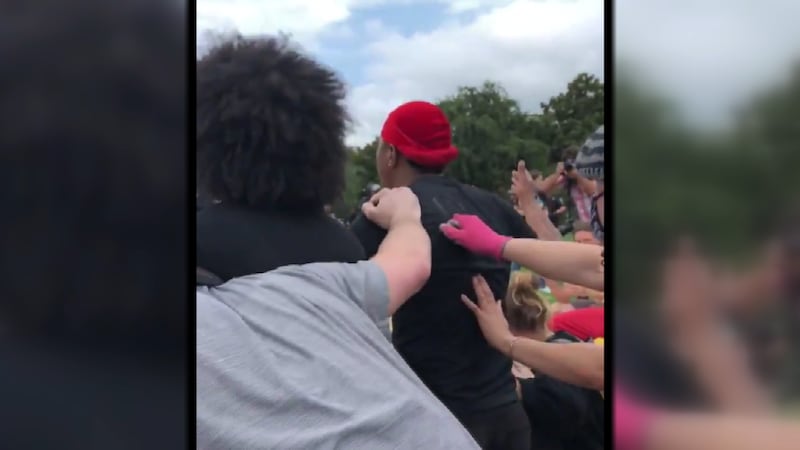 Updated: Jun. 2, 2020 at 8:30 PM EDT
CHARLESTON, S.C. (WCSC) - A Charleston man was arrested while kneeling in front of a police line during Sunday's protests in Marion Square, but before he was, he was caught on video praising the officers.
"I love each and every one of you. I cry at night, because I feel your pain," Gee Jordan said. "I am not your enemy. You are not my enemy."
Jordan was kneeling for awhile along with other protesters before officers moved in.
The video that captured it all now has almost 20 million views online, and on Tuesday, Jordan returned to the spot it all happened.
"It wasn't really a protest to me just more of a promise," he said. "It was a promise that everybody together as whole collective unit is going to promise to be better and is going to promise to work together, so we could be better."
Jordan was charged with disobeying lawful order, according to the sheriff's office.
He was one of more than 60 others who were arrested in Charleston since protests began over the death of George Floyd.
"This is how we change. This is how we move the needle," he said. "This is how we have a better future not only for ourselves but for our kids and their kids. This is how we do it. We unite as one, because at the end of the day, I got to walk the same trail you walk."
The video also showed outrage from those around Jordan who were yelling at officers and asking them why they were doing arresting him. In the video, Jordan was the only one arrested at the time.
"I was at fault for not knowing all the rules, and they were at fault. They could've maybe heard my voice a little bit longer, maybe see what I did a little bit longer," he said. "I understood that these police officers are not animals. They're not thugs. We're not thugs. We're not animals."
Jordan also said he spent a good part of Sunday morning helping downtown Charleston businesses clean-up after Saturday night's riots.
Charleston Police Chief Luther Reynolds has not yet responded to requests for comment.
Copyright 2020 WCSC. All rights reserved.