Civil rights group urges state's prison system to release some inmates due to COVID-19 cases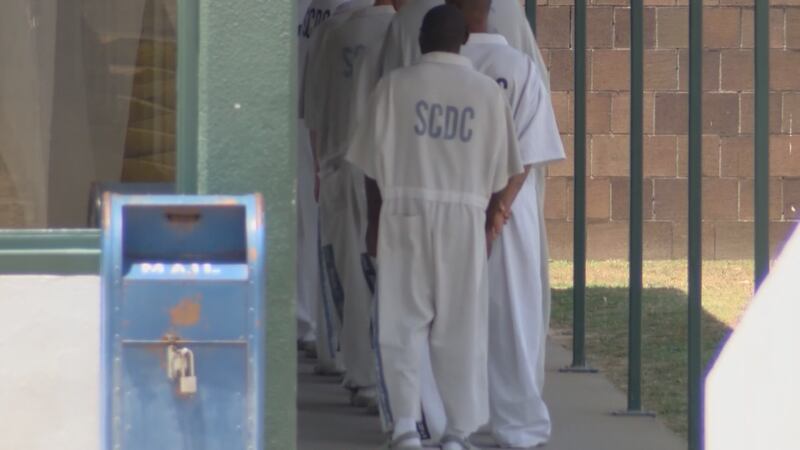 Updated: May. 20, 2020 at 7:52 PM EDT
CHARLESTON, S.C. (WCSC) - The American Civil Liberties Union of South Carolina is fighting for the release of state prisoners who have a higher risk for complications and death related to COVID-19. However, a spokesperson for the South Carolina Department of Corrections said the department does not have the legal authority to release an inmate before their sentence has been served.
The decision now falls into the hands of the federal court system, which would have the power to make such a decision.
"In commencing this Proceeding, Petitioners ask that this Court direct Respondents to use their existing authority to take immediate action to provide the protection to which the Petitioners and others are entitled," court documents state. "Respondents have failed to address the undeniable fact that the COVID-19 pandemic presents a particularly deadly risk to prisoners who live in close proximity under less than sanitary conditions. In particular, Respondents have refused to take any meaningful action to reduce the prison population, to allow for any meaningful social distance, to implement a rational testing protocol, to isolate and provide appropriate care for those who may already be ill, or to continue necessary treatment for those with other serious medical issues."
The ACLU of South Carolina questions how prisoners are expected to practice social distancing to control their exposure to COVID-19 when "physical distancing and vigilant hygiene are impossible under current conditions."
There is particular concern for certain categories of prisoners. Court documents state many people in prisons are more vulnerable to the illness because of chronic underlying health conditions like diabetes, asthma, and compromised immune systems.
"Generally, people who are incarcerated are in worse health than the general public, so they are at higher risk a lot of the time for catching the virus," ACLU's Policy and Communications Director Ali Titus said. "We know that in prisons across the country that have conducted mass testing, as many as 60 or 70 percent of the population have been infected. And as many as 95 percent of those folks are symptom free carriers. And so, we know that this is a really dangerous context in which this pandemic is occurring."
The group's complaint criticized the department's "COVID-19 Action Plan."
"The plan is inherently inadequate because it fails to call for any reduction in prison population, which is necessary to allow for sufficient physical distancing. In addition, the SCDC Action Plan does not require testing of current employees or inmates, but rather recommends monitoring only newly arrived prisoners for "COVID-19 exposure risk factors and symptoms," court documents said. "Without the ability to perform widespread testing -- of prison employees and inmates -- there is a high risk that asymptomatic carriers will expose dozens of people in a short period of time. The risk of widespread infection in South Carolina's prisons is further compounded by SCDC's well-publicized 900-person staffing shortage, which further constrains the ability of SCDC to implement quarantining measures necessary to isolate symptomatic inmates and protect inmates and staff with underlying medical conditions."
SCDC'S COVID-19 Action Plan includes the following:
SCREENING OF STAFF: Enhanced health screening of staff will be implemented statewide. Such screening includes self-reporting and temperature checks.

SCREENING OF INMATES: The SCDC maintains an infectious disease management program as a matter of routine. To address the specific issues involving COVID-19, the SCDC uses the following practices:

All newly-arriving SCDC inmates are being screened for COVID-19 exposure risk factors and symptoms. Asymptomatic inmates with exposure risk factors are quarantined.

Symptomatic inmates with exposure risk factors are isolated and tested for COVID-19 per SCDC health authority protocols.
So far, two SCDC inmates have died because of complications related to the coronavirus. According to SCDC's COVID webpage, 68 correctional and non-institutional staff members have tested positive for the illness as of May 19. While 64 offenders at Allendale Correctional Institution and Kirkland Correctional Institution have tested positive for COVID-19. SCDC officials say none of the department's other facilities have reported positive cases.
"The US Constitution protects everyone, and that include people who are incarcerated. It's our duty to do everything in our power to protect them from harm," Titus said. "Incarcerated people are people. They're humans, and that's an important thing for us to remember. None of us is defined by the worst thing we've ever done, so that I think is an important concept to keep in mind as we approach this important issue. "
Last week, the South Carolina National Guard started helping SCDC medical staff screen and check inmates who were quarantined at the department's Kirkland and Allendale facilities, according to a tweet from SCDC.
"The risk of widespread infection in South Carolina's prisons is further compounded by SCDC's well-publicized 900-person staffing shortage, which further constrains the ability of SCDC to implement quarantining measures," court documents stated. "All of these factors -- the living conditions, a particularly vulnerable population, and limited medical care -- make the outbreak of a highly infectious, deadly virus in a closed detention setting nothing short of a disaster, calling for urgent and decisive action to protect the health of not only the 17,828 people incarcerated in South Carolina's prisons, but also those who work there, including the medical professionals who will treat those who become infected."
The lawsuit seeks immediate release for prisoners who would be more susceptible to the virus's, sometimes deadly, symptoms including those with serious underlying medical conditions, developmental disabilities or mental conditions, those who are 50 years of age or older, and others.
Shain reiterated that the department of corrections has no legal authority to release any inmate before they have served their time. She said state law does not allow that.
"Courts impose sentences. We carry them out. We cannot change someone's sentence," Shain said.
In a motion to dismiss, Governor Henry McMaster's attorneys surmised the complaint was filed because the petitioners are "unhappy that they must remain in prison for the duration of their sentences." The attorneys also criticized the petitioners' request the court to act on behalf of a group of inmates, rather than considering individualized suits. They suggested this could be the class action complaints' fatal flaw.
"Petitioners whistle past the fact that these matters necessarily require an individualized, fact-intensive inquiry. Indeed, whether an inmate— who stands duly convicted of violating the laws of South Carolina and was committed to the custody of SCDC by a state judge—is ready to be released from prison is a critical matter that cannot be adjudicated in bulk with the broad stroke of a pen," court documents stated.
The motion asked the federal court to dismiss the litigation because "SCDC is well aware of COVID-19 and has taken appropriate measures to ensure the health and safety of inmates and SCDC personnel. The governor's attorneys also cited case law to explain why they believe the federal courts should not be involved in the management of state prisons.
Because many of the court system's capacities have been limited by the coronavirus pandemic, no decision has been made about how or if the complaint will move forward.
For now, SCDC officials said they have a stringent policy in place about who goes into its institutions. Only critical personnel are allowed, and they must undergo a screening process that requires them to sign paperwork stating they haven't been around anyone who has tested positive for COVID-19 or traveled to a hot spot area.
Their temperatures are also being checked, and the department is starting to use foggers to disinfect housing units and other common areas. Meanwhile, each inmate has been given two masks, one to wear and one to wash, according to Shain. Staff members have them as well.
While detention centers are not a target of the ACLU's current legal action in South Carolina, Titus said there remains concern about local jails are protecting their inmates.
"Jails are another hot bed for coronavirus and we know this," Titus said. "People are constantly cycling in and out of jails. People don't spend as much time in jails as they do prisons, therefore we have more people coming in and out, so there are more people exposed to the virus on the outside who could be bringing it in and who could be getting exposed on the inside and taking it back out into the community."
While unrelated, the ACLU's efforts to protect pregnant women against COVID-19 coincides with the South Carolina legislature's passage of a bill that makes pregnancy in custody safer. It abolishes the practice of shackling pregnant inmates while they're pregnant, in labor, in child birth and recovering from child birth. Titus explained that the legislation also abolishes the practice of holding pregnant prisoners in solitary confinement, requires that prisons provide adequate nutrition, and requires that prisons provide them with a bottom bunk.
"Already conditions are improving for that population, however, when you're pregnant you're vulnerable…and especially when you're living through a pandemic while pregnant, while incarcerated," Titus said. "We're talking about a pregnant person's life and we're also talking about another life, so it's really important we do everything in our power to protect them."
SCDC spokesperson Chrysti Shain said the department currently has four pregnant inmates, all of which are housed at Camille Graham Correctional Center in Columbia. No positive cases of the coronavirus have been reported within that facility, and Shain said the department is taking the same precautions for their health as it always does for pregnant inmates, along with various safeguards against COVID-19 infection.
Meanwhile, some Lowcountry detention centers are handling similar concerns related to releasing inmates and protecting vulnerable prisoners in their custody.
Currently, the Charleston County Sheriff's Office and Berkeley County Sheriff's Office each have one pregnant inmate being held in their detention centers, while the Dorchester County Sheriff's Office has none.
THE CHARLESTON COUNTY SHERIFF'S OFFICE
"The Sheriff's Office has several policies and resources in place to ensure the humane and ethical treatment of all detained individuals, and added safeguards are provided to all inmates with special needs. The Sheriff's Office cannot release any inmate without a court order; however, we are in ongoing communication with the Courts about non-violent offenders who may qualify for release," according to a statement to Live 5 News.
CCSO policy: "Communication occurs between health care staff and SACDC personnel about inmates who are chronically ill; on dialysis; adolescents in an adult facility; infected with serious communicable diseases; physically disabled; pregnant; frail or elderly; terminally ill; mentally ill or suicidal; or developmentally disabled."
The Charleston County Sheriff's Office has several longstanding polices regarding the proper handling of pregnant detainees and inmates.
· The law enforcement policy dictates the transport of pregnant detainees to any facility stating, "pregnant female detainees will be handcuffed in the front only and leg irons will not be applied."
· The Detention Center's policies dictate the restraint of pregnant inmates for security purposes within the facility and for inmates in labor stating, "pregnant females who are taken to the hospital for the purpose of delivering a baby will not be restrained while in active labor. Pregnant females who are being transported for medical appointments will be handcuffed in the front only and leg irons will not be used. The hospital will provide guidance and direction when restraints are required."
THE BERKELEY COUNTY SHERIFF'S OFFICE
"We presently have one pregnant inmate in jail. She is treated with the same precautions as the other inmates as it relates to the virus. All the inmates are participating in additional sanitation of their housing units, free soap and hygiene items are made available, laundry exchange is done more frequently, daily temperature checks are done, face masks are made available, and free access to the jail medical staff. All pregnant inmates are given extra nutrition and vitamins, and they are taken to a local clinic for prenatal care," according to a statement to Live 5 News.
THE DORCHESTER COUNTY SHERIFF'S OFFICE
There are currently no pregnant females in population. Anyone, male / female, coming into the jail that answers yes to any of the COVID screening questions are immediately scheduled for testing at Charleston Co. Detention Center and upon their return, if necessary, automatically quarantined, for the required amount of time, away from the inmate population.
In response to the ACLU's petition for vulnerable inmates to be released: "Our response to your question would be, "This would best be addressed by the courts. Only the court can order an inmate released."
Copyright 2020 WCSC. All rights reserved.