Local businessman creates food map of W. Columbia, offering locals and visitors a culinary tour of the city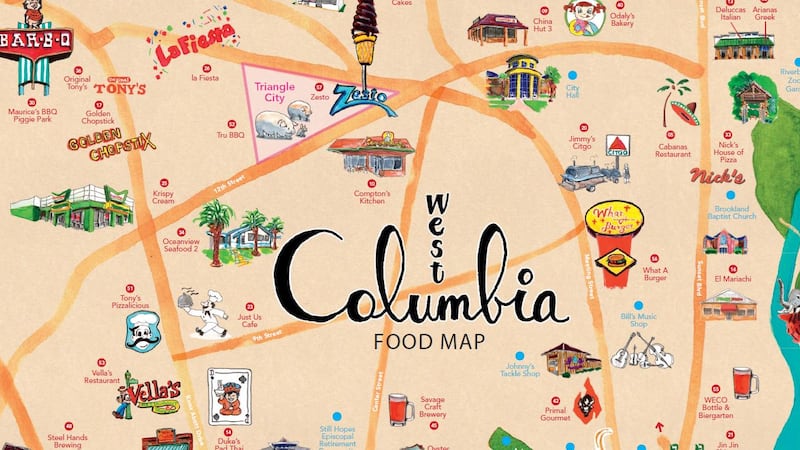 Published: Jan. 23, 2020 at 8:51 AM EST
WEST COLUMBIA, S.C. (WIS) - People visiting or living in West Columbia can now take a culinary tour of the city's eateries with the help of a food map created by a local businessman.
Joe Taylor, a West Columbia developer and former S.C. Secretary of Commerce, made the map as a gift to the city.
"It was just something fun to do," Taylor said.
The 18-by-24 inch full-color folded map shows 57 locally owned West Columbia restaurants and eateries as well as a number of non-food attractions, all chosen by Taylor, who wrote the accompanying legend on the reverse side, from Al's Upstairs to Zesto.
Taylor says the map allows the many mom and pop small businesses throughout the city to get support, as they are the backbone of the community.
"The strength of these locally owned restaurants shows what can happen when you have a business friendly local government," Taylor said.
Five thousand copies of the map were printed and may be obtained from West Columbia City Hall, Taylor's office located on State Street or by sending a self-addressed stamped envelope to WC Food Map, 146 State St. in West Columbia.
West Columbia's mayor, Tem Miles, praised Taylor's work, stating that he helped to tell the story of why the "West Side is the Best Side".
"Joe Taylor has provided the city, its great restaurants and all of our visitors with a really cool way to see all the great dining options we have in West Columbia. The map makes you want to go out and eat," Miles said.
Artwork for the map and its design was created by Mike Daikubara, an industrial designer, author and urban sketcher from Charlotte.
Daikubara says the project helped him get familiar with the different dining options and attractions that the city had to offer.
"I was not familiar with the locations. I just moved to North Carolina about a year ago, and South Carolina is still very new to me. He told me about all these great restaurants and I went to check them out, " Daikubara said.
Copyright 2020 WIS. All rights reserved.